Arts
History lives on in area architectural gems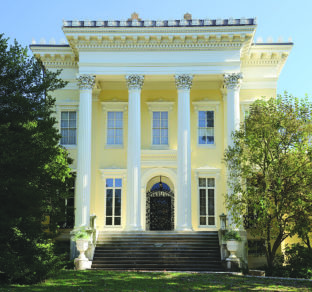 This 48-room Gilded Age mansion (now the Evergreen Museum and Library) is among Baltimore's historic homes open for tours.
If you love both history and architecture, you're in luck. Baltimore has a number of historic homes that are open to the public (some for a fee, some offering free admission).
As opening days/times/admission fees are subject to change, and reservations are sometimes needed, call ahead or visit the website for more information.
Carroll Mansion
800 E. Lombard St.
(410) 605-2964
www.carrollmuseums.org
Carroll Mansion is one of several historic homes in Baltimore that belonged to the family of Charles Carroll of Carrollton, one of the 56 original signers of the Declaration of Independence. Carroll Mansion was the former residence of Charles Carroll himself.
Over the years, the mansion has served as a private residence, a saloon, tenement apartments, sweatshop, vocational school, recreation center and, now, a historic site.
Homewood House Museum
3400 N. Charles St.
(410) 516-5589
museums.jhu.edu
Built between 1801-06 for Charles Carroll, Jr., the only son of Charles Carroll, Homewood is an example of Federal-period Palladian architecture. Over the years, the house has been used as a private residence, a boys' school, a university faculty club, an administration building and a public museum.
The museum's collections consist of fine and decorative arts objects representative of the furnishings during the Carroll family's occupancy.
Mount Clare Museum House
1500 Washington Blvd.
(410) 837-3262
www.mountclare.org
Mount Clare, built in 1760, is a Colonial Georgian home built by Charles Carroll, who was also one of Maryland's first state senators. It was the center of Georgia Plantation, a self-sufficient plantation with a diverse community. It was designated a National Historic Landmark in 1971.
The Star Spangled Banner Flag House
844 East Pratt St.
(410) 837-1793
www.flaghouse.org
Built in 1793, the Star-Spangled Banner Flag House was the home and place of business of Mary Pickersgill, who made the flag that inspired Francis Scott Key's poem that became our national anthem.
Mary and her daughter Caroline moved into the house in 1806, together with Mary's mother, Rebecca Young, who had begun the flag-making business in Philadelphia during the Revolutionary War.
Hampton National Historic Site
535 Hampton Lane
(410) 823-1309
www.nps.gov
Hampton Mansion is thought to have been the largest private home in America in the late 18th century. It is an example of late-Georgian architecture.
The Hampton estate belonged to the Ridgely family, and reflects the struggles America has seen in its history and the inequities of its diverse populations, including enslaved African Americans, European indentured servants, and paid laborers who lived on the estate.
Evergreen Museum and Library
4545 N. Charles St.
(410) 516-0341
museums.jhu.edu
As part of the Johns Hopkins University Museums, Evergreen Museum and Library is housed in a 48-room Gilded Age mansion. Inside is a collection of more than 50,000 belongings, from rare books to decorative arts, of the Garrett family, who made their fortune in the B&O Railroad. The Mansion is set on 26 landscaped acres.
Robert Long House and Colonial Gardens
812 South Ann St.
(410) 675-6750
www.preservationsociety.com
In the 1760s, Robert Long, a young merchant, bought a plot in what is now Fells Point, Baltimore's only surviving Colonial maritime neighborhood. Long's house, built about 1765, is the oldest surviving residence within the boundaries of old Baltimore City.
Long was an ordinary working man, and a visit to his house offers a glimpse into life on Baltimore's waterfront in the 18th century.