Housing
Home care aides provide peace of mind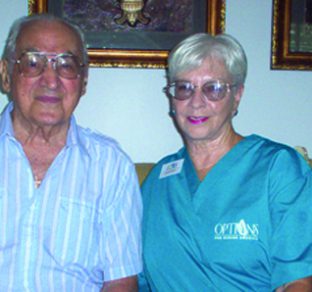 Home care aides can help one transition back home following a hospital stay or, on an ongoing basis, help an older adult continue to live independently in their home or apartment. Pictured here is client Charles DeRico and his caregiver Julia Vondale, of Options for Senior America.
Photo courtesy of Options for Senior America
After being diagnosed with ovarian cancer in 2013, Pat Libhart underwent chemotherapy, which left her with neuropathy in her feet. The condition can be both painful and lead to numbness, and caused Libhart to need a wheelchair.
To help her get to treatments, cook, dress and other activities, Libhart contacted Family & Nursing Care, a company that provides home care aides to help patients continue to live at home when they have health challenges or aging has limited their ability to engage in everyday activities. Aides may come to patients' long-time homes, or help them at independent or assisted living communities, and even hospitals.
The Beacon talked to a number of home care recipients and their children about how home care affects their lives.
Companionship and practical help
Family & Nursing Care, whose founders recently won the Jewish Council for the Aging's 2017 Humanitarian Award, provides caregivers who come to Libhart's Chevy Chase, Md. home each day. Family & Nursing primarily serves customers in Washington, D.C. and Montgomery and Prince George's counties in Maryland.
"One of the most important things is they offer companionship," said Libhart, 86, a former dean at Georgetown University. "I have not ever met any more spiritual or lovely or intelligent women."
The caregivers take Libhart on outings to nearby gardens, shopping, and even to the beach at Sandy Point State Park in Annapolis.
"They kind of become a member of your family," she said. "And I love it because, although I have a sister in Pittsburgh and a nephew here, it's nice that I really don't need to be dependent on them."
Libhart noted that her long-term care insurance covers the cost of home care, and said, "I don't know where I'd be without it."
Ruth Smith (not her real name) was hospitalized due to a series of illnesses, the worst of which was a stomach infection last October. She also used Family & Nursing's aides after returning home.
"They were excellent when I came home from the hospital," Smith recalled. "Very professional and efficient. I couldn't stand or walk around anymore, and needed 24/7 care.
"Honestly, it's annoying having someone around full-time, but I had to have it. They did the best they could to make me comfortable. I really recommend them as a full-time care option," said Smith, who turns 90 this month.
After several more infections and hospital visits, the doctors decided Smith needed to enter rehab at Bedford Court in Silver Spring, Md. to build her strength back up. With rehab, she regained a lot of mobility and strength, and decided to move to Bedford Court Independent Living in February.
She still uses Family & Nursing part-time for help with showering, cooking, cleaning and laundry. In the past, aides assisted with medication management as well.
Smith's only criticism before switching to a regular caregiver: "I wish the part-time caregivers anticipated my needs more. Between shifts, they don't seem to talk to each other or pass notes about where to find things or what I like or need. I think they could work on that."
Some people don't need home care for long. Diane Simmons (not her real name) used a Family & Nursing home care aide for a week to help transition her father from rehab to home.
"Even though my dad is resistant to a lot of things, he knew it was great being able to get out of an institutional setting while recovering," she said.
Aging in place
Others use home care as a means to help their parents live fairly independently in their homes.
Caesar Layton's mom fell twice in the last year while he and his wife had been her primary caregivers. "We had gotten to a point where we couldn't do it by ourselves," he said.
That's when he turned to the home care company Options for Senior America, with offices in Baltimore, Gaithersburg and Annapolis in Maryland, as well as Fairfax and Ashburn in Virginia. Earlier this year, the company received the SeniorAdvisor.com 2017 Best of Home Care award, which is given to fewer than 1 percent of providers nationwide.
"The person that we settled on is really sweet," Layton said. "She is caring. She obviously has experience working with elderly people. My mom seems to really enjoy her, so that's super important…
"Without this there is no way she would be able to live independently, and we would have to put her in an institutional setting, which in our minds would not be healthy for her," Layton added.
Rhonda Robinson also uses Options for Senior America for long-term care of her mother, who has Alzheimer's disease.
"With my mom, we need someone to interact with her, so the person [we hired] does. When my mother was recently hospitalized, since she can't really communicate so well, we had her Options person come stay with her at the hospital.
"The lady who was in the bed next to my mom called me over and said how well the person did with my mom. She said they laughed and they talked, so she's really good with my mom. We're really happy with them," Robinson said.
"They keep her safe and allow her to stay home. Without Options, we would have had to put her in a nursing home."
Rebecca Clark used Options to care for two of her sisters. She liked the ease of tailoring help to their particular needs, including bathing and cooking.
"When you need some additional help, you can pick up the phone and have somebody you can call. I know whenever I call, if they're not at their desk, they'll call me back, and are always willing to talk to me about the additional needs that I have," Clark said.
Her advice on selecting a home care aide? "You have to just be really careful of who you select — that they have people you can trust, that are compassionate."
Learn more about Options for Senior America at www.optionscorp.com or 1-888-378-1273.
Contact Family & Nursing Care at www.familynursingcare.com or (301) 588-8200.
Talia Denicoff and Rebekah Alcalde contributed to this story.