Housing
'Home care' differs from 'home healthcare'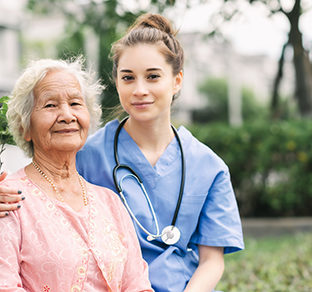 "Home care" and "home healthcare" are two terms that are often used interchangeably, but they are very different in what they offer. Learn what senior care services each provides to determine the best fit for your needs.
Types of home care services
The first step in hiring in-home care services is identifying the differences in a caregiver's duties and responsibilities between non-medical home care and home healthcare options.
It is important to understand this distinction, since the type of care will guide your search for the appropriate provider as well as determine how you will be able to pay for home care.
Two types of non-medical home care
Non-medical in-home care is supportive care that does not involve medical skill and is therefore provided by senior care aides. This type of home-based care may also go by the following terms: personal care, companion care, homemaker services, custodial care, unskilled care, and non-clinical care.
Professional care aides provide valuable social interaction, help with household chores, and assist with activities of daily living (ADLs). [See our January 2023 issue for "Understanding 'activities of daily living.'"]
Some states make a very clear distinction between personal care and companion care when licensing in-home care agencies. [For example, Maryland requires a license for agencies providing personal care.]
Personal care involves hands-on care like bathing and toileting assistance, whereas companion care focuses on social needs and daily household tasks.
When interviewing and selecting a home care agency, ensure you are specific about the services you require, as personal care services require a higher level of assistance and training.
Homemaker and companion care include:
Companionship and socialization
Meal planning and preparation
Laundry
Light housework
Shopping and errands
Transportation
Mobility assistance
Medication reminders
Personal care services include:
Personal care aides can provide all the services of a companion caregiver in addition to hands-on physical assistance, such as:
Bathing or showering
Toileting
Oral hygiene
Feeding
Dressing
Incontinence care
What is home healthcare?
Home healthcare is medical in nature and may also be described as clinical or skilled care. A prescription from a doctor may be required to obtain these services, which are provided by healthcare professionals, such as registered nurses (RNs), licensed practical nurses (LPNs), and physical, occupational and speech-language therapists.
Services may also be provided by home health aides (HHAs) who are acting under the supervision of a registered nurse. Home healthcare is often short-term and is prescribed as a necessary part of a senior's rehabilitation or treatment while they recover at home.
Home healthcare services include:
Administration of medication (including IVs and injections)
Monitoring vital signs
Wound care
Assistance with recovery from illness or injury
Physical therapy
Occupational therapy
Speech-language therapy
Monitoring of medical equipment
Expertise in specific medical conditions (like Alzheimer's disease or other dementias)
Note that there may be some overlap in the provision of in-home care services. For example, a home healthcare company may also provide non-medical homemaker and personal care services if you identify a need for household assistance in your care plan.
Originally published on AgingCare.com, this article was reprinted with permission. AgingCare.com is an online resource that connects family caregivers, shares informative articles, provides answers and support through an interactive Caregiver Forum, and offers search capabilities for senior living options for elderly loved ones.
For more information, visit agingcare.com.