Housing
Horse therapy helps dementia patients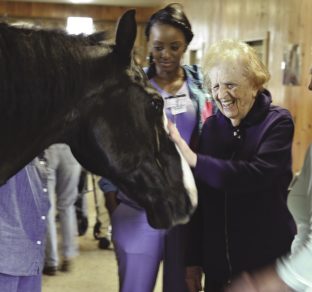 A resident of Broadmead in Hunt Valley greets a resident of the barn at Rose of Sharon Equestrian School, located in Glen Arm. The school has begun providing older adults who suffer from dementia with "horse therapy," which has been found to boost both mood and memory in those with the condition.
Photo by Tom O'Connor Photography
Horses can change lives for the better. A number of residents from a Baltimore retirement community have had first-hand experience with the healing powers of a soft nose and gentle eyes.
Each spring and fall, Broadmead, a Quaker Life Plan Community in Hunt Valley, sends four to six of its residents with dementia to the Rose of Sharon Equestrian School (ROSES) in Glen Arm — a therapeutic program built around horsemanship — to spend time with some four-legged gentle giants.
Prior to working with Broadmead, ROSES focused its "equine facilitated learning experiences" on children and young adults with disabilities.
Stacey Young, Broadmead's director of lifestyle and dementia programs, and Andy Switzer, director of health and wellness, were looking for a way to incorporate equine therapy into their residents' lives.
They knew of potential benefits from the practice from a 2014 study by researchers at Ohio State University. The first study of its kind, it found that grooming and touching horses helped ease the symptoms of Alzheimer's dementia, including agitation, fidgeting and lack of physical activity.
After searching the Internet, Young and Switzer found the ROSES program, located next to Gunpowder State Park. The 12-acre facility is home to two miniature ponies and three horses specially trained for therapeutic work.
"We knew that we wanted [ROSES] to be a part of our program" for residents, Young said.
So, they reached out to Joan Marie Twining, the executive director and founder of the school.
"The more we learned about how dementia affects not only an individual, but his or her family and other caregivers as well, the more we realized how many similarities there are with our students," Twining wrote in an email.
After a year-long process filled with logistics, the school established a program in 2017 called Silver STEEDS — Special Therapeutic Equine Experiences Designed for Seniors. It is now held twice a year, in the spring and fall, for a session of five once-a-week visits.
Benefits for all
Around the horses, residents of the community become less anxious and are able to express themselves and communicate more.
Caryl Connor, whose 84-year-old mother has lived at Broadmead for four years, has nothing but good things to say about the program.
"The moment I heard about it, I jumped on it," Connor said. "I knew this would be something my mother would really benefit from and enjoy."
Connor's mother had grown up around horses. Her father rode them competitively, and she even owned one at a young age.
She was one of the first residents to participate in the program in 2017.
"She could be having a really rough day," Connor said, "but when I would bring up this activity of visiting the horses, she would calm down and smile."
Even though Connor's mother cannot communicate well, her body language told Connor all she needed to know: The program was making a real difference in her mother's life.
"I can just see how meaningful it is to her because she would relax when you bring up the horses," Connor said. "It gives me great joy to know she is having a good experience."
Her mother even placed a picture of one of the horses from the barn in her room.
Emotional, cognitive changes
Young has seen other positive cognitive effects from the barn program.
One man, who hardly speaks anymore, was able to converse with his wife about the geological surveys he had conducted during his career.
Another resident, who cries every afternoon and most mornings, quickly calmed down around the horses. Someone else, who typically can't remember what she did that morning, was able to recollect the grooming procedure, according to Young.
"I just see this wonderful connection between the horses and the people," Young said. Twining describes it as "magic."
The partnership with ROSES hasn't only benefited the residents with dementia. It has also helped the patients' families and caregivers.
"They can also struggle with what happens with dementia," Young said. "Seeing their loved ones joyous and connected means a lot."
And the horses love it as well. They wait at their stalls, with their heads peeking out, and get excited when the residents come, according to Young.
Having been trained around all sorts of equipment for the school's riders with disabilities, the horses are used to any walkers, wheelchairs and canes that the participants might use. "They tend to act very gently," Twining said of them.
The way these horses can bring out the personality of everyone, including those who have dementia, has left the program coordinators in awe.
"Words don't describe it," Young said.