Arts
How did Dr. Ruth come to be who she is?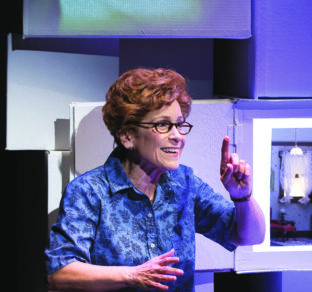 Naomi Jacobson takes on the persona of Dr. Ruth Westheimer in the one-woman show Becoming Dr. Ruth, at Theater J through March 18. The play traces her long life, from escaping the Nazis as a child, to her career as a famous sex therapist.
Photo by Teresa Wood
"I'm so glad you're here," Dr. Ruth tells the Theater J audience. "This is much better than talking to myself."
So for the next 90 minutes, the famous short, sweet, giggly, no-nonsense, common-sense sex therapist — as wonderfully performed by Naomi Jacobson in the one-woman show, Becoming Dr. Ruth — tells us all about her life and loves (three husbands, two children), while offering advice on the how, when and where of intimate relations.
Among other things that the more mature in the audience might remember is Dr. Ruth's answer to her self-asked query: What is the most important organ for sexual activity?
The answer, of course, says Dr. Ruth, is the brain, where sexual arousal begins to do its thing — even, she adds, when you are in your 90s.
Harrowing early years
Moving on, we learn how Ruth Westheimer, born Karola Siegel in a German-Jewish family at the time the Nazis were rising to power, survived her early years by being sent to Switzerland at the age of 10, while her parents were rounded up and most likely killed in Auschwitz. She never saw them again.
She later took off for the country then known as Palestine, training as a sniper for the Jewish underground, the Haganah. She then explained how she was wounded in both legs and lost the top of a foot during Israel's war of independence.
After the establishment of the state of Israel, she lived for awhile on a kibbutz, then moved on to Paris to study at the Sorbonne.
She tells the audience about her emigration to the U.S., where she earned a doctorate in education. And from there, over the years, she took to the radio, TV and writing books, ultimately becoming a media superstar and expert on sex, giving advice on its problems and delights.
We also learn how the sadness of her early life stayed with her through all the years. But at the same time, it appeared to spur on the diminutive (4-foot, 7-inches) woman to achieve the heights of outward success, and a deep and sympathetic understanding of people, places and things.
The play is by Mark St. Germain, who delved into the mind of the most famous mind doctor of them all in Freud's Last Session. The work never lags, despite the fact that most of the "action" is in reaction to the past. The frequent humoristic asides save the memories from becoming overly sentimental.
Among other things, Dr. Ruth notes two sexual problems she will not treat: "sadomasochism, because a therapist has to visualize and I don't want to, and bestiality — I am not a veterinarian."
Perhaps the stage version of Dr. Ruth is too good and funny and frank and generous and non-self-promoting to be completely true. But so what? You're being moved and entertained.
Among the play's factual renderings that stick is Dr. Ruth's noting that she was one of the 300 German Jewish children in 1938 that the Swiss agreed to take in after the Nazis started rounding up Jews, and that the 300-child cap was put on the kindertransports to France, Belgium and the Netherlands. (Great Britain helped rescue nearly 10,000 of the 500,000 Jewish children in Germany at the time, most of whom were subsequently murdered by the Nazis.)
Playing Dr. Ruth
Naomi Jacobson, a veteran of local theater and three-time Helen Hayes Award winner, is quite a bit taller than the real-life Dr. Ruth, has more of an angular than a round face, and a German-Jewish accent which is not quite in the giddy range.
But so what? Watch how the hands express feelings, deep and real; how the pauses in the speech makes the audience lean forward in anticipation of the words to come. How the face carries you to the scene, whether to Gay Paree, or skyscraping New York, or to the once-happy, family-filled childhood of her Frankfurt youth.
Director Holly Twyford — who recently kicked off her career of moving actors about on the stage after many years of acting on them herself — seems to have flawlessly done whatever has to be done by a director in a one-actor play.
One bit of a gripe. The set, which included boxes piled upon boxes, worked well when the boxes were opened to reveal Dr. Ruth's memorabilia, and her memories. But they were less than good when serving as a convoluted screen for the many projections used to accent Dr. Ruth's thoughts of people and places.
Nevertheless, Becoming Dr. Ruth had already become — and remains — an enjoyable, entertaining experience, theater-wise.
Becoming Dr. Ruth runs through March 18 at the Aaron Goldman Theater, located at 1529 16th St. Washington, D.C. in the Jewish Community Center.
Performances are Wednesdays, Thursdays and Sundays at 7:30 p.m., some Saturdays and Sundays at 2 p.m., and some Fridays and Saturdays at 8 p.m. There is a Wednesday matinee March 7 at noon, and an open-captioned performance Sunday, March 11, at 7:30 p.m.
Tickets are $39 to $69, with varying discounts for those 65 and older. For further information, see https://theaterj.org or call (202) 777-3210.
---
See Dr. Ruth in person
Dr. Ruth Westheimer will appear at Theater J's 2018 annual benefit on Sunday, March 25, at 6 p.m., at the Washington Hebrew Congregation.
Dr. Ruth will be interviewed at the event by best-selling author Deborah Tannen, who is also a professor at Georgetown University. The $300-a-ticket fundraiser will include entertainment, cocktails and a meal.
The congregation is located at 3935 Macomb St. More information can be obtained by calling Skye Landgraf at (202) 777-3230 or Laurie Levy-Page at (202) 777-3230.