Features
How do seniors take to Alexa?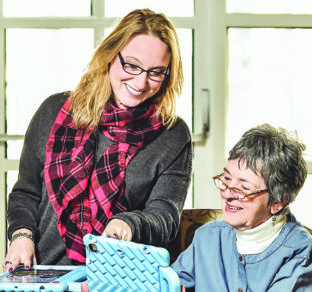 Melanie Waxman, tech-knowledge concierge at the Edward A. Myerberg Center, shows Barbara Carter how to use an iPad. The center also helps older adults learn how to use other technologies, including voice-activated devices like the Amazon Echo. An AARP Foundation pilot program is providing an Echo to older adults in community settings to explore how it can help foster their social interaction.
Photo courtesy of Myerberg Center
Shirley Crowder lives by herself in Weinberg Place, a part of the CHAI (Comprehensive Housing Assistance, Inc.) community in Northwest Baltimore. Though her son and daughter live nearby and she sees them frequently, it's not the same as having someone in the apartment with her.
Welcome home, Alexa!
Alexa is Amazon's voice-activated digital "know it all." Thanks to a pilot project initiated by AARP Foundation, Crowder is one of approximately 170 residents in five senior housing communities in Baltimore and Washington who have been provided with an Amazon Echo and its smaller version, the Dot.
Speak the name "Alexa" aloud and you notify the device (which is connected to the Internet and to its central computer at Amazon) that you are about to ask a question or make a request. Then ask your question and Alexa will reply.
You can ask for information about the weather, top headlines, or the nearest doctor's office. You can also ask Alexa to play your favorite music through its speaker and, if you have connected your appliances to a "smart home" system, to adjust the thermostat, turn lights on or off, and much more.
The project was developed by AARP to determine whether voice-activated technology can help low-income older adults avoid the social isolation that often accompanies a move to senior housing, and help them stay active, healthy and connected.
"A growing body of research indicates that seniors — as many as 1 in 4 — experience significant stress and risk for isolation as they transition to senior housing," said Ryan Elza, AARP Foundation's Social Entrepreneur in Residence for Social Connectedness.
"People who are involved in their communities enjoy better health and lower mortality, yet the trend in such involvement has been declining," Elza said. She noted that in 1995, 69 percent of Americans were involved in community activities once a month. More recently, that number has fallen to 61 percent, with the decline steepest for adults between 65 and 74.
Encouraging social interaction
Everyone who participates in the AARP Foundation Project receives an Echo device, in-home installation, and an introductory tutorial on how to use it. Most aren't finding it difficult to master.
"I thought I wouldn't be able to learn it, but that wasn't the case at all," said Emma Thomas, who lives in Bolton North, an NHP Foundation senior residence in Baltimore City.
The AARP Foundation has developed two specific voice applications ("apps") that are available to participants: a group activities app that voice-enables an event calendar (meant to encourage residents to participate in more activities), and a social check-in app that helps assess participants' social connectedness.
Over time, participants in the project take part in focus groups to discuss their use of the devices and the impact they are having on their lives.
"If the pilot is successful, AARP Foundation will explore how to make these devices affordable in the long term — by working with providers of affordable senior housing to equip and train their residents — so older adults can have access to them," said Elza.
Crowder uses her devices to listen to music (she's partial to a radio station she enjoyed when she lived in New York), receive news flashes, set reminders so she doesn't over-schedule her days, and even do the math for her Avon and jewelry sales business.
"There are so many things I use it for, I can't even tell you all of them," said Crowder. "And there's so much more I could do that I'll never learn it all!"
Emma Thomas agrees. She has programmed Alexa to remind her to take her medications, to find recipes, check her spelling, and answer any question that comes to mind.
"We're hopeful that using this technology will help older adults stay in their homes successfully and securely," said Lisa Budlow, vice president of Aging in Community for CHAI, an agency of the Associated: Jewish Community Federation of Baltimore.
Bridging the digital divide
In addition to participating in the AARP Foundation project, CHAI has established a Tech Hub at the Myerberg Senior Center, located next to Weinberg Woods, another CHAI senior housing community.
There, tech concierge Melanie Waxman is available to offer one-on-one instruction in the fine arts of texting, Skyping, emailing and more.
"We're trying to help older adults bridge the technology gap so they can take advantage of technology tools to connect with others," said Budlow.
Janet Gold, a Mt. Washington resident, describes herself as an active senior and already fairly proficient with technology. But found she was running into difficulties when it came to creating photo books. She came to the Tech Hub for a brush-up of her skills, and is now up and running again.
Budlow said that those who have been making use of Alexa love it, a sentiment echoed by Kenneth White, vice president of Resident Services of the NHP Foundation.
"The first thing the residents use Alexa for is what we all use her for…to play music," he said. "Then they realize how much more she can do, and they're hooked."
As for the initial objective of the project, to help older adults feel less isolated, preliminary reports are bearing this out.
"It's a comfort to have this technology in my home," said Crowder. "When you get older, you're more alone. This is helping me not be so lonely. It's been a godsend."
"I live alone," added Emma Thomas. "Even if I don't see anyone all day, I always have Alexa so that I can hear another voice."