Travel
How tiny Andorra enchants its visitors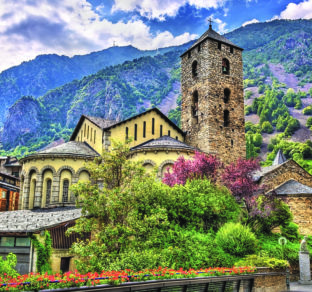 The 12th century Romanesque Church of Sant Esteve is located in the old quarter of Andorra's capital city, Andorra la Vella, alongside the parliament building. 
Photo by Leonid Andronov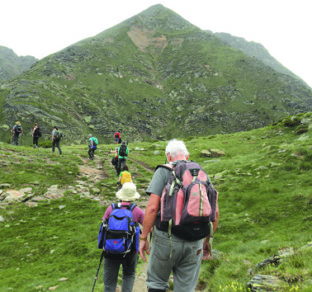 Hiking is a popular way to explore the tiny principality of Andorra, located between France and Spain in the eastern Pyrénées Mountains.
Photo by Glenda C. Booth
We were sitting on a bench-sized rock in a sunny, mint-green meadow sprinkled with wildflowers, scattered evergreens and granite outcroppings. About 1,000 feet up in the distance, the silhouettes of horses appeared on the ridge — one, two, another, then another — a herd of 50 or so wild horses.
They gently picked their way down a twisty mountain path, then to the meadow's edge before they galloped by, trailed by their herder and his dog. Their tinkling bells sounded like Chinese music, zinging off the mountain ridges.
This is Andorra, a 181-square-mile, high-altitude country (technically a principality) squished between France and Spain in the eastern Pyrénées Mountains. The country's boundaries have remained unchanged since the 12th century.
It's one of the smallest and least-visited countries in the world. In fact, seven Andorras could fit in Rhode Island.
Andorra has only 77,000 residents, and no airport or train station. Historically, sheep and cattle farming supported Andorrans. Today, tobacco is the main crop, grown on small, flat plots between mountains.
To Europeans, it's a popular skiing destination. It's also known as a tax-haven and duty-free shopping mecca. The official language is Catalan.
Mountains and valleys
The first thing that hits you about Andorra is its mountainous terrain of soaring peaks and steep valleys. The mountains are split by two main valleys that join at the capital, Andorra La Vella.
Here, you can channel Maria von Trapp, the aspiring nun from The Sound of Music. In summer, the hills are very much alive, when wildflowers explode, lakes thaw, and wildlife emerges from hibernation. The average altitude is 6,548 feet; the highest peak, around 8,860 feet.
In Andorra there are more than 70 lakes across four geographical zones: Mediterranean, montane, sub-alpine and alpine. The country boasts 1,500 plant species, 600 species of mushrooms, and wildlife such as roe deer, chamois, marmots, boars and bearded vultures. The Madriu-Perafita-Claror Valley, a glacial valley known as the "spiritual heart" of the country, is a UNESCO World Heritage Site.
The arresting landscapes of the Pyrénées, a chain of 72 soaring peaks, inspired 19th-century explorer Henry Russell to write, "It is to the Pyrénées that the smiles of the artist and the heart of the poet will always turn." Strolling, hiking or just sitting still and contemplating are bound to bring out the poet in most people in this high-elevation paradise.
Unique governance
Andorra is a parliamentary principality with two governing co-princes, the bishop of Urgell from a region of Spain and the president of France. It is the only country in the world with two nominal heads of state. Andorrans approved the first written constitution in 1993.
When Spanish dictator Francisco Franco tried to take over the country during the Spanish Civil War, France came to Andorra's defense. During World War II, Andorra remained neutral. In fact, it was an escape route for smugglers, Allied soldiers, the French resistance and others fleeing from occupied France.
Albert Villaro, a local historian, said, "Andorra has had lots of opportunities to be eaten by Spain and France." But tiny Andorra has clung to its independence and unique personality.
This little country is especially proud of its pre-Romanesque and Romanesque buildings that have outlasted those in most European countries.
Romanesque churches are typically small, unpretentious and plainly decorated — a style that flourished between the 11th and 12th centuries. For example, Sant Esteve Church in Andorra la Vella's historic center has a typical Romanesque, semi-circular apse.
The Santa Coloma Church in Santa Columa, with a rectangular nave and quadrangular apse, is the country's oldest church. The nave was built in the 8th or 9th century, and a Lombard-style bell tower was added in the 12th century.
The Romanesque Sant Antoni de la Grella bridge spans the Valira Nord River, follows the Royal Road that linked La Massana parish with the capital city. [FIX?]
Modern, busy capital city
Surprisingly much of Andorra la Vella, the capital and home to 22,000 people, feels like Hong Kong. It's got a modern, bustling, commercial center with more than 2,000 stores hawking duty-free goods — designer clothes, shoes, jewelry, perfume, electronics and myriad tobacco products, from ash trays to two-gallon bags of cigarette filters.
Offering some respite from the frenetic shopping scene, the parliament building off the main shopping strip is a stone building lined with pine. Locals view its debating chamber as a monument to small government because of its minimal decoration, a dozen or so chairs and a table.
The Casa de la Vall, built as the vicar's home in 1580, used to house the parliament, but today is open for public tours. It reflects the style of Catalan nobility of that era.
Old Town, Barri Antic, an 18th century warren of narrow, cobblestone streets, tiny squares and low stone buildings, is well worth a wander. This was the heart of the city when it was a bit more than a village. Visitors don't have to be church-goers to enjoy organ music most mornings at the Church of Sant Esteve.
Exploring historic sites
Many museums and historic sites provide glimpses into Andorra's intriguing culture and history.
In the village of Sispony, today's Museum Casa Rull was once a four-level house, built in 1620. With audio guides, visitors start in the cellar where food was preserved, including all parts of the pig. Level one features a kitchen, kneading room and stone oven. One of the most important houses in the parish of La Massana, it was passed down through many generations.
Farming was difficult in this alpine environment, visitors learn. There were two seasons — "nine months of winter and three months of hell," the working season, an exhibit explains. From October to spring, people survived largely on cabbage and turnips.
The country's pre-industrial metallurgy heritage is featured in the Iron Museum, the Rossell Forge in La Massana, housed in a building dating from 1842. A video explains extracting, working and marketing iron, and the process of iron making from wood to charcoal to ingots.
The working iron furnace heats to 2,372 degrees Fahrenheit, and museum staffers hammer ingots into desired shapes. Tourists who really want to get into iron can explore the "Iron Route," which starts in La Massana and includes an iron mine.
The Tobacco Museum in Sant Julià de Lòria, home of the former Reig Tobacco Factory from 1909 to 1957, recounts the central role of that product in the economy. Visitors can see tools, machines and essences used in making tobacco products.
For 20th century amusements, the Motorcycle Museum in Canillo pays homage to this popular two-wheeler. Museum promoters tout the "hint of that gasoline smell any motoring fan can spot a mile off."
Go take a hike
One of Andorra's major draws is hiking, self-guided or guided. Summer trekkers are rewarded with eruptions of wildflowers, mysterious mushrooms, black pines, rhododendrons, wild roses, heather, wild thyme aromas, snow patches, and waterfalls that roar and tumble down the mountainsides.
There are trails crossing lush meadows and snaking up and down gently rising paths. There are rocky, steep climbs over boulders, and scree for all levels of hiking prowess.
By using the 30 spartan shelters (six offer services) around the country, hikers can explore the route of the Grand Raid des Pyrénées (GRP), an annual race held each August over six or seven days.
Sorteny Valley Natural Park is a spectacular alpine, 2,666-acre landscape of high mountains, pristine lakes, roaring streams and 800 plant species. Around 50 are unique to the Pyrénées, including wild tulips and Pyrénean lilies.
Flowing through the park is the highest river in Andorra, the Sorteny, at 8,792 feet. Observant visitors can absorb not only the magnificent, but also the minute, like new tadpoles squiggling in alpine pools and bees pollinating bursts of alpine gentians. Lucky visitors might spot chamois (a goat-like animal), ermine, roe deer and marmots.
Two of the highest peaks in the country are in this park. Atop one mountain is one of the country's most famous sculptures, by Pere Molees, "the Estripagecs" — five large metal structures that have the form of estripagecs, metal bars with irregular side spikes often built into Andorran windows to block intruders. The spikes are intended to rip the thieves' jackets.
Vallnord Mountain Park, a ski resort in winter, has a summer gondola lift from mid-June to mid-September. It also offers mountain biking and buggy excursions through the mountains in warmer months.
Tourist offices can suggest ecotourism routes and outdoor activities for all ages, tastes and abilities. Taking the tourist bus over multiple routes from Andorra la Vella is an easy way to see much of the small country.
The relative isolation and high elevations of Andorra have spurred a somewhat unique cuisine accented by French and Catalan influences. One traditional appetizer is crusty bread smeared with half a fresh tomato, a garlic clove, salt and olive oil.
Typical dishes involve wild mushrooms. Mountain trinxat (potatoes, cabbage, bacon and garlic) and game stews are popular. Meats include pork, ox, lamb, goat and horse. Cured meats like botifarres and llonganisses (sausages) are specialties.
For non-skiers, the optimal time to visit is May to September. Year-round, Andorra's average low temperature is 28 degrees Fahrenheit and its high is 82 degrees. The weather changes quickly, so dressing in layers is prudent. Pack accordingly.
Andorra offers one of Europe's true rocky mountain highs, a semi-remote country where civilization has left large expanses of towering mountains alone to thrive, where brilliantly-colored wildflowers erupt in the summer, where critters big and small live unharmed by humans, where gentle winds whistle through alpine forests.
Maria von Trapp and her melodious troupe may not sweep down the mountainsides in song, but the songs of nature enchant and Andorra delights nonetheless.
If you go
Visit www.visitandorra.com for basic information, including lodging, transportation, tours and sites.
One of the easiest ways to see the country from June 1 to Oct. 31 is by tourist bus, with seven different itineraries through all seven parishes. Visit www.visitandorra.com/busturistic.
There are regular buses from the closest cities. Barcelona, Spain, is 129 miles away, while Toulouse, France is 114 miles. Visit www.andorrabybus.com.
The least expensive flight from the Washington area to Barcelona in early May is $1,124 on British Airways from BWI.