Travel
How to save money on booking a cruise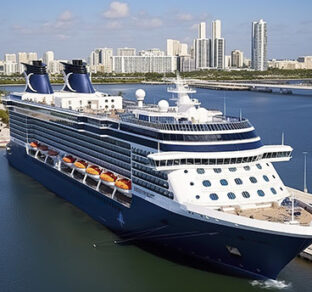 Photo by Ahasanara Akter on Vecteezy
Booking a cruise for a family vacation or romantic getaway? Cruises can be a great way for extended families to enjoy time together, as they offer activities for kids, adults and seniors.
And if you book a cruise strategically with travel rewards credit cards or cash back cards, you can save money and get extra perks for your trip.
Kiplinger editors have found three methods for saving money on cruises.
Using credit card rewards
If you are a veteran cruiser, you know that booking a cruise can be a complicated ordeal, especially if you are trying to earn or redeem credit card rewards at the same time.
"The best strategy is to keep it simple and flexible," according to Ted Rossman of Creditcards.com.
Rossman recommends avoiding cruise-branded credit cards, which typically deliver meager rewards and lock you in to only one cruise line. Instead, he advises using a flexible travel rewards card or a cash back card.
Booking with a travel rewards credit card can help you get travel-related perks, like travel assistance and no foreign transaction fees. Here are some of Rossman's favorite travel cards for maximizing the points you earn when booking a cruise:
The Chase Sapphire Preferred® Card earns five points for every dollar booked through its travel portal. And as of the publishing date, the card comes with a bonus offer worth $750 for new cardholders after spending $4,000 on purchases in the first three months of opening the account. (The card has a $95 annual fee.)
Instead of booking directly through the Chase travel portal, you must call a Chase cruise specialist at 1-866-331-0773. Chase works with almost every cruise line (except for Disney) and will match the price of any package you find on a partner cruise website.
The Capital One Venture Rewards Credit Card earns five miles for every dollar booked through Capital One Travel and two miles per dollar on all other purchases. It also has a $95 annual fee.
New cardholders can get 75,000 bonus miles after spending $4,000 on purchases within the first three months of opening the account. You can also book a cruise without using the Capital One Travel platform and get reimbursed at the rate of one cent per mile.
If the thought of managing points or miles for booking and redeeming travel sounds like a hassle, keep it simple with one of the best cash back credit cards.
One of the best options for travelers is the Wells Fargo AutographSMCard (no annual fee). Earn unlimited three points back on each dollar spent on travel, restaurants, gas and other categories, and one point back on everything else. Earn a welcome bonus of 20,000 bonus points when you spend $1,000 in purchases in the first three months, worth a $200 cash redemption value.
Wholesale club memberships
If you're a fan of Costco Memberships, check out the company's travel discounts. Costco cruise packages, especially those under the store's Kirkland brand, are some of the cheapest on the market. Costco also partners with Disney and other major cruise lines. An entry-level Costco membership costs $60 per year.
BJ's Wholesale Club members receive up to a $500 BJ's gift card when they book a cruise through the company's travel portal. BJ's offers discounts on major cruise lines, as well as everything you may need to get you to the departure dock, like airfare, rental cars and hotel. The lowest membership tier costs $55 per year.
Both Costco and BJ's provide last-minute deals on cruises, some of which are incredibly cheap. For example, Costco is advertising a four-night Caribbean cruise on a Carnival ship for $585 per person, plus taxes and fees. BJ's touts a seven-day MSC cruise to the Bahamas and Florida for $419 per person. Both of these deals are for "interior" rooms with no windows or portholes, which are ideal for cruisers on a budget.
When to hire a travel agent
Remember travel agents? The internet certainly decimated the industry, but it has adapted to offer real value to clients while saving them time and hassle. This is especially true when booking a cruise, which is exceptionally complicated.
A good travel agent can help you find a great deal, understand pricing tiers and perks, and help you keep track of multiple payment deadlines. And best yet, you don't pay the travel agent any direct fees — those are typically covered by cruise lines' commissions.
To find a reputable agent, ask family and friends who cruise if they have any recommendations. Vet agencies by reading reviews from the Better Business Bureau, and consider looking for an accredited agent, such as through the American Society of Travel Agents' consumer website, TravelSense.com.
Before you lift anchor
The cruise industry is not always pretty; just think of recent norovirus or Covid outbreaks that put passengers at risk and ruined vacations. Cruises are also very polluting, with a typical ship having a carbon footprint of 12,000 cars.
If environmental issues are important to you, look for a cruise line with a higher rating in the most recent Cruise Ship Report Card from Friends of the Earth. The top-rated lines in 2022 were Regent Seven Seas and Disney.
For a sense of how clean and sanitary a cruise ship or cruise line is, you can conduct a search on the CDC's Advanced Cruiseship Inspection Search tool at bit.ly/CDCCruiseshipInspection.
All contents © 2023 The Kiplinger Washington Editors, Inc. Distributed by Tribune Content Agency, LLC.