Travel
In low-cost Cambodia, there's much to see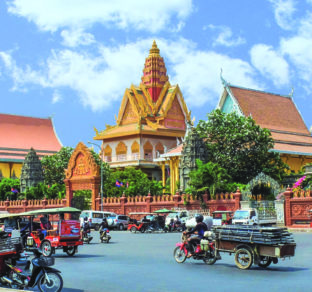 In Phnom Penh, capital of Cambodia, modern motor scooters ride past Wat Ounalom, a temple compound built in 1433 that serves as headquarters of Cambodian Buddhism. The grounds include 44 structures.
Photo by Shutterstock.com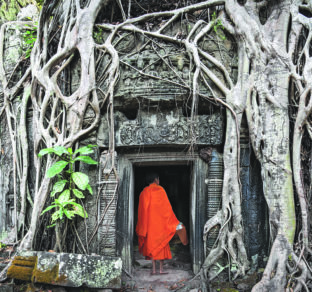 The Temple City Angkor Wat, over 400 acres in size and surrounded by a moat, is one of the largest religious monuments in the world. It was built in the 12th century, and today attracts more than 2 million tourists a year. Some of the Buddhist shrines on the site, such as this one being entered by a monk, are encased in huge tree roots.
Photo by Banana Republic Images
Once the site of one of Asia's most significant early civilizations, Cambodia today presents a rural society far less populated and economically developed than its neighbors, Thailand and Vietnam. And that is the crux of the country's charm and appeal.
Visitors throng to the country's premier tourist draw, Angkor Wat, but you will find much to see and do on the road to this ancient temple, now a World Heritage Site.
A popular tourist trail starts in the south at the country's capital, Phnom Penh, and heads north on modestly maintained Highway 6 to Tonle Sap, a lake so large it looks like a sea.
The six- to eight-hour drive ends at the city of Siem Reap, the launching point for exploring Cambodia's temple country.
Know before you go
You'll run across the word "Khmer." It has multiple meanings. It's the official language of Cambodia. A Khmer is a native of Cambodia. It's also the name of the ancient kingdom that reached its peak of power in the 11th century.
Cambodia is about the size of Oklahoma. Most of its 16 million residents practice Theravada Buddhism. With an average annual income of about $1,500 per capita, it's the second poorest country in Southeast Asia. So far, it remains one of the least expensive countries to visit.
Luxury hotel rooms can cost less than $100 a night, and the country has plenty of accommodations in all categories, including guest houses and hostels. Meals in moderate restaurants rarely cost more than $5.
Weather is warm year-round. Little rain falls from November to May. March to May is the hot season. Days in June through October see daily afternoon monsoon deluges, and it is the quietest time for tourism.
There are no direct flights from North America to Cambodia. You must take connecting flights from major destinations elsewhere in Southeast or East Asia, such as Bangkok, Singapore or Ho Chi Minh City.
You will need a visa ($30, plus an extra passport photo). Fill out the paperwork provided on your flight, and obtain a tourist visa upon arrival at the Siem Reap or Phnom Penh airport.
Currency is the Riel, about 4,000 to $1, with Riel currency coming in denominations from 50 to 100,000. The U.S. dollar is accepted everywhere, and all ATMs dispense U.S. dollars.
Roads have improved in the past few years, but many are still narrow and bumpy. If you are on your own, buses are the cheapest and most convenient way to travel between towns.
Shared taxis are another possibility, but they are stuffed with passengers, and the drive is notoriously heart-pounding. The choice of self-driving is littered with government obstacles, so it's better to hire a car and driver.
In town, the best choice is a tuk-tuk — some form of covered seating pulled by a scooter. Another option is a moto, a scooter taxi where a passenger rides behind the driver. Rides go for $1 to $2.
Scooters are the transportation mode du jour. It's not unusual to see mom, dad and two kids plus their groceries amazingly packed on a scooter. Goods that you might expect to be hauled by truck are roped onto scooters.
Chow down
Cambodian food is a mishmash with influences from France, Vietnam, China and Thailand. It is more delicately spiced, with less chili and sugar than Thai food.
The national dish is amok, a thick soup cooked with fish, meat, vegetables, eggs and coconut milk, often with hints of lemongrass or light curry. Chicken, pork, fish and rice are staples. The markets offer a wide range of vegetables.
That's also where you will find trays of fried grasshoppers, beetles and crickets. Sold by the bag, they are eaten like sweets.
The cheapest food is street food prepared on portable stoves or barbecues. Favorite offerings are fried noodles, baguettes, fresh fruit and ice cream.
Cheaper restaurants simply place their pots in front, you lift the lid and point to what you'd like. It will be served with a plate of rice.
In the larger cities, you can find more upscale restaurants with international cuisine. Tourist restaurants with English-language menus and Western cuisine are found in larger towns and traveler hubs.
Cambodians eat early. Restaurants tend to close by 9 p.m., although some stay open longer in tourist areas.
Important note: Don't drink the tap water. To be safe, use only bottled water, even when you brush your teeth.
Phnom Penh
Evacuated and left to ruin by the Khmer Rouge (the communist rulers of Cambodia from 1975 to 1979) a generation ago, Phnom Penn is now flourishing and experiencing rapid development.
Situated at the confluence of three rivers, including the Mekong, the city is crisscrossed by broad tree-lined boulevards and dotted with colonial villas, modern architecture, and boutique hotels, hostels and restaurants.
Still it's not totally recovered. Side roads are in poor shape, some of the villas are ruined beyond repair, and the old drainage system backs up whenever it rains. Poorer people live in shanty villages on the city's outskirts.
Phnom Penh offers the country's most happening nightlife with late-night bars and clubs along the waterfront. Choices range from girlie bars, karaoke, dance halls and local discos to high-end options.
One stop hardly ever missed by visitors is the enormous, hot, noisy and crowded shopping mecca, Psar Toul Tom Poung (Russian Market). It's "the place" to buy textiles, antiques and silver, motor bike parts, bootleg DVDs, fake designer bags and handicrafts. Hours are 8 a.m. to 5 p.m. daily.
The best cultural highlights are the Royal Palace, probably the city's most memorable sight; the Silver Pagoda, home to a sacred emerald Buddha; the National Museum, with a top collection of sculptures from Cambodia's temples; and, sadly, the Toul Sleng Genocide Museum, which recalls the many Khmer Rouge atrocities.
Continuing north, a popular stop for tourists is the little town of Skuon, less than an hour's drive on the highway from Phnom Penh to Siem Reap. It is famous for its edible spiders. They are a type of Asian tarantula about 2 inches across, that are served deep-fried with a hint of salt and garlic.
At 4,000 square miles, Tonle Sap is the largest lake in Southeast Asia. It stretches along for about half the distance between Phnom Penh and Siem Reap.
Thousands of families live along or on it, supported by fishing. Most live in primitive conditions.
Those along the shore have built homes on stilts; at the height of the wet season in September water levels can rise well above 30 feet. Others live in floating villages that move seasonally to keep floating in the shallow lake.
Vendors offer various boating tours of the area.
Markets and museums
Siem Reap is the gateway to Cambodia's temple area. More modern than the rest of the country, it's packed with hotels, restaurants, bars, boutiques, tourists and tour operators. Nonetheless, it retains a bit of small-town colonial charm.
As in Phnom Penh, shopping is not to be missed. Here, the most popular spot is the Angkor Night Market, with hundreds of closely packed stalls that offer every kind of craft and collectible produced in Cambodia. Hours are from about 5 to 10 p.m. daily.
The Angkor National Museum tops the list of best cultural highlights. If possible, it's best to visit here before the temples. Pieces of ancient Khmer sculpture are exhibited in wide galleries. Multimedia presentations provide background on Cambodian history, heritage and religion.
Another choice is the Artisans d'Angkor, where you can see students hone skills in wood and stone carving, lacquer-work, gilding and silver-working. The end products can be bought in a boutique at the center.
A stroll along the riverside walkway, running along both sides of the Siem Reap River, lands you at the formal Royal Gardens, flanked by two venerable hotels.
Temples of Angkor
The temples of Angkor are a monument to the greatest ancient civilization of Southeast Asia. Angkor was the heart of the great Khmer Empire spiritually, politically and geographically.
More than 100 temples to various deities are scattered over 150 square miles. They were built between the late 6th century through 1200. In the great days of the empire, each temple was the center of a busy community. As they were typically built of wood, they are now entirely vanished. At its height, the region boasted a population of 1 million at the time London was a small town of 50,000.
Today, 2 million tourists clamber through the crumbling ancient monuments each year. Tickets are required to enter what is loosely called the Angkor Archaeological Park. Admission is $20 for one day. Tickets are printed with your photo, and they are checked at various stops. The fine for entering without a ticket is $100.
The most popular of the temples built by god-kings is Angkor Wat. Other best-visited stops are the walled city of Angkor Thom, where you'll see dozens of towers plastered with faces, and Ta Prohm, with its semi-ruined shrines and statues smothered by giant tree roots.
Angkor Wat is the national symbol and the highlight of any visit to Cambodia. Dominated by five lotus flower towers, it was built in the 12th century to honor the Hindu god Vishnu. It is the largest, best preserved and most religiously significant of the Angkor temples.
On approach, you first cross a vast moat on a broad causeway. Once you enter the main building, you climb through a series of galleries and courtyards before reaching the central sanctuary, which gives views back to the causeway and across the surrounding countryside.
Intricate stone carvings adorn nearly every surface, with more than 1,000 Apsaras, or celestial dancers, sculpted into the walls. Along the outer gallery walls run the longest continuous bas-relief in the world, which narrates stories from Hindu mythology. Be ready to climb steps to reach different levels, as well as a steep ladder-like staircase to the top.
Due to its popularity, Angkor Wat can be crowded. The best time to visit to avoid the mass of bus parties is 7 to 9 a.m.
If you go
Cambodian hotels can be very inexpensive. The ones below have English-speaking staffs and websites in English and represent the range of prices.
Phnom Phen
You Khin, a three-story guest house with pool. Rates range from $39 to $59. www.youkhinhouse.com
The Quay, a 32-room boutique hotel overlooking the Tonle Sap River and Mekong Rivers. Rates range from $75 to $95. www.thequayhotel.com
Raffles Hotel Le Royal is a luxury hotel with rates from $230 to $292. www.raffles.com
Siem Reap
Low-price Ivy Guest House has non-airconditioned rooms for $6 to $8. Rooms with air conditioning are $15. www.ivy-guesthouse.com
The moderately priced Villa Medamrei offers free pickup from the airport or bus station. www.villamedamrei.com
Rambutan Hotel has some rooms with private rooftop terraces and apartments that range from $126 to $152. All come with complimentary foot massages. www.rambutans.info
For further tourist information, contact:
Cambodian Ministry of Tourism, country's highlights, information on accommodations, history and Khmer culture. www.tourismcambodia.org
Canby Publications, convenient online extracts from Cambodian city guides. canbypublications.com
Cambodian Information Centre, information on everything from clubs and organizations to the legal system. www.cambodia.org
The least expensive roundtrip flight to Phnom Phen from the Washington area in early January is $1,243 on ANA, a Japanese airline, but that fare requires flying out of Dulles and returning to Reagan National with an 18-hour layover in Tokyo. Cathay Pacific offers a flight for $1,593 leaving and returning from Reagan National and transferring in New York and Hong Kong that is about 10 hours shorter in travel time.