Travel
Inn-to-inn hiking gains a foothold in U.S.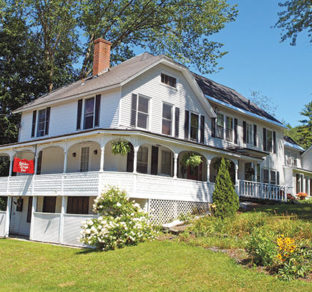 Hike from inn to inn in Vermont.
While the Appalachian Trail and the Pacific Crest Trail are popular hiking trips for the seasoned trekker, many travelers prefer a soft, cozy bed and a home-cooked meal at the end of a long day of walking.
Multi-day walking trips offering these comforts are popping up across the country. Popular throughout Europe, curated backcountry tours are a kinder, gentler way to explore and still enjoy a good night's sleep. As Americans are rediscovering the great outdoors, these inn-to-inn hikes are rising in popularity.
I recently completed a four-day, 44-mile inn-to-inn hike through Vermont's beautiful Green Mountains. Joining me on the journey were two friends: a 70-year-old retired professor and a 60-year-old software engineer. I landed right between them in age and ability.
Our hike began with glorious sunshine and a dirt road adventure. Every day, we walked about 10 miles on backcountry roads through evergreen forests and charming small towns.
Every night, we stayed in a new inn, whose staff transferred my bags, fed us hearty meals, and provided soft beds to rest our weary bones.
Daily directions to the next inn were a comical scavenger hunt. I searched for red barns, cornerstones and other unusual markings: "Walk 50 feet; you will see a brownish metal gate with colored ribbons. This gate may be locked, but you may pass around it."
Four historic inns
Our loop began with a great night's rest in Chester. Each day we traipsed to towns reminiscent of a Hallmark Movie set: Proctorsville, Ludlow, Weston. Our journey completed back in Chester, where my Jeep was parked, awaiting our return.
Our accommodations were as unique and charming as Vermont inns tend to be. While the decor differed from classic country style to ornate Victorian opulence, every inn had comfy beds, delicious meals and charming innkeepers. Julie-Lynn Wood, proprietor of the Golden Stage Inn, served us warm berry muffins and ginger scones.
"I love the day-to-day running of the inn, the rhythm of innkeeping, and having my family around," she told us one morning. "I love our guests. We have many that return again and again."
Our adventure on the Vermont Inn to Inn Walking Tour was challenging and self-satisfying. We enjoyed our time at each inn and tackled each day's hike with vigor — and some minor aches and pains.
Tour companies can help
Personally, I am all in for an adventurous trip. However, I can pass on overnighting in a hammock or storing my food in a bear canister. When someone else can lug my suitcase, it is a wonderful "have your cake and eat it too" moment.
Besides, planning a multi-day hiking trip can have lots of moving parts, as accommodations and meals shift every day. A professional tour provider can save you time, effort and headaches. That way, you can simply enjoy putting one foot in front of the other and happily explore the unfamiliar landscapes.
Popular multi-day tour companies like Backroads offer expeditions from easygoing to hard core. They plan everything from accommodations and meals to hiking routes and local sightseeing.
From Yosemite to Acadia and the glaciers to the Blue Ridge Mountains, walking tours span the globe, which can make choosing your next foot-friendly exploration difficult.
Perhaps the oldest trail in Europe is the Camino de Santiago, a tangle of trail networks that weave across the Iberian Peninsula through France, Spain and Portugal.
A variety of hotels dot the pilgrimage path, ranging from inexpensive albergues (hostels) to comfortable hotels. If you book a trip with a tour company, they will do all the planning for you and will transport your luggage.
Reasons to hike on vacation
Immersion into Mother Nature's green wilderness is wonderful for the soul. The rhythm of footfall after footfall affords you time to think. There is no phone grabbing your attention; it is all you — moving through time, testing your limits.
When cell service returned on our hike and my phone began to chime, I chose to shut it down and keep walking, staying in the moment.
Exploring a road less traveled that offers peace and quiet while rhythmically working your muscles brings a satisfying self-awareness and appreciation of the earth we love.
If you go
The closest airport is Rutland Southern Vermont Regional Airport, which connects to Logan International Airport in Boston. Flights from DCA to Rutland start at $359 on Jet Blue.
To explore the Green Mountains on foot, I recommend the Vermont Inn to Inn Walking Tour, (833) 466-2466.
For the Camino de Santiago, book a tour like "Walking the Camino de Santiago" from Explore. The closest airport is Madrid-Barajas Adolfo Suárez Airport. Round-trip flights from here to Madrid start at $526 on Delta Airlines in September.
Backroads offers a variety of tours to explore the U.S. and abroad. Visit backroads.com.
Sandi Barrett is a freelance writer exploring the Americas and Europe and seeking out interesting adventures and oddities, exceptional local cuisine, and fun libations. You can follow her travels on Instagram @Travel_With_Sandi.