Housing
Innovative housing options are on the rise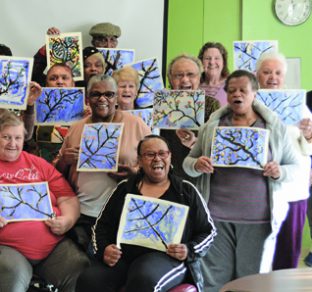 Volunteer resident members from CSI Support & Development Maryland Region Co-Op apartments enjoy "A Day of Art" presented by Abrakadoodle at Highlandtown Plaza Co-Op on Feb. 6.
Photo courtesy of CSI
Traditionally, housing options offered older adults were a choice between living alone, which often meant growing increasingly isolated; moving in with their kids; or moving to a traditional retirement community.
Fortunately, in recent years, people are coming up with alternative ways to live with more community, according to Beth Baker, author of With a Little Help from our Friends — Creating Community as We Grow Older.
"From village models to cooperative housing to home-sharing, new options give folks a way to have a strong support network —and it turns out that's incredibly important," said Baker, who lives in Maryland.
She said research is finding that loneliness and isolation contribute to all sorts of medical problems, such as high blood pressure, inflammation and elevated stress hormones. "At the same time, a strong social network strongly contributes to physical and mental well-being," she said.
The importance of social connectedness is also being seen in the design and architecture of retirement communities now being built, according to Meg LaPorte. She contributes to the blog www.ChangingAging.org, founded by Harvard-trained geriatrician Bill Thomas, who is known for his healthcare systems and nursing home innovations, including the Eden Alternative and the Green House Project.
"Many retirement communities are seeking to integrate with the community at large so that residents can access restaurants, banks and other services in the town center, making them more walkable and transportable in the process," said LaPorte. She added that there are also communities that intentionally locate next to or even on a college campus so that residents can take advantage of lifelong learning opportunities.
Here are some of the housing innovations that Baker and LaPorte have seen nationwide.
It takes a village
The village model is a neighbors-helping-neighbors membership organization, formed within existing neighborhoods.
Home owners in a limited area contribute annually to support a concierge or administrator who can dispatch volunteers to shovel show or rake leaves, provide transportation, send over a handyman, and provide other assistance allowing members to remain independent in their existing homes.
Nationwide, more than 200 villages have been formed, including two in Baltimore: Northwest Neighbors Connecting/CHAI (www.chaibaltimore.org/nnc or (410) 500-5300) and Village At Home, serving North Baltimore (www.villageathome.com or (410) 235-3171). Another 150 are currently in the process of being organized across the country.
In addition to providing needed services and volunteer assistance, villages also give members a social network and provide opportunities to give back. For more information on the village model in general, visit the Village to Village Network at www.vtvnetwork.org or call (617) 299-9638.
Co-op and co-housing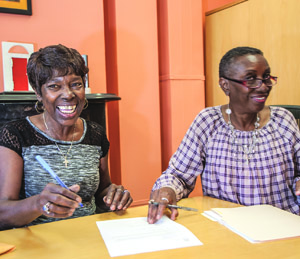 St. Ambrose Housing Aid Center has a program that matches older homeowners who have room to spare with older tenants who need a place to live.
Photo Courtesy of Karen Heyward-West
Cooperative housing gives residents democratic control over their property, as well as a natural way to create community among neighbors.
In the Baltimore area, there are 11 affordable housing co-ops for older adults organized by nonprofit organization CSI: Walker Co-Op; Wabash Estates; Arlington Estates; Terrace Garden; Golden Ring; Highlandtown Plaza; Bowley's Garden Villa; Essex Co-Op; Randallstown Pavilion; Randallstown Villa; and Old Court Estates.
At CSI, the residents vote on all major operating decisions, from the color of the walls to writing the annual budget. Co-ops exist to benefit the member residents, not investors. The co-ops emphasize continuing education, and encourage member participation in activities and programs.
For more information on co-op housing in Baltimore, visit www.csi.coop/en/locations/MD, or call (586) 753-9002.
A similar concept is co-housing, where members have their own apartments, but share communal living spaces and often dine together.
Most are multi-generational, but a growing number focus exclusively on older adults, such as Elderspirit in Abingdon, Va., and Elderberry in Rougemont, N.C.
The closest multi-generational co-housing community is Liberty Village in Libertyville, Md., about midway between Frederick and Westminster.
For a directory of co-housing nationwide, visit www.cohousing.org/directory.
Home-sharing
Home-sharing can mean moving into a home or apartment with one or more close friends, or using a housing service, such as St. Ambrose Housing Aid Center in Baltimore, which matches older homeowners who have a room to rent with younger renters looking for affordable housing. Sometimes rent is paid by tenants in kind, by helping the homeowner with chores and rides.
St. Ambrose screens applicants and tries to find a good match. For more information, visit www.stambros.org or call (410) 366-8550.
The Golden Girls Network, headquartered in Bowie, Md., provides a national database that enables older homeowners looking for roommates or housemates to find other mature adults who want a place to live, and vice versa.
In addition, the network's Home Companion program assists homeowners in finding a suitable live-in companion who will assist with household chores. To learn more, see http://goldengirlsnetwork.com.
Small and specialized groups
Green Houses are small, usually 10-bedroom homes (or floors of a building) designed for nursing home or assisted living residents. Each person has a private room and bathroom, and the house is centered around the kitchen, where specially trained "universal care" staff make dinner and do other household chores alongside residents every day.
In Baltimore, Green House Residences at Stadium Place offer this model of housing. For more information, visit www.catholiccharities-md.org/greenhouse or call (410) 554-9890. For more information on the Green House Project overall, visit www.thegreenhouseproject.org.
Population-specific communities are another innovative housing option, with residences that cater to specific populations, such as LGBTQ, ethnic or religious groups, or those who enjoy a particular hobby or profession.
Examples include the Burbank Senior Artists Colony in Burbank, California, and Jimmy Buffett's Latitude Margaritaville, for active adults, currently being built in Daytona Beach, Fla. Buffett envisions a string of similar Margaritaville communities, and received 10,000 inquiries in the first few weeks after announcing the project in February.
Whichever option is best for you, Baker has this advice: "Don't wait. Being in denial about aging leaves you vulnerable. Think about the future that you want, and prepare for it."