Travel
International travel pass in development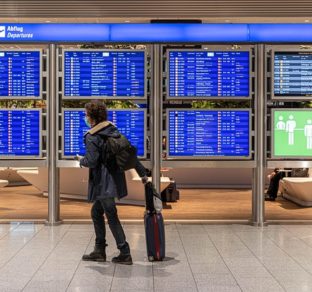 Image by Gerald Friedrich from Pixabay
IATA, the International Air Transport Association, is developing a digital "Travel Pass" data system that it hopes will serve as the standard "health pass" for international air travelers.
The basic idea is simple: a computer system collects your personal ID information, the results of your most recent vaccinations and tests, current information on how well those vaccinations and tests are performing, and current entry requirements for most countries.
Then, when you want to travel, the computer's algorithm will combine all the inputs and display whether or not you're "good to go" on any individual trip.
Specifically, this project is designed to make it easy for travelers posing no health hazard to start flying all around the world even before the pandemic is completely controlled.
And, at least for now, the good-to-go result will be based primarily on data on your COVID-19 situation: some combination of your most recent test results and their validity, and your COVID vaccine and its known efficacy.
The system design implies that it will continuously update data from the various laboratories and governmental health institutions involved with COVID-19.
IATA is calling for COVID testing for all international travelers, along with a data flow that will allow all stakeholders to facilitate travel. As envisioned, it will provide:
Governments with the means to verify the authenticity of tests and the identity of those presenting the test certificates.
Airlines with the ability to verify that passengers meet the requirements for travel.
Laboratories with the means to issue digital certificates to passengers that will be recognized and accepted by governments and airlines.
Travelers with the means to convey test information securely to airlines and border authorities.
Dependent on smartphones
In some ways, this system is a technical metamorphosis of the old "yellow card" vaccination record issued by the World Health Organization (WHO). What's new about IATA's proposal is that it's 100% based on smartphone/tablet apps.
You'll apply and enter your data through the app, and you'll display the results on the app when you board a flight or arrive in a different country. You probably won't actually "show" it; you'll pass your phone near a contactless RFID terminal.
So far, nothing I've seen treats the question of how you might use the system if you don't have or use a smart phone or tablet. Taken along with the trend to cashless payments, adoption of the IATA system as an international standard would inevitably lead to the conclusion that the days are coming when you must either carry and use a smart device or stay home.
IATA's motive is not altruistic: IATA is the worldwide trade association of large airlines, all of which desperately want you back in their airplanes as soon as possible. But it's been clear for many months that the resumption of full-scale worldwide travel will depend on some sort of universally recognized and accepted system of test and vaccination documentation.
IATA is attempting to preempt the position of designing and operating such a situation, and it may well be successful. So far, no serious competitive system has shown up.
It's very likely that most airlines will eagerly adopt the system. What remains to be seen is whether the government health agencies involved in setting rules will also be in favor.
My guess is that most will: Like the airlines, governments are under heavy pressure to allow their citizens to roam the world and to open their borders for incoming visitors.
The folks who kvetch about encroachments on their personal freedoms by big data are likely to kvetch about this deal. And it certainly does post the potential of making it harder for you to limit the spread of personal information that you'd like to stay personal.
My own take is that we're already so far down the big-data path that IATA's add-on won't tip the balance to any noticeable degree. Feel free to disagree. But if you opt out, don't expect to be heading overseas any time soon.
Email Ed Perkins at eperkins@mind.net. Check out his rail travel website at rail-guru.com.
© 2020 Ed Perkins. Distributed by Tribune Content Agency, LLC.