Arts
Irish dance show has contemporary twist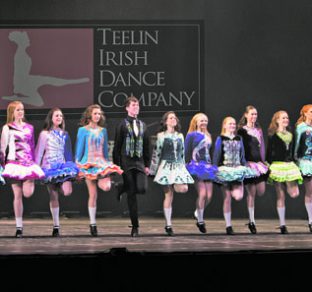 The Teellin Irish Dance Company will perform on Feb. 8 at the Jim Rouse Theater in Columbia. The show includes traditional Irish step dancing with international accents, including Latin and African rhythms.
Photo by: Scott Ortel
Traditional Irish step dancing — with some Latin, African and beatboxing rhythms blended in — will be featured in the Teelin Irish Dance Company's upcoming show at the Jim Rouse Theater in Columbia.
The company's two performances, on Feb. 8 at 3 p.m. and 7 p.m., will fuse the "heart-pounding rhythm of Irish dance with cutting edge choreography," said Maureen Gately, the troupe's director, choreographer and principal female dancer.
"You can call it an Irish dance show with a modern twist," said Gately about the company's latest production, Slainté, which means "welcome" in Gaelic.
The company's traditional percussive dancing involves 40 hoofers backed by the troupe's eight musicians. For this program, among other modern blendings, they will add the vocal percussion effects of Baltimore beatboxer Shodekeh, who channels such sounds as beating drums, turntables, ocean waves and sleigh bells. Beatboxing is a hip-hop form of music-making using the mouth, lips, tongue and voice, often imitating musical instruments.
A homegrown company
The Columbia-based company, which has grown out of the Teelin School of Irish Dance operated by Gately, has been jigging, reeling and stomping since 2001 at venues in Baltimore, Annapolis, the District of Columbia and Howard County. Gately got the school going in 1998.
The Rouse Theater performances of Slainté will be the company's homecoming, said Gately, since it will be the first time the company presents its own show in the town where it is now located.
The majority of the dancers in the company are from Howard County. Many are of Irish background, but also of other ethnicities. All share a love of, and accomplishment in, traditional Irish step dancing, said the founding director.
While "all kinds of dancing — ballet, jazz, modern — are incorporated in the show," Gately said, the Irish forms predominate.
In the troupe's very physical, percussive dancing style, dancers' legs are moving and feet are tapping in both soft shoe and hard shoe steps, while the body is often stationary and the arms are held somewhat rigidly at the sides. This is the dancing form made widely popular by Riverdance and Lord of the Dance — the Irish touring companies that have appeared locally and abundantly over PBS television stations.
Once you see Irish dancing, there's no mistaking it for any other dancing style, Gately said. "It's very different, with gradations of percussive dance, very physical, the dancers are on their toes at all times. There's no other style like it," she said.
Feet first
Since mostly all other dance styles feature the rhythmic movement of the hands or arms, why do the arms of the Irish dancers seem to be immovable objects at attention while the feet do all the work?
There are several theories about this, said Gately. One appears based on religious mores that demanded non-married men and women "keep their hands to themselves" while twirling around the floor in close proximity.
Other theories have political plotlines. One suggests the natives were faking out their British rulers, who banned dancing, by going into pubs and dancing behind the bar while keeping their upper bodies upright as they do their rhythmic stepping and stomping from the waist down.
One story has it that a group of Irish dancers in the 16th century were brought to dance for Queen Elizabeth I, who supposedly enjoyed Irish jigs. The dancers, the story goes, refused to raise their arms to her, keeping them at their sides, as they "danced out their defiance" of British rule, which included the 14th century Statutes of Kilkenny that outlawed Irish culture, except, presumably, when English royalty wanted to be amused.
Gately, whose parents are from Ireland and who has visited the Emerald Isle 16 times in her 38 years, is a Jersey girl (Bridgewater, N.J.) who won a dance scholarship to Towson University.
She was one of eight selected for the premium scholarship from among 400 students who auditioned for the university's highly regarded dance program. She graduated from there with a BFA in Dance Performance in 1997.
Gately won the Maryland State Arts Council's Individual Artist Award for Choreography in 2009 for her company's innovative style.
She considers it a highlight of her career to have danced traditional jigs and reels as Gov. Martin O'Malley wailed on guitar while fronting his Celtic rock band. The performances took place on St. Patrick's Day in 2012 and 2013 at the Paterson Theater in Baltimore.
Tickets for the Slainté performances can be obtained online at www.teelin.com, or by phone at 1-800-838-3006. Tickets are $30 for regular admission; $15 for seniors and children under 10 years.