Features
Is medical marijuana for you?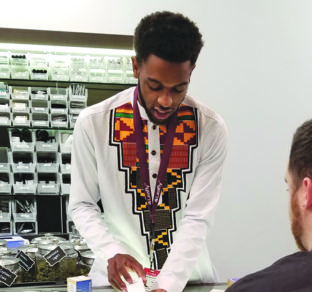 Blake Wilkins, assistant manager at RISE Silver Spring, a new medical marijuana dispensary, shows a visitor some cannabis-based products, including cartridges for vaping and tinctures. Dozens of such dispensaries have opened recently around Maryland since the state's Medical Cannabis Commission started issuing licenses at the end of last year. In Washington, D.C., cannabis is legal for both medicinal and recreational use in small quantities. Virginia is just beginning to authorize a few dispensaries for cannabis-derived products for medicinal use.
Photo by Stuart Rosenthal
Washington Beacon
---
Two years ago, Scott Deiter ruptured several discs in his neck. Four neck surgeries later, "between the residual pain from the surgeries and daily migraines, I really couldn't function because of the pain," he said.
Deiter felt opioid pain medication impaired him too much to work, so he turned to cannabis "in desperation."
"It worked the first time I used it," he said. "It handles my pain for several days and sometimes for a whole week. I was completely surprised it works so well."
Deiter, 66, is such a convert to medical cannabis that he now works for the medical marijuana dispensary Herbiculture in Burtonsville, Md.
"There are a significant number of clients at Herbiculture who are over 50," he noted. "They don't want to be medicated and be walking zombies. They are ready to try this as an alternative."
Rise Dispensaries, with local shops in Bethesda and Silver Spring, Md., said 25 to 30 percent of their customers are over 50.
"We see many patients who are turning to medical cannabis as a safe alternative to opiates," said Rebecca Brown, Maryland market co-president.
"Maryland has one of the highest rates of opioid-related deaths in the country. By providing an alternative, medical cannabis is literally saving lives, and I think our patients understand and appreciate that."
But cannabis can also help those who do not need strong pain relief. Sophia (who did not want her last name to be used), age 57, turned to cannabis to address anxiety, panic attacks and insomnia.
"I have been having a lot of trouble sleeping at night," she said. "I didn't want to keep taking sleeping pills because when I wake in the morning, I am very groggy, and it takes a long time for me to fully wake up," she said.
"Now that I have been using [cannabis], I am able to relax and get the much-needed sleep I need. I now wake up refreshed and ready to start my day," Sophia said.
She added that cannabis helped her deal with the recent death of her brother as well.
Increasingly legal
To date, 29 states have legalized marijuana for medical use, and nine (including the District of Columbia) have legalized small quantities for recreational use. Last month, Canada legalized marijuana across the country.
The Maryland legislature voted to legalize medical marijuana in 2012, but five years passed before it became available at state-licensed facilities. Since Dec. 1, 2017, the Maryland Medical Cannabis Commission (MMCC) has licensed 67 dispensaries around the state, 21 of which are in Montgomery and Prince George's counties.
The District of Columbia has five medical cannabis dispensaries and about 6,000 patients registered to purchase it.
In September, Virginia regulators gave initial approval to five companies across the state planning to open the state's first dispensaries for limited production of certain derivatives from marijuana. Dalitso LLC intends to open a facility in Manassas as early as next year.
Is it safe and effective?
The rapid growth of the medical marijuana industry reflects the widespread acceptance by the public of marijuana as a medical treatment in recent years. A large survey recently found that 81 percent of Americans believe cannabis offers medicinal benefits.
However, in reporting on the survey, the Annals of Internal Medicine, a publication of the American College of Physicians, noted that "Americans' view of marijuana use is more favorable than existing evidence supports." The risks and benefits of use have not been widely studied.
To date, the U.S. Food and Drug Administration, which has authority to determine the safety and effectiveness of drugs sold in the U.S., has approved only a handful of marijuana derivatives (or synthetic cannabis), all as treatments for particular conditions. These include seizures in certain forms of epilepsy, anorexia in AIDS patients, and nausea and vomiting caused by chemotherapy.
One of the reasons for so few approved uses may well be the fact that, since 1970, federal law has classified marijuana as a "Schedule 1" illegal drug — the same category reserved for heroin, LSD and other drugs "with no currently accepted medical use and a high potential for abuse."
This makes it difficult for researchers to obtain the product legally, limiting their ability to conduct studies and find other uses.
Nonetheless, nearly half of U.S. cancer doctors who responded to a survey said they've recommended medical marijuana to their patients, even while most of them admit they haven't seen enough medical evidence to support it.
Their recommendations appear to be driven by the desire to help ease patients' nausea and pain, while limiting the use of opioids.
Some doctors, for example, prescribe a low dose of opioid pain medication together with medical marijuana, which may be both more effective and safer for some patients than the regular dose of opioids alone. (Recent studies go both ways on the question.)
Overcoming concerns
Many patients have concerns about trying medical marijuana, said Mahja Sulemanjee, director of marketing and community outreach for Grassroots Cannabis, which operates several dispensaries around the country, including Herbology in Gaithersburg, Md.
"About half of our clients have not had a lot of experience with cannabis. They may have used it in college here and there, or never used it. It takes a lot of education and quite a bit of handholding," she said.
New clients typically meet with a patient counselor for up to an hour to understand their options. "Our staff will analyze what they're looking to get relief from, asking what's your preferred method of ingestion?"
The reluctance of many to smoking cannabis may be due to their feelings about inhaling the toxic byproducts of tobacco, many of which are also produced in smoking marijuana.
But the active ingredient in cannabis lies in oils on the surface of the plant's leaves, so some choose to inhale the cannabis in oil form through a vaporizer (popularly known as vaping). These devices heat marijuana flowers or extracts short of burning, and atomize the result for inhalation.
Using either inhaled option, smoking or vaping, the onset of effect is usually within 15 minutes, but it lasts only a few hours. A tincture under the tongue takes 20 minutes or more to take effect, but it offers four to six hours of relief.
Oils and creams rubbed on the skin take one to two hours to get into the blood stream, and their effect can last up to eight hours.
Considerations for older adults
Area dispensaries clearly see older adults as a population that can benefit from their products.
Sulemanjee says that most of Grassroots' patients are over 45. "Many women in their 40s or older are gravitating to natural health," she said.
"With an older population, it's an interesting phenomenon. They may have used it recreationally in the '60s and are here now using it as medication."
A recent U.S. News and World Report cited the research findings of Margaret Haney, a professor of neurobiology in psychiatry at Columbia University Medical Center in New York, who pointed out the pros and cons of cannabis for older adults.
Haney is quoted there as saying that "there is some suggestion that cannabinoids can be useful for a type of pain that isn't well-treated by other drugs — neuropathic pain." This type of pain, which is caused by nerve damage, is associated with diabetes, HIV infection or medications, and cancer chemotherapy.
Haney also is quoted as saying "it's certainly reasonable to try [cannabis] for [poor] appetite….Just be cautious."
On the other hand, among the cautions older adults should be particularly aware of are the following:
— Do not drive when under the influence of marijuana. "It doubles the risk of accidents," Haney said.
— Haney also noted that while some use marijuana for anxiety relief, "many others find it enhances anxiety tremendously."
— The National Institute on Drug Abuse warns that smoking marijuana raises heart rate for up to three hours, which could increase the chance of heart attack. It also warns of possible breathing problems, impaired memory and delusions, hallucinations and even psychosis, when the drug is taken in high doses.
— Fall risk is a serious concern for older adults. In connection with this, the U.S. News article quoted Laura Borgelt, a professor at the University of Colorado Skaggs School of Pharmacy, as saying, "We know that marijuana can create cognitive impairment and slow cognitive processes. It has also shown some [short-term] memory impairment."
— Perhaps most importantly, marijuana may interact dangerously with a number of types of prescription drugs commonly taken by older adults. These include sleep medications, blood thinners, blood pressure medications and diabetes drugs.
"Edible marijuana products pose the most risk for interactions with prescriptions medications," Borgelt said.
The buying process
For those who want to give medical marijuana a try, purchasing it is a little more complicated than just walking into a dispensary.
A patient in Maryland must first register with the MMCC and get an ID number. Then the patient visits a physician registered with the MMCC for an evaluation and recommendation. (Some dispensaries have a physician on the premises.)
The patient then brings the doctor's recommendation and their ID number to a dispensary, where the patient's case is discussed, and recommendations about particular products are made.
Among the medical conditions that qualify for treatment at Maryland dispensaries are anorexia, wasting syndrome, severe and chronic pain, severe nausea, seizures, persistent muscle spasms, glaucoma and post-traumatic stress disorder.
In Washington, D.C., patients need to get a written recommendation from their primary care doctor that says cannabis is medically necessary. The letter must include the doctor's medical license number.
What does it cost?
At this time, neither Medicare nor private insurance cover medical marijuana, so customers must pay privately for the products.
Most dispensaries list the price of the various forms of cannabis they sell on their website. The cost of cannabis to smoke typically ranges from $35 to $60 per 1/8 ounce, while oil cartridges that are vaporized cost $40 to $80. Tinctures and chewable tablets range from $20 to $80.
In all these cases, the number of doses one gets from these types of purchases will depend on the condition being treated and each person's reaction to the various products. Those transitioning off opioids will get fewer days' use from a given amount than those with less severe needs.
Herbiculture offers a 15 percent discount to patients age 60 and older, as well as veterans. Those who are both seniors and veterans receive a 20 percent discount.
At Rise, patients and caregivers 55 and up are eligible for 10 percent off. In addition, with a loyalty "points" program, customers can earn coupons from $25 off to $100 off, reflecting up to another 10 percent discount.
Herbology's products are in a similar price range. While it doesn't offer senior discounts, it does offer a customer loyalty rewards program offering $1 off for every $20 spent.
For Herbology patient John (who did not want his last name to be used), the cost is worth it. After some hesitation, he tried medical marijuana in July to help cope with several mental and physical illnesses. He said he is sleeping better, his pain is manageable, and his PTSD symptoms have diminished.
"The biggest personal hurdle to overcome was the stigma surrounding marijuana and telling my family…who were surprisingly very accepting and eager to learn more," he said.
"After spending time doing research, asking questions, and meeting with professionals, it has easily been the best decision of my life," he said.