Arts
June arts and jazz festivals in Columbia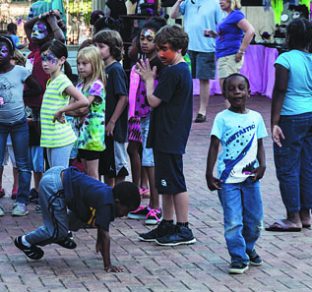 The Columbia Festival of the Arts opens the weekend of June 13 to 15 with a variety of free events, including children's performances, live music, arts and crafts, and more at the town center lakefront. Ticketed events, from acrobats to movies, take place over the following two weeks.
Photo courtesy of Columbia Festival of the Arts
It's festival time in Columbia.
In June, the city will host both the 22nd annual Capital Jazz Fest and the 2014 Columbia Festival of the Arts.
First, from June 6 to 8, will be the jazz fest at Merriweather Post Pavilion. The event is scheduled to feature, among others, singer-songwriter-nine time Grammy winner John Legend, jazz vocalist legends Al Jarreau and Dianna Reeves, bassist innovator Stanley Clarke, singer Chaka Khan, and the Rhythm and Blues group the O'Jays.
Starting just five days later, from June 13 to 28, the arts festival will bring to Columbia acrobats from Peking, theater-dance-circus performers from Australia, a cappella country music singers, fiddle masters, a staged radio drama and much more.
Jazzing it up
John Legend kicks off the Capital Jazz Fest at 7:30 p.m., Friday, June 6 in a soul session with vocalist Erykah Badu.
On Saturday, June 7, from noon until 10 p.m., the sounds of jazz will resound from the stages of the Merriweather Post Pavilion and Symphony Woods. At the Pavilion, Al Jarreau and Stanley Clarke will host a tribute to keyboard pioneer George Duke, who died last year. Appearing at the show will be Dianna Reeves, Rick Braun, Down to the Bone and Michael Franks.
Chaka Kahn takes to the Symphony Woods stage Saturday, along with the Brand New Heavies, Klymaxx featuring Bernadette Cooper, Dwele and Regina Belle.
Activities on Sunday, June 8, will also take place from noon to 10 p.m. at the Pavilion and Symphony Woods. The Pavilion stage will host local pianist Marcus Johnson, as well as Kem, Incognito, Rachelle Ferrell, the Jeff Lorber Fusion, and Keiko Matsui.
Appearing at the Symphony Woods venue will be the O'Jays, Faith Evans, Peabo Bryson, Loose Ends and Joe.
New artists will be featured in all three concerts in "Catch A Rising Star" showcases.
Capital Jazz Fest said that the concerts will be held rain or shine, noting that "the talent lineup and schedule are subject to change without notice" and that all ticket sales are final. Ticket prices for Friday range from $56.50 to $92.50. Tickets for Saturday performances are $69.50 to $185. Tickets for Sunday's shows are $75.50 to $185.
Also listed as part of the festival is a "mix and mingle reception featuring Bela Dona," an all-female band, from 10:30 pm. to 1:30 a.m., and a "late night dance party and jam," Saturday, from 10:30 p.m. to 3 a.m. Both events will be held at the Marriott BWI Hotel
Further information is available at www.capitaljazz.com.
Arts of all kinds
The Festival of the Arts gets underway with a free opening weekend, June 13 to 15, with events at the lakefront by the town center. The opening weekend will include, among other things, live music, arts and crafts exhibits and strolling performers.
Listed as a highlight of the weekend's free events will be the appearance of Australia's Strange Fruit performance group, presenting a premiere piece called "The Spheres" — a fusion of theater, dance and circus performed atop 14-foot flexible poles. The performances, which include special lighting effects, will take place Friday, June 13 and Saturday, June 14 from 9 to 9:30 p.m. and from 10:30 to 11 p.m.
Other weekend lakefront events include model yacht races on Lake Kittamanqundi, a "Chalk-It-Up" street painting contest, and juggling, plate spinning and various other whirling and tossing demonstrations by the Center Ring Circus School.
The weekend finale on Sunday will feature Deanna Bogart, the local jazz-blues-boogie woogie pianist, saxophonist and singer.
The free weekend on the lakefront hours are Friday, June 13, 5 p.m. to 11 p.m.; Saturday, June 14 noon to 11 p.m.; Sunday, June 15, noon to 7 p.m. A free shuttle will be available between Howard Community College campus parking and the lakefront.
Among the ticketed events:
The Hampton Rock String Quartet — four classical musicians who swing out with their own arrangements of rock songs made famous by the Who, the Rolling Stones and Led Zeppelin, among others. (Wednesday, June 18, 7:30 p.m., Smith Theater, tickets $30 to $45.)
The Intergalactic Nemesis: A Live Action Graphic Novel, Book One: Target Earth, described as "a one-of-a-kind theatrical experience recalling classic radio drama combined with comic book art." (Friday, June 20, 8 p.m., Rouse Theater, tickets $25 to $45.)
The Peking Acrobats — A troupe from China of tumblers, contortionists, jugglers, cyclists and gymnasts "who push the envelope of human possibility" with various feats "defying the laws of physics." (Rouse Theater, Saturday, June 21, 8 p.m., tickets $30 to $50.)
Masters of the Fiddle — Celebrated fiddlers Natalie MacMaster and Donald Leahy use their bows and strings to play Celtic, French, Cajun and American bluegrass. (Thursday, June 26, 7:30 p.m., Rouse Theater, tickets $30 to $55.)
Letters Home — The Griffin Theater from Chicago brings the wars in Iraq and Afghanistan home through the dramatizing of excerpts from actual letters written by soldiers serving at those far-off fronts. (Friday, June 27, 8 p.m., Smith Theater, tickets $20 to $35.)
Home Free — Five guys, five mikes, and no instruments compose what may be the world's first country music a cappella band. Last year, the group won the NBC-TV show "The Sing Off." (Saturday, June 28, 8 p.m., Rouse Theater, tickets $40 to $55.)
Also scheduled are Movie Mondays, which will screen Sundance art house film shorts (Monday, June 16, at Monteabaro Hall, the Horowitz Center at Howard Community College, tickets $15) and a Sprout Film Festival showcase, which features short films created by and about people with disabilities (Monday, June 23, at the same place and ticket price as the Sundance event.)
Also scheduled for the arts festival are free book events, art exhibits, receptions, and a day-long hair and makeup competition, Sunday, June 22, 8 a.m. to 6 p.m. at Historic Savage Mill.
A full schedule and further information are available by calling (410) 715-3044, or visiting the festival website at www.columbiafestival.org. Click on the logo for "2014 Festival Brochure."