Travel
Laos, Southeast Asia's spiritual heart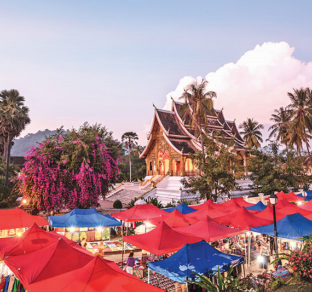 Buddhist temples and a night marketplace illuminate the ancient capital city of Luang Prabang. Located in northern Laos on the Mekong and Nam Khan Rivers, the low-key tourist spot reflects life as it once was throughout Southeast Asia.
Photo by Galyna Andrushko, Dreamstime
As our boat glided silently up the wide Mekong River, I dozed off in the breeze. Occasionally I opened my eyes to look at the lush scenery gliding by, the children playing in the water, and the fisherman in their slim boats tossing their nets into the river.
My mind drifted as I let the sights, sounds and fragrances of the river wash the chatter from my mind.
I was on a slow boat just a few miles downstream from Luang Prabang, the ancient capital of Laos, on the last full day of my most recent visit. Laos, a former French protectorate and one of my favorite destinations in the world, is the soul of Southeast Asia.
Under Communist control since 1975, Laos has been largely overlooked by Western tourists for the past 30 years. Because it is relatively isolated and has no beach resorts, it's still an underdeveloped country, only now awakening to its tourism potential.
As a result, it remains a sleepy, gracious country that offers an excellent opportunity to experience life in Southeast Asia as it once was.
Capital charms
Located at the confluence of the Mekong and Nam Khan Rivers in Northern Laos, Luang Prabang is a UNESCO World Heritage Site with classic Buddhist temples, quiet and shady streets, and world-class dining and shopping.
Established in the 14th century and still one of Asia's best-preserved former capitals, it is surrounded by a countryside of lush mountains, waterfalls, caves and rivers. The town is an intimate, living museum of life, culture and architecture in a beautiful, serene setting.
During my visit to Luang Prabang, I loved to wander down its leafy lanes and hidden pathways. Often, my explorations lead me to ornate temples tucked away in quaint neighborhoods among simple houses and sleepy cafes. The temples, rarely crowded, are perfect places for reflection and meditation, whether you're a Buddhist or not.
I also made sure to climb the steps that lead to the temple at the top of Phousi Hill to watch the reflection of the setting sun in the orange waters of the Mekong. From the top of the hill, the highest point in Luang Prabang at over 300 feet, you can see the entire town, two rivers, the surrounding hills and the spires of several temples in the distance.
After sunset, I descended the stairs and wandered through the night market on Sisavangvong Road, the bustling main street that runs through the heart of town and the tourist district.
Sisavangvong Road is lined on both sides with inexpensive restaurants, guesthouses and numerous shops selling the high-quality handicrafts and art for which Luang Prabang is known: hand-woven silk, saa paper (from mulberry bark) and silver jewelry. These shops attract high-end shoppers, including Mick Jagger, whose photo can be found in more than one shop.
Ceremonial rice to French pastries
Another one of my favorite activities was watching the daily alms-giving ceremony at dawn. In this tradition, hundreds of Buddhist monks, with shaved heads and vivid saffron-colored robes, walk silently down the street in the early morning mist, past kneeling locals and tourists.
Most place small handfuls of sticky rice in the monks' black lacquered bowls. These donations make up a significant portion of the monks' daily diet and are said to ensure a good life for the donors.
Afterwards, I visited the morning market on a narrow lane leading down to the Mekong. The variety, color and abundance of the produce, much of it unfamiliar, is impressive, stirring my appetite for the bountiful buffet waiting for me back at my hotel.
Luang Prabang even has a cuisine all its own, featuring fish from the Mekong, local greens grown on its bank, water buffalo stew, purple sticky rice, and a fiery condiment called jaew bawng, a paste made from pounded buffalo skin, garlic and chilies.
Upscale restaurants and excellent bakeries abound, a legacy from the many years that Laos was a French protectorate.
Limestone caves
Several miles upstream on the Mekong are the Pak Ou Caves, accessible only by boat. As you pound through the current, the riverbank teems with life.
Women wash laundry, men tend crops on the gently sloping banks, and children splash in the shallows, washing the family's water buffalo. Boats from China ferry staples, furniture and machinery to towns and villages along the river.
After an hour or so, a towering limestone cliff appears. Local people, almost all of them devout Buddhists, have visited the cliff's caves for four centuries to offer small statues of the Buddha. Thousands of statues of all sizes, materials and styles perch in niches in the rock, on ledges or crevices in the dusky caves. The overall effect is both reverent and spooky.
The Kuang Si waterfalls and pools are about a 45-minute drive south of Luang Prabang. You can hike up a steep trail along the falls for a spectacular view of the countryside, then descend and cool off with a refreshing swim in the turquoise pools at the base of the falls while fish nibble at your toes.
When I visited the falls last October, I returned to Luang Prabang via a lunch cruise on the Mekong. As the boat slowly made its way back, I sat for a couple of hours in a state of what I call Mekong meditation. My mind drifted between thinking about many things and not thinking at all.
But it kept returning to the most salient thought of all: How soon would I be able to return to this magically serene and seductive place?
If you go
Round-trip airfare from the Washington, DC area is about $1,200 on Qatar and Bangkok Airways via Doha and Bangkok.
Luang Prabang has many attractive, inexpensive, small boutique hotels. I recommend the Maison Dalabua (maisondalabua.com), a short walk from the tourist district, or the Grand Luang Prabang (grandluangprabang.com). The latter, located just outside of town, provides a shuttle to and from town. Both cost less than $100 per night.
For upscale dining, I recommend 3 Nagas (3-nagas.com) and L'Elephant (elephant-restau.com). A less fancy and expensive, but still excellent, choice for lunch, is Khaiphaen (facebook.com/Khaiphaen), run by an organization founded by Friends International that helps street children in Laos. Menu items range from $5 to $7.
The Mekong cruise to the caves was run by Khopfa Mekong Cruise, khopfa-mekong-cruise.com/kuang-si-cruise. Cost: $15.
For more information and photos, see Don Mankin's website, adventuretransformations.com. He is scheduled to lead a trip to Northern Thailand and Laos, including Luang Prabang, in the fall of 2021. For more information, go to explorer-x.com.