Arts
Local legend retires from life on the road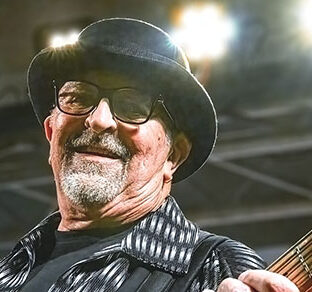 Johnny Castle plays bass guitar at his retirement performance in December 2022. During his six-decade music career with numerous bands, Castle opened for Jimi Hendrix and The Byrds.
Photo by Jim Moore
Johnny Castle, a Mid-Atlantic music legend, has officially retired from almost 60 years of playing rock 'n' roll, bluegrass, country, rockabilly, and pretty much any musical style you can imagine.
He has been a member of many bands, including the Nighthawks, the Thrillbillys, Bill Kirchen and Too Much Fun, Tex Rubinowitz and the Bad Boys, Arty Hill and the Long Gone Daddys, Switchblade, and Pete Kennedy's Bound for Glory, among others.
Now 73, the Columbia resident may have set aside his bass guitar and grueling live performance schedule for now. However, neither Castle nor his wife of 30 years, Jana, know exactly what retirement will look like. They need some time to catch their breath after decades of gigs in the crazy world of professional music.
"As the retirement date approached, we sat around fantasizing about all the options when we both had time together to travel, visit family and friends, or simply hang out," Johnny said in an interview with the Beacon.
Castle added that he and his wife now have "the ability to actually get to know each other in new and fresh ways without constantly staring at the calendar knowing that a brand-new stretch of time away from each other was about to begin."
Self-taught military brat
Castle's family's roots are in Oklahoma. His great-grandfather, Manford Castle, founded the town of Castle, Oklahoma.
Johnny Castle was born in Albuquerque, New Mexico, and lived most of his childhood on the road. His dad was a military officer who graduated from both West Point and Harvard.
Castle attributes his grandfather and his mother as early musical influences; both were accomplished musicians. As a kid, he played in the marching band.
"I played trombone for years, and through a series of unusual circumstances, I found myself sitting behind a drum kit as a percussionist.
"By then I was already a self-taught guitarist — I spent countless hours in my bedroom listening to the radio, playing records and figuring out the instrument.
"Eventually, I joined a band that already had a drummer and guitarist, so guess what? I became the bass player," Castle recalled.
Eventually, after years of short-term stints around the globe as his father was reassigned for new tours of duty, Castle landed in Washington, D.C.
He hooked up with a group of musicians, picked up his bass guitar, and they formed a band called Crank. The group gained some name recognition in the region, and was an integral part of a vibrant live music scene in Georgetown and the surrounding area.
Hitting the big time
The year 1970 was the turning point for both Crank and Castle. During the psychedelic rock period of the 1960s, they met a rising star, Jimi Hendrix.
In the summer of 1970, Hendrix came to Baltimore to play at the Baltimore Civic Center, and he arranged for Crank to be his opening act. Later that same year, on September 18, Jimi Hendrix died in London at the age of 27.
Castle had originally met Hendrix three years earlier, in 1967, when Hendrix played for five nights at the Ambassador Theater in Washington, D.C.
"The theater did not have many people there to see Jimi, but he did put on quite a good show," Castle recalled. "Up-tempo and exciting. It was a stark difference from the less-than-enthusiastic playing I witnessed in 1970, when we were the opening act. It seemed that Jimi was going through the motions and had already moved beyond the showman label that was attached to him."
After Crank shared the stage with Hendrix, more opportunities unfolded. They opened for The Byrds, for instance, and learned "a great lesson in unwritten rules" on that tour, Castle recalled.
"During one performance, Crank was called back onstage to do an encore for a screaming crowd of rockers. We obliged them and played another song. The entire band was on cloud nine until we walked backstage and were confronted by members of The Byrds, who were pretty upset with us. Bottom line: 'ignore the cheering masses and don't upstage the main act.' Period, end of story."
For decades, Castle lived the "road warrior" lifestyle — wonderful stage experiences followed by wrecked vans, stolen equipment, shady characters and poor diets. He partied with big-name musicians like Rod Stewart and befriended New Wave artist Nick Lowe ("Cruel to be Kind").
Equipped with the ability to also provide vocals, Castle became somewhat of a centerpiece in many of his bands. He also influenced many up-and-coming musicians over the years through his music and one-on-one mentoring.
Calling it quits?
Castle is still the consummate entertainer. Late last year, I caught Castle's current band, The Thrillbillys, at two Maryland venues: Hank Dietle's in Rockville and Old Bowie Town Grille in Bowie.
He was at the top of his game: People were dancing and appreciating every note played.
On Dec. 4, 2022, Castle performed a sold-out show at the Rosensteel Hall in Silver Spring, Maryland. He gave a brief retirement speech to a cheering crowd, noting, "You are the reason I have kept doing what I've been doing all these many years."
Is Castle really retiring from music? Or is his announcement to stop touring and performing akin to Pete Townshend of the British band The Who? After Keith Moon, The Who's drummer died, the band "retired" multiple times over the past few decades, only to return to touring.
"First off, Pete Townshend makes quite a bit more money than I do, which provides added incentive to hit the road," Castle said.
"But honestly, I would call this decision a big slowdown period from the brutal pace of the past 60 years. Jana and I will decide together what the future looks like from this point forward."