Money
Mailed checks are fueling fraud schemes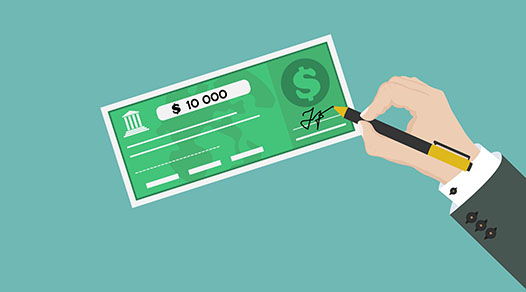 Check fraud is back in a big way, fueled by a rise in organized crime that is forcing small businesses and individuals to take additional safety measures or to avoid sending checks through the mail altogether.
Banks issued roughly 680,000 reports of check fraud to the Financial Crimes Enforcement Network, also known as FinCEN, last year. That's up from 350,000 reports in 2021.
Meanwhile the U.S. Postal Inspection Service reported roughly 300,000 complaints of mail theft in 2021, more than double the prior year's total.
Check's in the mail? Not good
Early in the pandemic, government relief checks became an attractive target for criminals. The problem has only gotten worse, and postal authorities and bank officials are warning Americans to avoid mailing checks if possible, or at least to use a secure mail drop such as inside the post office.
Meanwhile, as the cases of fraud increase, victims are waiting longer to recover their stolen money.
Check usage has been in decline for decades, as Americans have largely switched to paying for their services with credit and debit cards.
Americans wrote roughly 3.4 billion checks in 2022, down from nearly 19 billion checks in 1990, according to the Federal Reserve. However, the average size of the checks Americans write rose from $673 in 1990 — or $1,602 in today's dollars — to $2,652 last year.
"Despite the declining use of checks in the United States, criminals have been increasingly targeting the U.S. Mail since the COVID-19 pandemic to commit check fraud," FinCEN wrote in an alert sent out in February.
Large criminal gangs
Today's check fraud criminals are sophisticated criminal operations, with participants infiltrating post office distribution centers, setting up fake businesses, or creating fake IDs to deposit the checks.
"Walkers," or people who actually walk in to cash these checks, receive training in how to appear even more legitimate.
In one case in Southern California last year, nearly 60 people were arrested on charges of committing more than $5 million in check fraud against 750 people.
Criminals are getting the checks or identification information by fishing mail out of U.S. postal boxes, looking for envelopes that appear to be either bill payments or checks being mailed.
The most common type of check fraud is what's known as check washing, where a criminal steals the check from the mail and uses a method to remove ink so they can change the payee's name on the check and, additionally, the amount of money.
Some criminals are going further and using the information found on a check to gather sensitive personal data on a potential victim.
There have been reports of criminals creating fake entities out of personal data obtained from a check, or even opening new lines of credit or businesses with that data as well.
That's why check fraud experts are saying Americans should avoid sending checks in the mail or at least take additional safety steps to avoid becoming a victim.
"If you need to mail a check, do not put a check in your residential mailbox and raise the flag to notify the postman. Drop off checks inside a post office if you have to," said Todd Robertson with Argo Data, a financial data provider.
Banks are on the alert
Banks, keenly aware of the problem, are increasingly watching for signs of fraud at branches and through mobile check deposit services, including large check deposits.
They're training branch employees to take steps such as looking at check numbers, because checks are typically written in order, or noticing when a check is being written for a much larger amount than previous history would indicate. Banks also now deploy software at their branches to flag suspicious checks.
But those systems become moot if criminals are able to persuade tellers — often at the front lines for check acceptance — to look past any red flags.
"These fraudsters are much more aggressive than they were in the past, and they are pressuring tellers to override internal systems that might flag a potentially suspicious transaction," said Paul Benda, a senior vice president at the American Bankers Association.
AP Small Business Writer Mae Anderson contributed to this report. © 2023 The Associated Press. All rights reserved.