Travel
Maine transports travelers back in time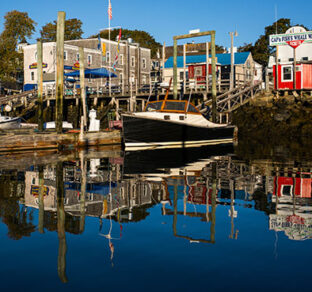 Boothbay Harbor, Maine, makes for a perfect home base for boat tours of the rocky coastline and the puffins who visit nearby islands, as well as a road trip of the state's retro sites — from antique car museums to drive-in restaurants.
Photo by Visit Maine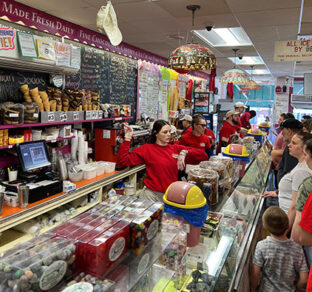 Maine is chock-a-block full of old-fashioned general stores, diners and candy shops. A good example is Ben & Bill's Chocolate Emporium, above, located on Main Street in Bar Harbor.
Photo © Jiawangkun | Dreamstime.com
On a summer stay in Boothbay Harbor, Maine, I decided to go to a concert at the local opera house. When I picked up my tickets at the box office, the agent opened a plastic box, grabbed a batch of tickets bound with a rubber band and handed me my paper tickets.
No Internet, no password, no clicking, no online headaches. The whole experience took two minutes.
Such is Maine. Longing for root beer? Old Harleys? A 1950s drive-in? Many spots in Maine take you back to yesteryear.
Fresh lobster, saltwater taffy
Head for the Atlantic coast and you'll likely happen upon the essence of Maine: a lobster pound, operating (and smelling) as it did 70 years ago.
Here, fresh-from-the-sea lobsters are cooked in seawater on the spot, as seagulls stand ready to steal a morsel from tourists, and boats sputter in and out of the harbor, bringing in the day's haul. Most pounds are modest wooden buildings with walk-up ordering windows, outdoor tables, and plenty of paper towels for messy dining.
The classic dinner is a whole lobster with melted butter, an ear of corn and, of course, a bib. Patrons also can feast on lobster rolls, chowder and steamed Maine clams and mussels.
Many small towns in Maine have an old-fashioned candy shop, too. "Candy knows no social barriers," reads a sign at Orne's in Boothbay Harbor, established in 1885 by Addie Orne.
The one-room shop's tantalizing glass cases and tables are full of lobster pops, saltwater taffy, chocolate blueberries, red-lace licorice and Needhams, a Maine tradition — candies with coconut and mashed-potato centers covered with chocolate.
Much-loved diners and drive-ins
Traditional diners from pre-interstate days dot the state, like Moody's in Waldoboro. "When I get hungry, I get Moody," read the T-shirts for this beloved eatery, which Bertha and Percy Moody opened in 1927. The couple had nine children, some of whom still work there.
Loyal locals and tourists chomp down fat haddock Reubens, hearty chowdahs (Maine-speak), and homemade fluffy biscuits to die for.
At the counter, you'll likely chat with a truck driver or lobsterman and indulge in Moody's famous homemade pies — blueberry, lemon meringue, banana cream and peanut butter. On an average summer day, Moody's makes 50 to 60 pies and serves as many as 1,500 people.
Maine's 1950s drive-in restaurants remain in full swing today. At Fat Boy's in Brunswick, open since 1955, a sign instructs, "Lights on for service." Turn on your headlights and a server sprints out to your car, takes your order, hooks a tray onto the car window, then returns with your burger and fries.
Fast Eddie's drive-in, located in a former Texaco gas station in Winthrop, also has carhop service. Inside, there's 1950s memorabilia, gold and burgundy vinyl booths, a checkerboard floor and a working jukebox.
At the Fountain in Bath, customers can choose a soda fountain stool or a black-and-white semicircular booth under a pressed-tin ceiling and enjoy Maine blueberry treats, milkshakes, sundaes, cream soda and root beer.
Bowling, puffins and general stores
Maine does offer much more than food. For indoor amusement, try candlepin bowling, a game likely "imported" from the Canadian Maritime provinces.
Players fling balls smaller than traditional ones, without finger holes. The skinny pins they aim to knock down resemble candles. Candlepin alleys only have several lanes, so they're not as noisy as typical urban bowling alleys.
Trips to see Atlantic puffins never disappoint. Boat tours from Boothbay Harbor, Rockland and Port Clyde reveal a closer look at the islands where puffins return every year to raise their chicks, known as pufflings.
There's also shopping. Every shopper's bucket list should include a roam through a Reny's Department Store. Mainers would never call it a "chain," but Reny's has 17 locations around the state.
Walmart it's not. Shelves are crammed with everything from crayons to spatulas, moose-themed pajamas, lobster socks, blueberry preserves, Katahdin coffee, flannel shirts, balsam candles and insect repellent. Their motto of 73 years: "If Reny's Doesn't Have It, I Don't Need It!"
Nostalgic for your old stick shift, metal bumpers and backseat, pre-seat-belt adventures? Maine has four car museums that spotlight antique vehicles.
The Owl's Head Transportation Museum displays more than 150 of them, including automobiles from 1886 to 1963. You can reminisce about teenage hot dates as you ogle the lipstick-red 1957 Ford Thunderbird and some old Harley motorcycles.
Or try the Seal Cove Auto Museum near Bar Harbor, with cars made between 1895 and 1917. The Stanley Museum in Kingfield preserves "the Stanley Family genius" — 1905, 1910 and 1916 steam cars, like the Stanley Steamer invented by Mainer Francis Stanley.
Ice houses and lighthouses
If you've ever used the word "icebox" to describe a refrigerator, you may enjoy visiting a historic ice house in South Bristol. In 1826, Asa Thompson dammed a stream, created a pond, and started cutting ice, selling it to anglers, delivering it to customers or shipping it as far away as Philadelphia, Cuba, China and India.
Today, Thompson's is likely the only commercial ice house on the National Register of Historic Places to continue to store naturally frozen ice harvested from a nearby pond using the traditional method.
Videos and docents explain how workers cut big ice blocks with hand saws and tug them up an incline into the ice house for storage. Locals have an ice harvest here every February.
Of course, Maine is also famous for its lighthouses, many of them decommissioned but still picturesque. To visit one of the state's 65 lighthouses, take a one-mile boat ride from Boothbay Harbor to the Burnt Island Light Station.
There, time travel does seem possible. Interpreters in 1950s clothing (remember gingham dresses and Keds?) portray the lighthouse keeper and his family during the time Harry Truman was president.
Electricity didn't arrive at the 1821 lighthouse until 1961. Water for home use was precious, most collected in a 2,000-gallon cistern. Saturday was "bath day," one of the "daughters" told a group of visitors on a summer tour. "The cleanest girl goes in first."
If you go
It's a 10-hour drive from D.C. to Portland, depending on the route and traffic. However, you can fly round-trip to Portland on Southwest for around $400. If you fly, a rental car is a must.
One way to "do Maine" is to go to a "grown-up camp," such as the Hog Island Audubon Camp. Campers stay in dorm-like lodges, have communal meals, take photos, paint landscapes and learn all about terrestrial and sea birds in classes and on field trips. See hogisland.audubon.org.
Boothbay Harbor is a good home base for day trips to Bath, Camden and other sites. You can stay in cottages, B&Bs or hotels, but the Mid-Town Motel in Boothbay Harbor bills itself as "a true 1950s classic" — an 11-room motor lodge run by the same family for 66 years (until last year, but it retains the olden days aura). When the movie Carousel was filmed in town, the cast stayed in the Mid-Town (midtownmaine.com).
Its turquoise and white outdoor color scheme, indoor knotty pine walls, and cheery window flower boxes are far removed from today's monotonously similar chain hotels. But yes, it has WiFi.
To plan your trip, go to visitmaine.com.