Travel
Make time for wild adventures in Alaska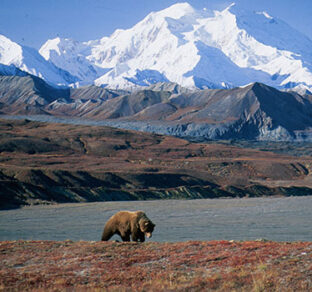 A grizzly bear is at home at the foot of 20,210-foot Denali, formerly known as Mt. McKinley, in Alaska's Denali National Park.
Photo © David Hoffmann Photography | Dreamstime.com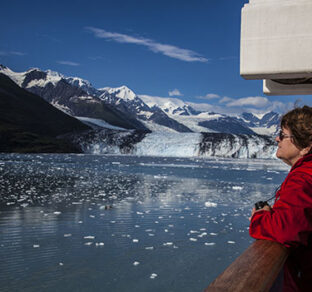 A tourist takes in the scenery on a cruise through the College Fjord, which has dozens of pristine glaciers named after schools like Harvard, Vassar and Yale.
photo © Tonympix | Dreamstime.com
As our travel group hiked on a lupine-lined trail in Alaska, the guide called out, "Here bear, here bear," every minute or so, advising us to make some noise and not surprise Ursus arctos, the Alaska grizzly.
Soon we spotted a dark brown mound shrouded in the bushes about six car lengths away — a bear's head. Out came the guide's bear spray. We didn't need it; our 500-plus-pound visitor ambled off into the wilderness.
Viewing wildlife is a top attraction in the 49th state, 365 million acres far up in the continent's Northwest and 55 miles across the Bering Strait from Russia. Wildlife abounds: bears, moose, whales, wolves, bald eagles, red-throated loons, salmon and Dall sheep, for example. In fact, Alaska has twice as many caribous as people.
The state's fjords, glaciers, ice fields, islands, rivers, lakes and forests remain mostly untouched. Civilization has encroached on about 160,000 acres — or just one percent — of the state.
Every year 2.2 million tourists visit Alaska for its 15 national parks, 16 national wildlife refuges, two national forests and even more public lands. But it never feels crowded.
Most people visit Alaska between May and September, when the weather is variable but temperate. The Alaska Journal of Commerce reported last June, "Temperatures soared and reached the high 70s." Summer sunlight can last 19 to 22 hours, which is great for growing giant cabbages but challenging for some sleepers.
The most critical thing to remember when planning a trip to Alaska is this: It's a very big state, larger than Texas, California and Montana combined. Distances can be long. Many areas are roadless. Getting around may require a cruise ship, boat, ferry, van, bus, train or seaplane.
"It may not always be easy to get here," said Harrison Brown, a guide with Alaska Wildland Adventures, "but Alaska always delivers."
Start in Anchorage
Anchorage, the largest city, sits between 5,000-foot peaks and the fish-rich Cook Inlet. Many of its sites are accessible on foot or by trolley tours from the downtown visitors center, which is located in a log cabin.
Stop by the Public Lands Museum for an overview of the state's plant and animal life, glaciology, peat bogs and permafrost.
A film titled "The Day the Earth Shook" recounts the 9.2-magnitude earthquake that caved in one side of Fourth Avenue in 1964. "It sounded like a freight train coming through," said a survivor. Today's Earthquake Park commemorates an entire neighborhood that slid into the ocean.
The Anchorage Museum is a must for understanding Alaska's past and present. Its Smithsonian Arctic Studies Center examines Alaska Native cultures, and how people have adapted to and survived their environment. On Alaska's cold, a sign reads, "It's inhospitable white nothingness, but it engenders human commonality and fosters perseverance."
Not to mention resourcefulness: Seal intestines made parkas waterproof, fish nets could float with inflatable animal bladders, and whale bones were used to make snow goggles and sled runners.
The Anchorage Museum's other exhibits examine Russian settlement in the state, and the Klondike Gold Rush from 1896 to 1899, which offered the mythic promise of great wealth. Similarly, drilling for oil has brought both prosperity and dismay to the region.
Alaska has almost as many airplanes as cars, celebrated at the four-hangar Alaska Aviation Museum. It's next to Lake Hood, the world's most extensive seaplane base, with 87,000 landings and takeoffs a year.
Some airplanes have pontoons for water landings; others, fat tires for the tundra. "Aviation is the lynchpin of the state," intones a video, because planes facilitated settlement and industry.
Even in the city of Anchorage, wildlife's at home, like bald eagles foraging for salmon on Ship Creek. Locals estimate that there are 1,500 moose nibbling in the city's backyards.
Kenai Peninsula's glaciers
Alaska offers almost countless adventures in the great outdoors, depending on time, budget and logistics.
The Kenai Peninsula is a favorite destination, with the fishing town of Seward, 120 miles south of Anchorage, a convenient jumping-off point.
The peninsula juts out into the Gulf of Alaska, where glaciers calve, whales breach and Arctic terns dive for food. The Gulf attracts kittiwakes, seals, sea lions, sea otters, porpoises and numerous fish species.
The 44,000-acre Kenai Fjords National Park has rugged wilderness and 38 named glaciers, some 1,000 feet thick, and many with mountain peaks piercing the ice. Glacier ice is nine times denser than snow, rangers explain.
Inside the park, the Harding Icefield Trail rises 3,000 feet, providing a view of ice and snow as far as the eye can see. Kayaking on crystal clear waters recalls the 18th-century Alutiiq way of life and even earlier times.
One place to unplug and commune with nature's majesty is the Kenai Fjords Glacier Lodge, which is only accessible by boat. The lodge and its 16 rustic cabins are tucked away in woodsy settings on a tidal lagoon where seals and loons stir the silky waters.
Lodge visitors can take guided paddling trips and walking excursions in the spongy forests. A favorite happy hour top-off is a glacierita, a margarita with glacial ice.
Denali National Park & Preserve
The six-million-acre Denali National Park is the crème de la crème of an Alaska trip for many.
At 20,320 feet, Denali is the tallest mountain in North America. While a favorite attraction for many Alaska-goers, remember that Denali's peak is visible only around one-third of the time due to cloud cover.
On a park tour by bus, all-terrain vehicle (ATV) or "flightseeing" plane, visitors learn about various habitats, including taiga and tundra, while looking out for moose, bears and wolves.
Alaska is a big, bucket-list state, well worth an adventure into the wild.
If you go
Roundtrip flights from D.C. to Anchorage in June start at $859 on American Airlines.
Alexandrian Dixie Sommers, who will make her seventh trip to Alaska this summer, advises spending as much time there as possible: "It's a big place, and takes time to get there." She also suggests:
Don't hurry. Things operate on "Alaska time" because of distances, dependence on air travel and ferries, and constantly changing weather. (Dress in layers for the weather.)
Go on guided outings. Look around for tour groups. You'll see a lot more and have fewer logistics to manage.
Take a sleep mask. It is daylight most of the time from spring through fall.
Be aware. Bears can be almost anywhere. Moose are very large and dangerous.
Pay attention to the Alaska Native cultures. Buy their beautiful artwork.
Take binoculars. Be prepared for spectacular scenery.