Cover Stories
Making moving less stressful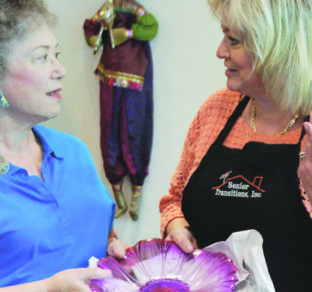 Joanne Neff (left) works with Erin Brooks to unpack her belongings at her new apartment at Pikesville's North Oaks Senior Living Community after a move from New York City. Brooks, the director of operations for move management company Senior Transitions, says companies like hers can make moving much less stressful.
Photo by Aaron Levin
When Joanne and Martin Neff moved from their large, multi-level home in New York to their new three-bedroom apartment in Pikesville's North Oaks Senior Living Community, the move could have been daunting, to say the least. "Nobody likes chaos," said Joanne.
But after a friend suggested that a move manager could ease the transition, the Neffs turned to Charna Kinneberg, owner of Senior Transitions, Inc., and what could have been an overwhelming chore became much more manageable.
"Charna worked out a floor plan, her team was waiting for the movers when they arrived so they knew where everything should go, and they unpacked all the boxes and put everything in its place," said Joanne, 77, a retired English professor. "We couldn't have imagined a smoother move."
Kinneberg, who is 65 and lives in Bel Air, is one of approximately 1,000 members of the National Association of Senior Move Managers (www.nasmm.org), about 50 of whom are based in the greater Baltimore/Washington corridor.
Who makes a good move manager?
Like many move managers, Kinneberg came to this work after a career in a helping profession, in her case, as a nurse. According to NASMM Executive Director MaryKay Buysse, the majority of members are former nurses, teachers, social workers or other helping professionals, whose organizational skills and compassion translate easily into helping seniors downsize and relocate.
"Most senior move managers come into the field after a personal experience of their own," said Buysse. "It's their way of giving back."
That was the case with Kinneberg. Eighteen years ago, she had a busy career, a young daughter, and a dad who had serious health issues and needed to be moved from New Jersey to Maryland.
"I couldn't do everything I needed to do," Kinneberg recalled. She hired a move manager who was able to take care of the move from the New Jersey end while Kinneberg handled things on the Maryland side.
"It took a huge weight off my shoulders," she said. A year later, Kinneberg decided this was the career for her.
She now has 12 people working with her, and they serve from 150 to 200 families a year throughout the greater Baltimore area, including Baltimore City and County, Anne Arundel, Howard and Harford Counties. Her clients come through word-of-mouth referrals from former clients, her website (www.seniortransitionsinc.com), and recommendations from care managers, elder care attorneys, physicians and others.
Making multiple moves
Paul Iliff was referred to Kinneberg when he and his wife moved to Pickersgill Retirement Community in Towson from their home in the Village of Cross Keys.
Kinneberg and her team helped the Iliffs move from a townhome to a small apartment and then to a larger apartment in the community when one became available. This past March, after Paul's wife passed away, Senior Transitions helped Iliff once again, this time when he moved to Florida.
"I don't know how someone, especially older people, can do these moves without help," said Iliff, who is 80. "Charna and her ladies packed us and unpacked us when we moved to, and within, Pickersgill. And they packed me up for my move to Florida. I didn't have to do a thing."
Erin Brooks, Senior Transitions' director of operations, likes nothing better than hearing from clients like Neff and Iliff about how easy the team has made their — as the company name says — transition.
"It's a tremendously stressful time in their life," she said. "We show up and do everything for them."
Brooks had been a full-time mom when she began working for Kinneberg. "What began as a part-time job is now a career that I love," she said.
More difficult with age
Moving — said to be one of the most stressful life events — is even more difficult as we age. "It can not only be a challenge physically, but mentally and emotionally as well," said Brooks, noting that many of the company's clients simply do not have the physical strength to handle packing, taking items to donation centers, etc.
Cognitive difficulties can also make it hard to make decisions, and emotional attachments to a lifetime's worth of belongings can make paring down a sad task, though Brooks adds that she's not of the "throw everything away" philosophy.
"If you want it, use it, need it, love it and have room for it, keep it," she said. "Otherwise, don't bring it,"
There is no one-size fits all service, Brooks adds. Clients can purchase a package of services or choose what they need and pay by the hour. (Kinneberg prefers to discuss prices individually with clients.)
A move manager can help with moving (packing and unpacking), downsizing, decluttering, disposing of unneeded or unwanted items (whether by reselling or donating), preparing a home for a remodel, or clearing out a residence for an estate sale.
"Basically, we can help anyone, regardless of age, who wishes to move without the stress and hassle," said Brooks.
"Senior move managers work with families according to their budget," echoed Buysse. "Almost everyone can afford at least part of the services a move manager can provide. It's amazing what can be done in a short period of time when several people are working together."
As for the job title "senior move managers," Buysse observed that the wording can be misleading. Though the majority of families helped by companies like Senior Transitions are older, anyone who has neither the time nor the inclination to handle a move — such as busy executives or parents with young children — can call on move managers for assistance.
"We're in an interesting time now," said Buysse, "with two generations aging at the same time." Buysse, for example, who is in her early 60s, has parents in their late 80s and early 90s. "We can all use help at this point," she said.
For clients like Neff and Iliff, the services of a move manager were invaluable.
"They were pleasant, cheerful and efficient," said Joanne Neff. "They took what could have been an overwhelming experience and made it as pleasant as possible."
And for Kinneberg and Brooks, taking the sting out of moving has become less of a job and more of a calling. "This is where I need to be," said Brooks.
---
Choosing a move manager
If you're planning to move or help a family member move, Buysse suggests asking a move manager these questions:
1. How long have you been providing your services?
2. Have you participated in any formal training programs?
3. Are you fully insured for liability and workers' compensation?
4. How do you charge? (You should receive a written estimate.)
5. Do you provide a written contract?
6. Can you provide references?