Arts
Man of La Mancha tilts toward Baltimore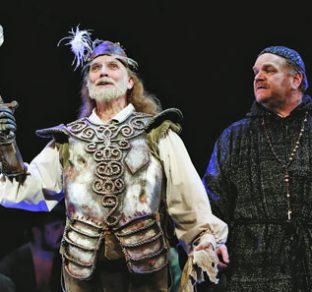 Jack Curenton stars as Don Quixote during the touring production of Man of La Mancha, playing at the Patricia and Arthur Modell Performing Arts Center at the Lyric March 14 and 15.
Photo by Carol Rosegg
When the touring production of Man of La Mancha rolls into town this month, Jack Curenton will be thinking of his grandfather, who grew up in Baltimore and worked at the Continental Can Company.
"I didn't live in Baltimore myself," said the 62-year-old Los Angeles resident who plays Don Quixote, "but I feel connected to it."
Curenton, who acted as a young man and then had a successful business career, returned to acting in 2005. "It's been nonstop ever since," he said, while being interviewed sitting in a bus stuck in the midst of a Midwest snowstorm, as the acting company tried to make it to its next performance venue.
Don Quixote is both a familiar and beloved part for Curenton, who is reprising the role he first played 38 years ago. "I think Man of La Mancha is one of the top 10 Broadway shows of all time," said Curenton, who added that he was inspired by the attitude of Don Quixote even before he knew who Don Quixote was.
Watching Robert Kennedy's funeral on TV, Curenton remembers Sen. Edward Kennedy quoting his brother's campaign theme, "Some men see things as they are and ask why. Others dream things that never were and ask why not."
"That's the ideal of Don Quixote as well," said Curenton, "and one I strongly believe in. You have to make a difference in the world."
Familiar songs and plot
Curenton thinks audiences, especially baby boomers like himself, will enjoy the nostalgia of the show. "Everyone is familiar with the story, and such songs as 'Impossible Dream,'" he notes.
But he also thinks families should introduce a new generation to the show. "It's important for kids to see that you can joust at windmills," he said.
Man of La Mancha is considered one of the great theater successes of modern times. Opening on Broadway in 1965, it played for 2,328 original performances in New York, and has since been revived on Broadway several times.
The musical creates a play-within-a-play based on Miguel de Cervantes's novel, Don Quixote. The conceit of the musical is that Cervantes, who is portrayed as an aging failure, has been thrown into a Spanish dungeon where he awaits trial by the Inquisition for an offense against the Church.
But first he is tried by a "kangaroo court" of his fellow prisoners: a motley crew of thieves, cutthroats and ladies of ill repute who plot to steal his meager possessions, including the unfinished manuscript of a novel called Don Quixote.
In an effort to save his work, Cervantes proposes to his fellow prisoners a form of entertainment. They agree and watch in amazement as Cervantes and his faithful manservant transform themselves into his novel's protagonist, Don Quixote, and his sidekick, Sancho Panza.
The two proceed to play out the story (with the aid of prisoners playing other characters), where Quixote and Panza proceed on a path to restore the age of chivalry, to battle evil, and to right all wrongs.
The original Man of La Mancha won five Tony Awards, including Best Musical, along with the New York Drama Critics Circle Award for Best Musical and the Outer Critics Circle Award.
The current touring production will play at the Patricia and Arthur Modell Performing Arts Center at the Lyric, 1401 Mt. Royal Ave., on Friday, March 14 at 7:30 p.m., and Saturday, March 15 at 2 and 7:30 p.m. Tickets begin at $49. For more information, visit www.lyricoperahouse.com or call (410) 547-SEAT.