Housing
Many benefits of intergenerational living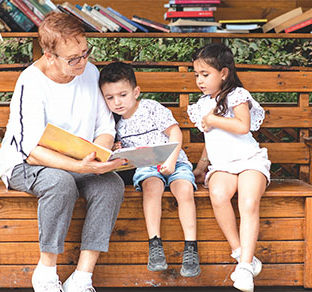 In an intergenerational housing community, older residents can mix and mingle with younger ones. Several such communities exist in our area, and more are being built now, including one near George Mason University.
© Inna Reznik | Dreamstime.com
In Fairfax City, a unique apartment complex is being built adjacent to the George Mason University (GMU) campus. Named One University, it will open in the summer of 2024 with 333 units for college students, 120 units for families, and 120 units for people over age 62.
One University's 10.8-acre site will have multi-family and senior apartments for people and families earning up to 60 percent of the area median income (roughly $77,400 for a family for four). Residents will intermingle in a business center, cyber lounge, outdoor courtyard and fitness center. Older adults can audit classes at GMU, just across the street.
One University is an example of "intergenerational housing" — a growing trend to intentionally create housing for people of different generations to live together. Architects adjust some units for older adults and design these facilities to encourage mixing. This approach is also called multi-generational or cross-generational housing.
Intergenerational housing is based on the belief that older adults should not be segregated from other generations and that people of different ages can benefit from each other.
"People of all ages want to work across generations to help others and improve the world around them," an Encore-Cogeneration 2022 study concluded. "Young people want to learn from older ones; older people want to share what they know. And vice versa."
What youths gain from elders
From cooking to career building, the younger generation can learn from elders' experience and gain a sense of history.
In addition, older adults can help young adults acquire skills like critical thinking and problem solving as well as a sense of purpose, a 2016 Stanford Center on Longevity study concluded.
Furthermore, a Harvard Business Review study found that younger people can learn from seniors how to understand the impact of financial choices and better manage their work life.
In a real-life example, Myles Mocarski, a 28-year-old Ph.D. music student at the University of Maryland in College Park, has found a great sense of community at Collington, a life plan retirement community in Prince George's County, where he lives full-time with around 400 older adults.
Mocarski and fellow student Max Jacobs are artists in residence, a program launched in 2017. Under an agreement between Collington and the UMD, two music students live rent-free at the community in exchange for putting on music programs for the residents.
The students live at Collington year-round and stage concerts in the lounge, playing swing tunes and popular music, as residents sing along.
"The mood is always positive," Mocarski said. "They are always excited to see me."
Mocarski said that the older friends he's made at Collington help him manage a more balanced life between work and family. (Another lesson he learned: to talk slower and louder.)
"The students immerse themselves in Collington," said resident Mary McCutchan. "Having them around is nice. They're a breath of fresh air — and we don't have to listen to their story about rheumatism."
What elders gain from youths
Today, most older adults live in their own homes alone or as part of a couple, and 56% of people over 80 live alone, according to Dr. Jennifer Molinsky, director of Harvard University's Joint Center for Housing Studies. Living around younger people can help make them feel less alone and give them a sense of belonging, she said.
"Multigenerational living — including house sharing and communities where people have private apartments but share common spaces and activities — has the potential to reduce social isolation, create avenues for people to support one another in their daily lives, and lower housing costs," Molinksky said.
Being around younger people can also boost seniors' self-esteem and encourage them to be more active.
"Studies show that seniors who aren't isolated are more optimistic and take better care of themselves," said Donna Butts, executive director of Generations United — a D.C.-based nonprofit that works to strengthen practices and policies to benefit children and older adults.
For instance, a Stanford Center on Longevity study found that when older adults interact with younger people, they gain a greater sense of fulfillment and purpose.
Johns Hopkins University professor Michelle Carlson found that after six months of tutoring children, older adults had "improved brain and cognitive function," according to her 2009 study.
Communities in our area
Several intergenerational housing communities exist in our area, and more are on the way.
In Northwest Washington, D.C., an affordable rental building known as Genesis houses a 27-unit community where young mothers who grew up in foster care live alongside older adults.
Residents agree to support each other — to help run errands or watch or tutor a neighbor's child, for example. Specially designed for the two populations, the building has a community kitchen, meeting room, playground, garden and library.
The program is operated by Mi Casa, a nonprofit, and was initiated by D.C.'s Child and Family Services agency.
When Genesis opened in 2015, D.C. Mayor Muriel Bowser said it was "transforming the District into an Age-Friendly City where residents of all ages are able to grow up and grow older in diverse, intergenerational and supportive communities."
In southeastern Fairfax County on U.S. 1, the new five-building Residences at North Hill is under construction by Fairfax County's housing agency. It will lease 63 of its 279 units to people over 55; the rest are open to the general public.
The units for older adults differ slightly from the multifamily units by incorporating "universal design" features, such as door levers instead of knobs, step-in showers instead of tubs, and larger-than-normal thermostat displays.
"Today, many older adults are seeking an affordable living experience that reflects the communities they have grown accustomed to, rather than a 'senior-only community,'" Melissa McKenna, chair of the Fairfax County Redevelopment and Housing Authority, said in an email.
"They desire the same connectivity, mobility, diversity and engagement of traditional independent living in a community shared with younger neighbors. Such a community can offer a wide diversity of experience, activity and engagement that many older adults nowadays find appealing and enriching."
Both One University and the Residences at North Hill will include park benches, picnic tables and parks for socializing.
AARP pushing for more
AARP is advocating nationally for more intergenerational housing approaches. Sharon Guzman, AARP's director of Housing and Livable Communities, supports more diverse housing options to accommodate multiple generations living together.
"This type of living is associated with better health outcomes, lower poverty levels, and can lead to cost-savings on items like rent," Guzman said in an email.
"It can also increase social engagement, which reduces social isolation and loneliness among older adults and helps them stay connected while still independent."
Intergenerational housing has proved to be "a winning combination for older and younger people and the communities where they live," said Butts of Generations United.
"Each generation benefits from the opportunity to interact across ages. They provide each other a window into the past and into the future, providing roots as well as hope for the future."