Housing
Many reasons to consider a home share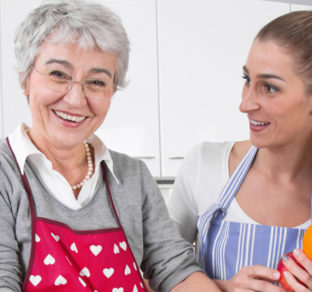 Homeowners with space to spare can obtain both extra funds and companionship with a houseshare. Silvernest, a new service, helps match homeowners with suitable housemates.
Julie, 56, lives alone in a nice home. But due to some health issues and high medicine costs, she needed to bring in some income.
The Sepulvedas, a couple in their 40s with two young children, wanted some help with cooking, cleaning and caregiving, and were willing to provide reduced-cost housing in their basement for the right person.
Cathryn and her sister were worried about their 91-year-old widowed father, who seemed to be lonely and withdrawing from life. They wanted an amiable person to move in to be a companion, run errands, and in general keep an eye on him and help him thrive.
All three found a practical solution to their needs through a new website called Silvernest, which matches homeowners (or renters) who have room to spare with compatible housemates.
Through the service, Julie found not one, but two fellow boomer women who enjoy sharing her home. "It's so much more fun than living alone, and it's also been a blessing financially," Julie said.
The Sepulvedas found Terie, a semi-retired 60-year-old, who was looking for affordable housing. "Our kids now have a built-in loving and mature grandmother type to look up to, and Terie says she's energized by living with us," Cece Sepulveda said.
Terie agrees: "It's refreshing to live with a young and lively family. Their energy is rubbing off on me, and we've found a nice balance of spending time together and giving each other space."
Demand is high
Over the past 18 months, the Silvernest website has attracted more than 60,000 participants from all 50 states. Most of the homeowners are boomers, retirees, empty nesters and other older adults who want to remain in their homes as long as possible, while getting some help with living on a fixed income.
The typical homeowner earns about $10,000 per year per bedroom, according to Silvernest founder Wendi Burkhardt.
Though a majority of the homes currently on the site are located in Western states and New England, Silvernest is starting a new focus on the D.C. metro area this month, with encouragement from the D.C. Government.
Age-Friendly D.C., a government-led community-wide effort to make the District a better place for all citizens to age, has added "promoting homesharing options" to its strategic plan. There is also an intergenerational component to the plan, as there are more college students in the District than dormitory rooms to house them.
The office of D.C. Mayor Muriel Bowser has identified Silvernest as a homesharing solution that can help raise awareness of the option among both older homeowners who wish to remain in their homes and renters of all ages who seek affordable housing.
Burkhardt said Silvernest has been attracting more potential renters than homeowners. "Demand is going through the roof."
That's another reason for focusing on this metro area. Home seller/renter website Trulia (part of the Zillow group) recently found the D.C. area ranked highest in percentage of homes with extra rooms available for rent.
"We offer homeowners the opportunity to leverage what is often their largest financial asset, their home, to generate extra income for mortgage payments, home upgrades, taxes and other living costs," Burkhardt said. "And to benefit from the companionship of others," she added.
It was in fact just such a situation for her own mother that led Burkhardt to co-found Silvernest with partner Chuck McKenny in the first place.
How does it work?
There is no charge to sign up on the Silvernest.com website. To create a free profile, the site first asks whether you are a homeowner/renter with space to rent, or a potential housemate looking for a match.
You'll then be asked a series of questions about your ideal housemate or house. In addition, you'll be asked about your interests, demographics, preferences, etc., as is common on dating websites.
"All information is kept strictly private, and all communications within the site are secure," Burkhart said.
Homeowners are also asked to describe their home, upload photos if they like, and indicate the rental price and what that price includes (e.g., private bath, utilities, parking, use of the kitchen, etc.)
Then Silvernest's software algorithm matches homeowners and housemates based on their behavioral profiles and demographic preferences.
Burkhardt said the typical number of qualified matches is around five, though in areas with high demand they have seen up to 100 matches. As the service is just getting underway in the D.C. area, the pickings may be slimmer at first, but Burkhardt expects that to change quickly.
Up to this point in the process, there is still no charge to either homeowners or housemates. Only when the homeowner has identified a match with whom they wish to initiate dialogue are they asked to pay a one-time $49.99 membership fee.
The membership fee is good for 60 days of unlimited searches and messaging with all potential partners.
And the service offers a 100% money back guarantee. "If you don't find a suitable match, or want to discontinue using Silvernest at any time, just ask for your money back and it will be returned," Burkhardt said.
Is it safe?
When you're talking about inviting someone into your home, or moving in with a stranger, you want to know as much about the other person as possible, of course.
So Silvernest offers in-depth background checks for an additional $30. Homeowners can require applicants to submit to such a background check as a condition of finalizing the deal.
The background check is performed by a third party company accredited by the National Association of Professional Background Screeners.
The vetting includes a verification of identity — to ensure people are who they say they are — as well as a federal/state/local criminal and misdemeanor history, a seven-year eviction history, and a check against registered sex offender lists.
Burkhardt also points out that both parties will want to establish a homesharing agreement that carefully describes each party's obligations, and what should happen in the event of a falling out. The service offers two monthly payment plans to aid with this and other aspects of the transaction.
For a fee of $9.99/month, the "Sharing Plan" offers an online lease drafting tool with provisions appropriate for specific states. Homesharers can review, digitally sign and then manage the agreement online.
Also included in the fee is an automatic rent payment service, so homeowners and sharers don't have to deal with asking for or writing checks every month, or deal with bounced payments.
And as for disagreements, the fee includes access to a certified relationship counselor who can help both parties work together better and, hopefully, overcome any issues that might get in the way of cooperation.
In the event there are legal questions — whether about the specifics of the lease, complying with a homeowners association's rules, or even a disagreement between the parties — Silvernest offers access to a nationwide database of 17,000 trained real estate attorneys.
Access to this "legal concierge" service requires payment of $14.99/month for the "Comfort Plan," which includes all the services of the Sharing Plan as well. The service includes three 30-minute consultations for each specific homesharing related legal issue or question.
Both monthly plans are cancellable at any time.
Matchmaker, matchmaker
As for Cathryn's 91-year-old father, Silvernest found him "someone who wants to develop an amiable and real connection…The two of them sometimes share meals and run errands together," Cathryn said. "It turns out the companionship that homesharing provides him is as important as the extra income."
If you're looking for a place to live around here, among the few dozen homes in this area currently listed on the website, rent ranges from $700 — to share a two-bedroom condo in Silver Spring, Md. with gym and outdoor pool privileges — to $1,800 a month for a private basement studio apartment in McLean, Va. For $850/month you could share a 7,000 s.f. mansion in Ashburn, Va., with your own private entrance, bedroom and bathroom.
Among the area's owners is one who describes herself this way: "I am a 62-year-old nurse and art docent. I am married and have two kids in college. My husband is a government contractor. We are non-smoking, non-pet owners (allergic), and we drink rarely. We are church-going people who are very quiet."
Homeowners and potential housemates interested in participating can visit Silvernest.com to add their profiles to the system. The company is offering half-price participation to those in the D.C. area for the next few months.
"Many people have watched their family members and other loved ones move out of their long-time homes, and perhaps have difficulty finding another suitable living arrangement or retirement community," Burkhardt said.
"Boomers and empty nesters today want an alternative. They want to stay where they've lived for a long time, remain in their communities, and enjoy aging in place. Silvernest was born to help address that need."
There are several other websites that are aimed at helping older adults find housemates or homes to share. One is seniorhomeshares.com, a nonprofit that offers a free nationwide matching service for homeowners and tenants, and links to other companies that offer lease and legal assistance.
Another is the goldengirlsnetwork.com, which doesn't offer help with matching, but allows the listing of homes available for sharing. They also help homeowners find a suitable home companion to provide services. For more information about this group, based in Bowie, Md., see "Share your home like the Golden Girls did," from the July 2015 Beacon.
For the half-price discount on Silvernest.com, use code BEACON50 when paying.