Features
Many upsides to downsizing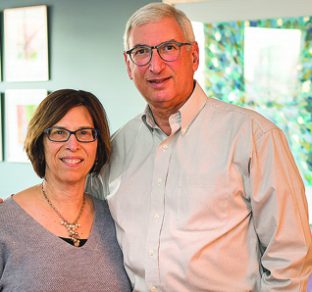 Roberta and Ira Greenstein downsized to a two-bedroom condo in Fells Point four years ago, and say they are happy with a less cluttered, more modern space. While downsizing can be a positive experience, some have a hard time parting with possessions and their long-time homes.
Photo by Christopher Myers
Roberta and Ira Greenstein had never lived in a city. So when they started to consider downsizing four years ago, they thought downtown Baltimore might be just the spot for them.
In short order they sold their four-bedroom Columbia home, purchased a two-bedroom condominium in Fells Point, and have wholeheartedly embraced this new stage in their lives.
While many people have intense fears about downsizing, Roberta, who is 64 and retired but is an active volunteer, says, "I don't miss anything about the house."
Actually,  that's not quite accurate. When pressed, she admits she misses steps ("as long as I'm still able to climb them, I'd like to have some") and, despite not being a gardener, the open green space that surrounded her home. "But now we have city green space," she says of the nearby parks.
Husband Ira, 65, is a state employee and cantor at Beth Am Synagogue.
The couple only had a week after selling their home before the new owners were to take possession. So, while they both found getting rid of many of their possessions was difficult from a logistical standpoint, they say it wasn't as difficult emotionally as they had anticipated.
"Our goal was to take only what we needed," said Roberta. "We gave things to our kids (though they didn't want as much as we would have liked them to take!), we donated art to an art sale, took furniture to consignment shops, and made many trips to the dump. If it doesn't fit, you have to be able to say goodbye."
In fact, in the four years since they moved to the condo, the couple has continued to downsize even more.
"When you live in a larger space, you can have an eclectic style," Roberta explained. "A smaller space needs a more cohesive style so it doesn't look cluttered. We're moving more in the direction of mid-century modern now, and I'm really enjoying the process of making the space our own."
Without having to spend as much time on house-related chores, the Greensteins are finding that they have more time to "upsize" the rest of their lives — from serving on neighborhood committees, to exploring new restaurants, museum exhibits and nearby theaters.
"It's easier for us to access these activities now that we're in the middle of things," she said.
Not so simple for others
For Patricia Owens, on the other hand, downsizing has been difficult both emotionally and logistically. "Moving is so much more work than I thought!" she said.
At 88, Owens admits that "it's hard to let go of your old life…I knew I had to do it, but I moved kicking and screaming."
For 37 years, Owens lived in a three-bedroom 1912-era home in Charles Village. Last year, she moved to the Edenwald Retirement Community in Towson when she realized that she was no longer able to keep up with her home the way she used to, especially when it came to chores such as shoveling snow.
Despite her initial reluctance, she now feels grateful for her new home. "The staff is incredible, the other residents are very friendly, and I have a lovely apartment with bigger closets than I had in my house," she said.
Unlike the Greensteins, who moved from the suburbs to the city, Owens has moved from the city to the suburbs, though she appreciates that Edenwald is in the heart of Towson and has something of the urban feel she was used to.
Owens sold many of her possessions and gave others away. While it was heartening for her to see other people enjoy some of her collectibles, "it was a tremendous emotional toll…But you can't let yourself get too attached to things," she said.
Making it easier emotionally
Sherry Parrish, a social worker and director of resident life at Charlestown, suggests looking at the process as "rightsizing" instead of "downsizing." She believes that rightsizing is more likely to be "internally driven," while downsizing may be the result of external circumstances in your life.
"Where you are in your life, and the reason for your move, will determine whether you consider such a move [to be] an adventure or a cause for grieving," said Parrish.
To make "letting go" easier, Parrish advises honoring the possessions, or the memories associated with the possessions, by using them one last time.
For example, set the table with your grandmother's china and have one last dinner party. And be sure to take photos that you can put into an actual photo album or a digital one on your computer or mobile device.
Also, don't feel you have to get rid of everything, Parrish observed. "If you like Grandma's teapot, keep the teapot," she said. "Keep 'a' thing, not 'every' thing."
"Just as a piece of paper requires margins or else the words run off the page, our lives require margins that allow us more freedom, more peace, and more joy," Parrish said.
Loving what you keep
When Barbara Laricos "rightsized" from her four-bedroom home in Elliott City to a 1,600-square foot condominium in the active adult community of Waverly Woods, she followed the advice of the best-selling book, The Life-Changing Magic of Tidying Up, by Japanese author Marie Kondo.
Kondo has created an industry by admonishing people to only "keep what they love." Laricos, who is 65 and retired, took that to heart.
"My tastes have changed over the years," she said. "I didn't have much trouble letting go because I really did just want to be surrounded by the things I love. I was pretty ruthless about getting rid of things. I don't want to be a prisoner to my possessions."
Laricos acknowledges that what she misses the most from her previous home are the trees that she could see from every window. But she is learning to appreciate having neighbors nearby and being part of a community.
"And I'm really looking forward to the first snow of the season, when I can sit inside and enjoy it and not worry about having to shovel it!" she said.
Indeed, it was last year's major snowstorm that was the deciding factor for Ross and Nancy Kelbaugh when it came to giving up the home they had owned in Colonial Village for 44 years.
A fall two years ago that required surgery — and kept Ross housebound on the second floor — was their first inkling that it might be time to downsize. The snowstorm, which led to a shoulder injury that still troubles him, was the final straw.
Though the Kelbaughs wanted to remain in Baltimore, they liked what they saw at Waverly Woods, where Ross's sister had moved. They bought a single-family home where the main living space is on one level, with a lower level that has a home office, family room and bathroom.
Ross, 67, now makes use of the basement for his work as an on-air appraiser for "Chesapeake Collectibles" on Maryland Public Television, and for his own research firm, Historic Graphics.
A retired teacher and an avid collector, Kelbaugh found it difficult to give up his books, collectibles and, in some cases, good pieces of antique furniture. "There were a lot of trips to Goodwill and to the dump," he said. "Some people are probably very happy now. But it had to go."
Now that a good part of his belongings, not to mention his home, from the last 40-some years are gone from his life, Kelbaugh is pleasantly surprised that he doesn't miss anything.
"It was easier than I expected to cut my ties emotionally to that house," he said. "I'm enjoying not having clutter," he admitted, adding ruefully, "I might have been bordering on being a hoarder."
"And though the young couple who is now living in the house and re-doing it to their taste have invited him and his wife over, Kelbaugh said, "I don't want to go back. I have a really nice place now."
Kelbaugh wishes that someone had told him when he was younger to buy a house he could grow old with, so he could avoid the upheaval that comes along with such a major life change. But when all is said and done, he's happy to have let go. "Basically, it's just stuff."