Cover Stories
Meet Baltimore's firetruck buffs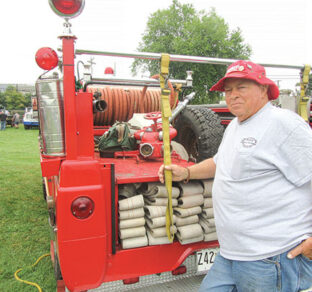 Malden Miller owns five antique firetrucks, which he occasionally drives to his area Walmart to keep them running. A surprising number of Maryland retirees collect antique "fire apparatus." You can see them compete at area musters, and get up close to antique engines and more at the Fire Museum of Maryland in Lutherville.
Photo by Glenda C. Booth
Once a month, Jim Melia drives his gleaming red 1961 American LaFrance firetruck to a grocery store in Cockeysville to pick up some milk. Hampsted retiree Malden Miller drives one of his five antique firetrucks to Walmart now and then.
While onlookers might be baffled at the sight of an antique firetruck rumbling into the parking lot without sirens blaring, Melia and Miller regularly drive them on errands to keep them in good operating condition.
Besides, tooling around in vintage firetrucks boosts their spirits. "I've got some toys in the garage. I can walk in there, and my five red trucks make me feel good," Miller said.
You might think this is a rare hobby. You'd be wrong. Melia and Miller are among 2,400 collectors of firetrucks and firefighting memorabilia around the country, according to an estimate from the Society for the Preservation and Appreciation of Antique Fire Apparatus. In fact, the society has 50 local chapters in Maryland alone, including the Chesapeake Antique Fire Apparatus Association, to which Miller and Melia belong.
Firetruck aficionados go to parades, truck shows, firetruck rodeos, and gatherings called musters, which feature competitions. A muster can attract up to 100 antique fire vehicles and associated equipment.
The first firefighting muster in the U.S. was held in Bath, Maine, in 1849, when entrants competed to pump water the farthest distance from hand-powered vehicles. The town still holds an annual muster today.
Fire service preservationists save photographs, artifacts, manuals and paraphernalia from brush trucks to helmets to pike poles.
Many can reel off facts about motor types, tank sizes, valve types and fire service arcana like pick-headed axes, quints and aqueous film-forming foam. Like Melia and Miller, many collectors maintain their own trucks.
Museum of firefighting history
If you don't happen to glimpse Melia or Miller on their outings, visit a museum. Lutherville is home to one of the country's largest fire museums, the Fire Museum of Maryland — a collection of vehicles, gear, tools, toys, uniforms, books and photographs.
The museum houses 40 vehicles, with its oldest engine dating to 1806: a hand-pumper from Annapolis. Pumpers were a big improvement over traditional bucket brigades, when people, often women and children, passed leather water buckets hand to hand down a line.
Visitors can learn how firefighting evolved from bucket brigades, to hand pumps, to people- and horse-drawn vehicles, to steam engines, then to motorized gas and diesel vehicles. Closed cabs showed up in 1946.
The museum's director, Stephen G. Heaver Jr., took over from his father, who founded the museum in 1971 and mentored his son by enlisting him to tinker with engines and by giving him and his friends rides in his 1928 fire engine.
"There's something at the museum for everyone," Heaver said. "Everybody needs to know something about our mechanical past. It made society safer. The average person may not know how engines operate, but he or she cares about public safety."
Embedded in the building's front is the front half of Baltimore's first diesel fireboat, The Thomas D'Alesandro Jr. In operation from 1956 to 2007, the boat was named for Baltimore Mayor Thomas D'Alesandro Jr. (father of Nancy Pelosi, the recently retired speaker of the U.S. House of Representatives).
Besides fire engines that range from non-motorized stagecoach-sized vehicles to mammoth 20th-century ones, visitors can delve into firefighting's intricacies over time.
The museum has an 1888 Clapp and Jones, which was pulled by horses and had a steam-pumping engine that pushed water out. There's a 1913 gas-powered Ahrens-Fox Model A engine, the only one left in the world.
Inside the museum, which is open to the public only on Saturdays during the winter months, visitors can see fire station facades, uniforms, helmets, buckets, hoses, extinguishers, megaphones and goldleaf decals that firefighters proudly displayed on their vehicles.
There's a wooden hand rattle that street watchmen spun around to make a loud clacking sound and alert people to fires. On one wall is a Stokes basket, a metal rescue stretcher used to lower and haul a victim away from a fire.
Collectors cherish their trucks
Melia, a Cockeysville resident who teaches engineering to high school students, "grew up around the firehouse because my father was a fireman," he said.
He himself was a volunteer fireman in New Jersey for 10 years, and was so bothered by regularly seeing an open-cab, ladder firetruck rusting in a junkyard that he bought it.
Fixing up old firetrucks is "my thing," he explained. "When I pass a red Corvette, I say to myself, 'I've got my red convertible, too. It's just a little bigger.'"
Most Tuesday nights, Melia and a few other firefighting buffs gather to repair and restore antique vehicles. "Every time, I learn something new," he said.
To complete the picture, he even has a black and white Dalmatian. "When my dog is in the parade, no one sees the firetruck," he said.
A retired fuel truck driver, Miller has driven his firetrucks to events as far away as Florida, Texas and Minnesota. He has five vehicles: a 1968 Hahn, his newest; a 1946 International brush truck; a 1959 Ford brush truck; a 1956 Ford pumper and a 1948 American LaFrance pumper. A brush truck has a front-end spray bar for putting out fires in fields or forests.
No two firetrucks are alike, he says, because each station that ordered them had certain specifications.
Miller has been a volunteer firefighter since age 16, and now volunteers at the Manchester and Pleasant Valley stations. He used to ride on the side of the truck, but not anymore. "When I turned 70, I quit fightin' fires," he said.
Instead, Miller helps with other tasks. He's been inducted into the Maryland State Fireman's Association Hall of Fame. He finds joy in driving a big red firetruck down the interstate and watching reactions, "especially the kids with their noses pressed up against the window. It's neat."
How to buy your own firetruck
Used firetrucks are the cheapest of any antique vehicle, typically costing between $2,000 and $3,000, according to Tom Herman, president of Virginia's Old Dominion Historical Fire Society. Today's sales are mostly conducted on the internet, on eBay, or at government surplus auction sites like govdeals.com.
"You don't have to be rich to own a historic firetruck," said Herman.
Admission to the Fire Museum of Maryland is free on Wednesday, March 4 from 10 a.m. to 4 p.m. for Fire Safety Day, and on Saturday, May 6 from 10 a.m. to 2 p.m. for Steam Day. Regular admission is $15; $13 for seniors and firefighters; $7 for children 2 to 18. Visitors under 2 are free.
The museum seeks volunteers to help in the office with archives and membership, assist visitors, restore apparatus or ride in parades. Visit firemuseummd.org or call (410) 321-7500.