Cover Stories
MEET OUR NEW COLUMNIST: She's 12 years old!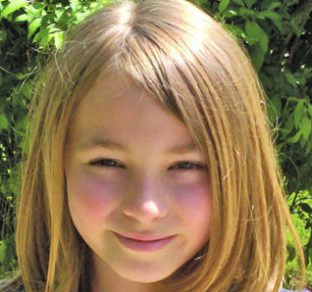 Older and younger generations combine naturally within families. But what about outside of families?
Think about it. Kids don't typically want to hang out with older folks who may have never laid eyes on a smartphone before. And seniors most likely aren't daydreaming of spending time with a twelve-year-old like me.
And that is exactly what I want to change.
My name is Alexis. I'm starting seventh grade at Robert Frost Middle School in Rockville, Md., this month, and I want to help bridge the expanding gap between the older and younger generations.
How do I plan to do this? Well, my first steps were to do some research. I read articles about people from different generations spending time with one another, and also some articles on ways to possibly bridge the gap.
Did you know that seniors and students throughout the U.S. have created intergenerational projects including visiting nursing homes, writing poetry and stories to share, having a "senior (citizen) prom" at a high school, conducting interviews, and writing journals together? The social media site Facebook has become a place where seniors and young people interact, too.
I also contacted my great-great-aunt and asked her what she thought about the subject. My aunt was a teacher, so she knows about both children and seniors. We spoke about ways that she would like to see the generations combine, where she thought good places to meet would be, and what age groups she thought would be the best fit.
After much thought and discussion, here are some of the ways I am hoping to bring the generations together:
• I proposed to the publisher of the Beacon that I write a Generations Together column to raise awareness about this issue and to recruit older adults for various aspects of the project.
You are reading my first column now! I hope you will also fill out the survey form that the Beacon has created to see if readers like you are interested in participating.
• I plan to create a Generations Together school club of my fellow Robert Frost Middle School students to build relationships and bridge the generation gap in our community. We will be starting the school year with regular visits to the Village at Rockville, a retirement community just a short walk from my school. Over time, I think this idea could catch on in schools throughout the country.
• I hope to create a book club called "Read, write and think!" that focuses on books featuring older adults and young characters who have an impact on each other. One example would be the Harry Potter series, where Dumbledore and Harry Potter help each other out.
• I also would like to write a monthly newsletter on a particular theme to be distributed in schools and senior community centers.
• I want to help spread knowledge of technology by designing tutorials that teach older adults how to create PowerPoint presentations and do other cool things with computers. I also want to set up a program for E-mail Pals.
• I also want to organize intergenerational discussion groups about what's going on in the world today, set up joint exercise programs, and more.
The next time you have a few minutes to spare, don't just sit there! Go find either an older or younger person, and do something fun together. You never know; it might lead to a long-lasting friendship.
And please take a few moments to fill out our survey form here. Thank you for reading my column!