Travel
Mellow out in Santa Barbara and environs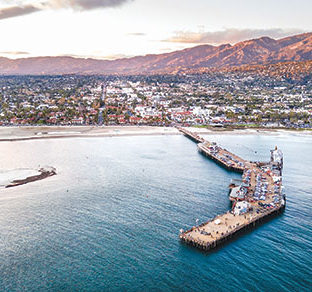 Jutting out into Santa Barbara Harbor is Stearns Wharf, a historic wooden wharf lined with lively restaurants and a natural history museum.
Photo by Chris Bell for Visit Santa Barbara
If you asked Americans where they would live if money were no object, Santa Barbara would be near the top of the list.
With a mild Mediterranean climate, wide beaches and excellent wineries just over the mountains, this coastal California city has been called the American Riviera.
But visitors don't have to spend a bundle to enjoy the region's many charms. In August my wife, Katherine, and I spent several days sampling its affordable side on a break from our everyday lives in Venice Beach.
I hadn't visited Santa Barbara in years, not since my young, single, hippie days in the 1970s. This was a tamer, more mature visit, but I did my best to recreate the feelings from those days by driving up the coast in my 1997 Mustang convertible.
The scenery along the way, best viewed from a convertible with the top down, is just as spectacular as the city, with sandy beaches and sparkling waves to your left and mountains to your right. In fact, a number of the vistas are recognizable from the many car and insurance commercials that have used this iconic backdrop.
Slower pace plus ocean views
Once you reach Santa Barbara, you can choose to be active, visit historic and cultural sites, or just eat, drink and shop. Or combine all three, soaking up the gorgeous views regardless of what you do.
After checking into our hotel, the Mason Beach Inn, located just a block from the Pacific Ocean, we walked along the beach to Stearns Wharf, a 150-year-old wooden wharf with shops, places to eat, and some of the best views in the lower 48.
As we watched the ocean sparkle from the wharf, I felt two and a half years of pandemic stress and worry melt away. I could take in the city, sailboats, ocean, sand and mountains in just one view. The light breeze added to the experience. At the risk of dating myself, I was as mellow as I've been in quite a while.
From the wharf we walked up State Street, which runs through the heart of downtown Santa Barbara. State Street is lined with bars, restaurants, an axe-throwing emporium (!), and a couple of spas. We passed on the axe-throwing, but treated our weary feet to an excellent massage at the Little Rainbow Foot Spa.
The next morning, I borrowed a bike from the inn and headed out on an hour-long, mostly flat bike ride along the Cabrillo Bike Path to Butterfly Beach in Montecito.
I didn't see any butterflies, but I did pass a bird refuge on the way. It was a relaxing way to start the day, as if I needed anything else to mellow me out.
My mellow meter peaked on our last morning. My favorite activity of the trip was a two-hour kayak paddle off the Goleta coast, just north of Santa Barbara, run by the Santa Barbara Adventure Company. This section of the coast is relatively undeveloped, so the views were epic, including many pelicans and cormorants.
Eating and (wine) tasting
Food options abound in Santa Barbara, from funky taco stands to elegant fine dining. The two cuisines that dominate the culinary scene are Mexican and seafood, not surprising given the Southern California city's location on the ocean. We indulged in both.
Our first meal — a pound of mussels, a pound of clams and a large crab — was at Moby Dick's on Stearns Wharf, with views of the harbor as we chowed down. Our last meal featured outstanding local fare with a Mexican twist at La Paloma Café, located downtown.
But the culinary highlight of our visit was a wine tasting in the historic Presidio section of the city, near State Street. The Santa Ynez Valley, just a short, scenic drive over the mountains, is home to excellent wineries. One can drive from one vineyard to another in the Valley, or simply walk a few yards from one tasting room to another in the city.
The wines rival those of Europe, particularly when sipped amid beautiful outdoor patios, cobblestone pathways and historic Spanish Colonial and Mission-style buildings.
We visited two tasting rooms: Jamie Slone, which included a chocolate pairing, is in the historic El Paseo, one of California's oldest shopping centers. The other, Grassini's, serves its wines in a quiet, secluded outdoor patio. The vibe, as well as many of the wines, was very chill.
After the tastings, we were able to walk (stagger, weave?)  just three blocks to the La Paloma Café for dinner. If we were so inclined, we could have walked another block or two to State Street and all its eateries.
Besides the beach, the Wharf and the Presidio, we also checked out a few of the other sites that make Santa Barbara a great place to visit.
Among our favorite historic places was the Santa Barbara Courthouse, built in 1929 in Spanish Colonial style with a distinctive clock tower, red-tile roof and lush grounds. The clock tower offers a 360-degree view of the city, ocean and mountains.
We also visited the Santa Barbara Botanic Garden, with many trails winding through 76 acres of native plants, including a grove of redwoods; and the historic Santa Barbara Mission, established in 1786, which includes a museum, historic gardens, cemetery and mausoleum.
Easy day trips
If we had more time, we would have explored other nearby destinations. Montecito, a ritzy town just outside Santa Barbara, is home to lavish estates and celebrities so famous that only a first name need suffice (Oprah, Ellen, Meghan and Harry).
The Santa Ynez Valley, as noted earlier, is home to several wineries, as well as quaint, small towns and a former stagecoach stop, Cold Spring Tavern, now a restaurant that hosts rowdy rock 'n' roll shows.
The valley was home to many celebrities, past and present, including Ronald Reagan and Michael Jackson. The views of Santa Barbara, the ocean and the Channel Islands in the distance are spectacular from Highway 154, a scenic bypass.
The Channel Islands are among the newest additions to the U.S. National Park system. Two of those islands, Anacapa and Santa Cruz, are only a one-hour boat ride away from Santa Barbara.
From a boat, you can spot dolphins, and (very) occasionally you might even catch a glimpse of a whale. You can hike on Santa Cruz as well as take a sea cave kayak tour run by the Santa Barbara Adventure Company.
Find out for yourself why this city and the region surrounding it is one of the most desired places to live. A short trip here is guaranteed to mellow you out.
If you go
Flights from the D.C. area to Santa Barbara start at $375 in December; check Kayak.com for current fares.
Hotels near Santa Barbara's harbor, wharf and beach district tend to be pricier than those inland. At the Mason Beach Inn, a Mission-style hotel with a heated pool, rooms start at $200 per night.
Nearby, the Marina Beach Motel has more affordable yet charming rooms, some with kitchenettes, for as low as $176 per night on the off season. If you don't mind staying a few miles inland, several chain hotels have rooms with mountain views for $97 per night.
Many of Santa Barbara Adventure Company's kayak tours include a lesson and lunch (sbadventureco.com); tours start at $59, but its Channel Islands National Park tours are four times that price, due to ferry ticket costs.
Condor Express (condorexpress.com) offers whale-watch tours via catamaran with a guarantee: a free future trip if you don't spot any whales. Celebration's cruises (celebrationsantabarbara.com) start at $30 for a one-hour sunset tour and $50 for a two-hour whale-watching seasonal tour.
Admission to Old Mission Santa Barbara, open seven days a week, is $15 ($13 for those 65+). No reservations are required. However, you must make a reservation to visit the Santa Barbara Botanic Garden (sbbotanicgarden.org; $18, $14 for those over 60).
Don and Katherine Mankin were hosted on this trip by Visit Santa Barbara. To read more stories by Don, go to adventuretransformations.com and click on Articles.