Travel
Memorable meals from around the world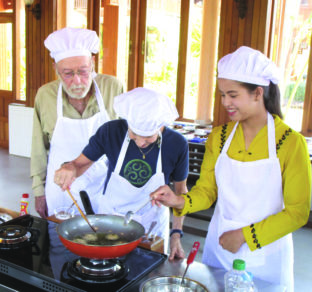 Authors Victor Block and Fyllis Hockman help prepare a nine-course lunch at the Village Restaurant in Myanmar. The meal was made all the more memorable by the diners' participation in its preparation.
Photo courtesy of Victor Block
Enjoying our first dinner during a group tour of Sicily, we turned to the guide and told him that the meal was excellent. His reply was as delightful as it was surprising.
"People can steal my money, but not my food," Alessio remarked. He followed that remark by claiming, "If lunch or dinner doesn't have at least five courses, it's just a snack."
Those words told us a lot about Sicily, and indeed about all of Italy. Food plays an important role in the lifestyle of Italians. Growing, harvesting, cooking and eating (often gargantuan portions) hold a place of near reverence in the daily lives of Italians.
Our travels to more than 75 countries have taught us that the same holds true throughout the world. National, regional and local dining customs tell much about various cultures.
Of countless repasts we have enjoyed at home and abroad, some stand out because of what they demonstrate about the destination and the people who live there. They range from gourmet spreads set out in a romantic setting, to everyday fare consumed by the locals.
Readers may recognize the locations of these meals from our previous stories published in the Beacon.
Making your own meals
Of the outstanding meals we enjoyed in Sicily, the most memorable was billed as A Day in the Life of a Sicilian Farm Family, and it put the members of our tour group to work.
The farm's owners, their parents and assorted aunts and cousins taught us the finer techniques of kneading bread and rolling pasta. Those chores were accompanied by singing, dancing and sipping wine that seemed to flow as plentifully as the nearby river.
By the time we left, we were satiated with both food and warm feelings for our new-found friends. (That experience, and the trip, were arranged by Overseas Adventure Travel, www.oattravel.com.)
Another do-it-yourself dining experience took place in a very different setting.
The Village Restaurant is located in Thit Ael Pin, a tiny town inhabited by farmers and fishermen in Myanmar (also known as Burma). The area is home to the Danu people, one of some 135 ethnic groups that comprise the country's population. Members of each community have their own customs, traditions and food preferences.
As a chef presided over the activity, personal assistants helped us to add ingredients, including vegetables grown in the garden just outside, to the cooking pots.
The nine-course luncheon began with vegetables tempura prepared in the local style, went on to steamed fish wrapped in cabbage leaves and tea leaf salad, and titillated our taste buds with a desert of crispy fried banana with honey. (Trip arranged by www.mythsandmountains.com.)
Caribbean feasts
Three centuries ago, the tiny Caribbean islands of Nevis was a center of the lucrative sugar producing industry, and wealthy planters built imposing Great Houses as the centerpiece of their plantations.
The Hermitage continues a tradition dating from that time with its weekly pig roast. We helped to truss up and skewer the night's main course, a practice not for the faint-hearted, before it was spit-roasted for eight hours.
Accompaniments included local dishes ranging from plantains to rabbit pie, BBQ chicken to curried chick peas, and the customary cornmeal flatbread called Johnny Cakes. (Arranged by www.hermitageneveis.com.)
Montpelier Plantation is less than a mile away from the Hermitage, but in ambience it offers a different introduction to the life of prosperous sugar planters. Among structures from that time still standing is a stone windmill tower that today serves as the setting for a romantic candlelit gourmet dinner.
After canapés and cocktails are served in the plantation house, guests climb the stairs into the history-laden spire to relish a seven-course meal.
The feast progresses leisurely, on "island time." Our dinner menu included crispy salt fish puree, poached mahi mahi and lamb loin, and ended with a dessert that set a new high standard for tiramisu. (Contact www.montpeliernevis.com.)
Guests at the five-course Chef's Showcase dinners served at the Sunset at the Palms resort in Negril, Jamaica, have no idea what they'll be eating. Each day, the chef and culinary team develop and test recipes that will be presented in a delightful outdoor setting.
The emphasis is on indigenous Jamaican fare, and some dishes are reproduced from cooking that takes place in the homes of staff members. There also are hints of cultures that have added their influences to the island over time, including Spanish, French and British.
Calalloo pesto snapper and pumpkin puree greens are typical starters. Entrees might be grilled beef tenderloin topped with fresh-from-the-garden herbs, accompanied by green banana hash. Sweet potato and yam pudding is one of a number of deserts that provide a fitting end to the meal. (Contact www.thepalmsjamaica.com.)
Dining on the water
The words "moveable feast" take on a whole new meaning during a leisurely barge trip along a narrow canal in the Burgundy region of France. The French know how to wine and dine, and both activities achieve an epitome when French Country Waterways, which arranged our trip, gets into the act.
Every bite and sip aboard their luxuriously appointed vessels is planned to please the palate of the most discriminating gourmet. Fresh breads and buttery croissants are brought on board each morning, still warm from a nearby bakery.
Lunch and dinner are exquisitely prepared and presented using the freshest products from local farmers' markets. Each bottle of wine is lovingly described prior to serving, and comparable homage is paid to the selection of cheeses.
After returning home, we almost found it difficult to sip from a glass of wine or taste a wedge of cheese without wanting to know its entire history. (For trip details, see www.fcwl.com.)
After gallivanting and gourmet-dining around the world, we end with a tiny snack shack in the United States. The Pine Tree Frosty has been serving light bites and ice cream in the tiny western Maine town of Rangeley since 1964.
The setting alone — perched at the edge of a small lake with a view of mountains in the distance — is worth a visit. But it's what we rate as the best lobster rolls we have enjoyed in Maine, where that tasty treat is a traditional favorite, that keeps us coming back.
For the unfamiliar, the dish consists of a New England-style hot dog roll split at the top instead of the side and filled with delectable lobster meat. At the Frosty, the rolls are buttered and toasted, and overflowing with five ounces of claw and knuckle lobster meat (more than the standard three to four ounces) dressed very lightly with a touch of mayonnaise.
Adding to the down-home experience are the fact that owner Ali Fraser's mother worked there when she was a teenager 50 years ago, and the resident ducks that gather and wait patiently (sometimes not so much) for a sweet hand-out. (For more info, call (207) 864-5894.)