Travel
Mexico's exclusive resorts near Cancún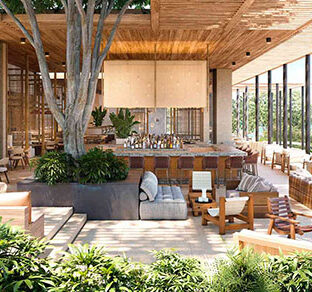 A mahogany tree rises through the bar of the Etéreo, a 75-unit boutique hotel located in a protected mangrove forest in Playa del Carmen, Mexico. The award-winning resort has a private beach, spa and top-tier restaurants.
Photo courtesy of Etereo, Auberge Resorts Collection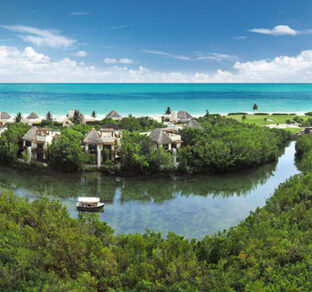 Water surrounds the Fairmont Mayakoba, a five-star gated resort with a Greg Norman-designed golf course. Guests can take a free boat tour through its waterways, home to 240 species of wildlife.
Photo courtesy of Fairmont Mayakoba
Years ago, my future husband Paul and I traveled to Cozumel and loved it. More than three decades later, we were ready for another Mexican vacation. But where?
After some research, we found two attractive, secure resorts near Cancún on the Yucatán Peninsula, very close to Cozumel. As it turns out, Cancún is America's favorite destination in all of Mexico.
We chose two resorts: the Fairmont Mayakoba, a large, all-inclusive resort, and Etéreo, an intimate, serene boutique resort whose name means ethereal, spiritual, heavenly.
What we loved about Etéreo was that, in keeping with its name, the resort offers many activities that highlight the Mayan culture and tradition of the area.
After passing through Etéreo's massive stone gate, we were greeted by the guia, our personal concierge, plus a shaman trumpeting a conch shell.
The hotel is perched above a protected mangrove forest, overlooking the calm, turquoise Caribbean. Since the resort is small, with only 75 rooms, everything is an easy stroll away.
Etéreo was built using all-natural materials — lava stone, copper and indigenous Tzalam — so it blends perfectly into the environment. Water parallels the walkways throughout the entire resort, making it feel afloat.
The shaman told us that water was important to the ancient Mayans, who believed that life springs from water. The resort has two pools — an infinity pool and a larger one with in-pool lounges. We never had to get up early to reserve a lounge or umbrella; there were plenty.
Pampered dawn to dusk
The beach, dotted with cabanas, is where you can sit or rent a paddleboard, kayak or canoe. Just 250 feet offshore is the region's largest reef. We saw many groups out there snorkeling, but we chose to stay on dry land.
An on-property spa, Sana, uses local indigenous ingredients prepared by hand. In addition to the traditional treatments, there are detoxifying Mayan clay wraps and crystal healing sessions.
We loved dining alfresco and had plenty of opportunities. Taco night was so much fun. Our waiter happily brought more of our favorites.
At breakfast, I couldn't resist the French toast with grilled pineapple. And when I asked the bartender for a drink with coffee and some cream, he came up with a delicious concoction.
Each evening as the sun sets, a shaman leads guests in a ritual meant to open the heart to connection and happiness. We gathered on the natural wooden walkway to the beach. As he chanted holding cacao, ginger or cinnamon, as well as shells and stones, we were instructed to face north, south, east and west.
There were many more learning activities — Mexican cooking classes, tequila tastings, and a spiritual jewelry-making workshop. But alas, it was time to leave.
Resort hopping
Some might think we're crazy to visit two resorts during one vacation, but because each has a different vibe and offerings, we loved experiencing both.
Not too far away, in Playa del Carmen, was our next destination, Fairmont Mayakoba, which had been recently renovated. Once again, we passed through a private gate into an elegant lobby for check-in.
Beyond a huge black jaguar statue was a terrace overlooking the jungle and mangrove forest. The concierge warned us not to try to buy drugs from anyone. But since the only drugs we take are Nexium and Crestor, that was not a problem.
This resort is large — 401 guest rooms nestled in a tropical forest surrounded by lush lagoons — and it offers an all-inclusive dining option, which we took.
The breakfast buffet offered an endless array of choices, and there were plenty of places to grab lunch and sit down for dinner. Full disclosure: I couldn't help but stop by the ice cream shop several times.
"Mayakoba" comes from the Mayan words "Maya" and "coba" or "city on water." Amazingly, Mayakoba, where the Fairmont and other resorts are located, has an underground river system, which a team of biologists discovered decades ago under the limestone.
Our room looked out on a canal, where habitats protect 150 species of birds and 300 species of wildlife, including turtles, crocodiles and iguanas. We couldn't wait to take the guided boat tour along the canal and walk the nature paths.
Water sports, classes and more
The Fairmont Mayakoba offers dozens of activities to keep you as busy as you want, including complimentary bikes, non-motorized water sports (kayaking, paddleboarding and catamarans), plus tennis, an extensive network of nature trails, multiple pools and the beach. There's a kids' club, too, and we saw many intergenerational families on vacation.
For a fee, you can take cooking classes, relax at the indoor-outdoor spa (with a rooftop mineral pool), play golf, or take a day trip — snorkeling and diving from the island of Cozumel or a visit to see ancient Mayan ruins.
We had seen the ruins and snorkeled in Cozumel years ago, so we skipped those activities. But we did sign up for the canal tour.
As we glided along the jungle canals, Miguel, our knowledgeable guide, headed to a nesting ground. Along the way, birds flew overhead and herons perched along the shore. Large turtles waited patiently under birds' nests, hoping to catch an egg for dinner.
Miguel pointed out a male bird with blue eyes that turned yellow when he met his mate. Anyone looking for an unattached mate may wish humans did that too.
Then it was on to our next adventure: entering a cenote (pronounced say-NO-tay). Cenotes are underground freshwater pools formed by limestone erosion.
Usually found in caves, they were considered sacred by the Mayans. (Be sure to wear sneakers, as a cenote can be steep, uneven and slippery.)
Inside, the ceiling was filled with stalactites and sleeping bats. Cenotes come in all different sizes — some you can swim in, and some are open to the sky.
We decided we'd definitely come back to Mexico to explore bigger, deeper cenotes where we could swim. Next time we'd love to see a cenote that is open to the sky.
If you go
Southwest flies nonstop from BWI to Cancún; fares start at $660 roundtrip. United flies nonstop from Dulles to Cancún for around $387 roundtrip.
Note: Some areas of Mexico are on the U.S. State Department's "do not travel" list, so check before you go.
The Cancún area has many other hotels to choose from, at all different price points. A studio at Etéreo Auberge starts at $899 per night; see aubergeresorts.com. Prices for rooms at Fairmont Mayakoba start at $441. For more information, visit fairmont.com.