Features
Missions to help heal the world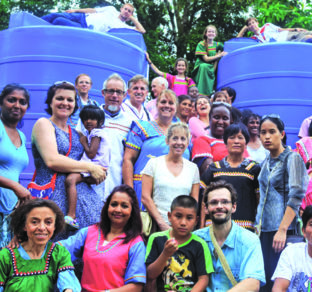 More than three dozen members of the Reaching Hearts Seventh Day Adventist Church travel each summer to the isolated village of Cerro Iglesias in Panama to assist the indigenous residents. Here, they pose in front of the large blue water tanks they installed last summer so the village could have its first running water. Youth pastor Micah Davis (with goatee) and his wife Toni Davis (in a blue native dress) are in the middle of the photo.
Photo courtesy of Micah Davis
In the remote village of Cerro Iglesias, in a mountainous region of Panama, Pastor Micah Davis arduously mixed cement by hand and spread it to create bases for huge water storage containers that would pave the way for the village's first running water.
Then, Davis went to a nearby city to pick up supplies when a torrential rain began to fall.
"It was just [coming down as] solid sheets of water, and all I could think of was that wet cement we'd worked so hard on. I said, 'Dear God, don't let it rain on the mountain,'" recalled Davis, a pastor at the Reaching Hearts Seventh Day Adventist Church in Laurel, Md., a congregation that now makes yearly trips to help the indigenous people of the village.
Davis got back to the cement pads under a threatening sky, but found the rain hadn't reached the village yet. He just finished spreading plastic sheeting over the cement when the rain came crashing down there as well.
"We've seen miracle after miracle," said his wife Toni Davis. "We believe God 'parts the waters' so we can go in and help these people."
The Davises and their congregation are among a number in the Washington area that find their faith calls them to help others in often primitive circumstances in developing countries.
Some spend weeks to years on the ground, working to improve living conditions, healthcare and educational opportunities, while others work to find and fund similar projects around the world.
For the past four years, the Davises, who are in their 50s, travel to the village in Panama for two weeks each July. They are joined by about three dozen parishioners, who range in age from 5 to 75. Having families with young children come along adds an intergenerational aspect that increases the richness of the experience, Toni said.
Surrounded by a jungle inhabited by boa constrictors, pythons and poisonous spiders, Cerro Iglesias is a primitive village of dirt-floored, wood homes. There is no electricity and, until Reaching Hearts made it their mission to help the village, no running water.
Villagers would carry water by hand or on horseback from a creek a quarter-mile away. In 2016, the church installed huge blue tanks that hold more than 5,000 gallons of rainwater collected off roofs. It is pumped by solar power (also installed by Reaching Hearts) to provide running water to a school kitchen and showers. This year they are hoping to drill a well to augment the water supply.
A medical lifeline
Each year, Toni, a nurse, organizes a three-day free medical clinic to provide vaccinations, dental work, wound care and more. The clinic serves nearly 800 people, many of whom come from miles away for care. Davis sets up the clinic in the church, hanging table cloths to serve as exam room dividers.
One woman carried her 90-year-old mother there on her back for care. A pregnant woman about to give birth scrambled down narrow paths on the mountain to a waiting ambulance on the road. Toni used charcoal poultices to draw the venom from a snake bite on another patient before sending her off to a hospital in town.
The volunteers come with suitcases packed with medicine for the clinic, but the Panama government is very strict about what they can bring into the country. Once, customs officials were giving the group a hard time, hand searching each bag. But suddenly another agent waved them over and let them all through with no further delays.
"We don't think that's a mistake. We believe strongly this is God's intervention," Toni said.
Each trip, she feels her faith strengthen, and she also feels a bond with the villagers she helps. "I don't know if I've seen people any more grateful than there. They are so appreciative, and want to give you something [in return]," she said. Village women spend hours sewing intricately stitched native dresses for them on manually operated sewing machines.
Congregants engage in fund-raising to support the mission, which costs about $2,000 per participant, including supplies used to help the village. While cash donations are appreciated, the church is particularly looking for construction workers, a doctor and a dentist for this summer's trip, as well as donations of dental equipment and medications.
To learn more, contact Micah Davis at (301) 717-9556 or youthdude@me.com. The website is www.reachinghearts.org.
An interfaith effort in Haiti
After a powerful earthquake decimated Haiti in 2010, congregants from the Adat Shalom Reconstructionist Congregation in Bethesda, Md., responded by not just donating a substantial amount of money, but by traveling there to build homes for people living in tents, plant a vegetable garden so they could grow food, and expand a school.
So far, the temple's Founding Rabbi Sid Schwarz and congregation members have made four trips to Haiti. They are planning another in December.
In the process, they came to know a young minister, Pastor Johnny Felix, who had started a church and elementary school in Haiti. Adat Shalom now underwrites the school's budget and provides scholarships for students. Felix will be visiting Adat Shalom next month for the first time.
Each congregation has learned from the other, according to Schwarz. "I can't fully put into words the impact it had on all of us to be with people who have so little, yet are so gracious and optimistic and positive.
"They treated us as if we were changing their lives. We came to understand each other better, and respect each other from our differences. It all came from a very deep faith place," Schwarz said.
Two years ago, Louis Tenenbaum, 63 and a member of the synagogue, helped pour foundations for houses and build a dining hall for the school there.
"I was coming off a divorce, and I needed a full-scale respite, a reset, something to get out of my own self," Tenenbaum said. "I was looking for something that was engaging and used my energy apart from my every day."
Tenenbaum, who lives in Kensington, Md., is a carpenter, building contractor and aging-in-place specialist. He also is founder and president of HomesRenewed, a nonprofit that advocates for incentives to increase the number of homes whose features allow residents to age in place.
"I'd say the main thing I got out of this trip was that these people, compared to us, seem to have nothing. They have to walk miles to get water.
"But by working side by side to build something together, we shared our sense of dignity with each other," he said.
Schwarz found that he and his congregation became increasingly inspired to help the more they got to know the Haitian adults and children they were working with.
"We took great pride in 'walking the talk' of Torah. We weren't just talking about Jewish values; we were living those values every day," he told the members of Adat Shalom when he returned home.
Learn more about the project at www.rabbisid.org/success-stories/the-haiti-project.
Forging a bond
Each summer, members of St. John's Episcopal Church in McLean, Va., travel to Consuelo, Dominican Republic to hold a week of Bible school for children in the morning, and then pitch in with repairs to a trade school that the church helped fund.
"It's remarkable — over the years there's become this real bond between the two communities. The people are just so welcoming and warm, and do what they can to embrace the time the group is there," said Jayne Swanson, of McLean.
The community has no air conditioning, and temperatures are often in the 90s with humidity to match.
"It is quite rigorous. You have to be careful of the water. Physically you have to be in OK shape. We painted and painted and painted. You just feel yucky by day's end," said Swanson, who was 60 when she went. "I was by far the oldest."
She said that, throughout the week, more and more children showed up each day for the program, and there were about 100 by the end of the week.
"It's hard to leave. You can see it in the children's faces that they don't want you to go," she said. "When you get back to the U.S., you are seeing all you have so differently."
To learn more, see www.stjohnsmclean.org/get-inv/midd.
Matching Catholic volunteers
The Catholic Volunteer Network, based in Takoma Park, Md., serves as a clearinghouse, recruiting and matching more than 12,000 volunteers to 180 international and domestic service programs each year — ranging from one week to three years in length.
"Service is a really rich part of the Catholic tradition," said Katie Mulembe, director of operations. "According to everyone's baptism, we're called to some sort of mission and service to the church and God's people. This is a great outlet and opportunity for people to live out their faith," she said.
Don and Pat Clausen did just that after retiring, he as principal of Annandale High School in Virginia and she as a nurse practitioner. Peace Corps veterans in the 1960s in Ecuador, they decided to commit to working for three years in impoverished Chiltiúpan, El Salvador through the Franciscan Mission Service.
Don, now 74, ran a computer lab at a school "where kids had never even seen a computer before." Pat put her nursing skills to work. They lived in a three-room apartment with no air conditioning.
While they now live in Wheaton, Md., they travel back to El Salvador two to three times a year, once attending the wedding of one of Don's former students.
They also help Salvadoran immigrants here in Maryland. Both are fluent in Spanish, and they help immigrants with translation, writing letters and filling out forms at the Langley Park Community Center.
Pat, 73, also does pro bono health clinic work in Baltimore twice a month, and Don has served as an election observer in El Salvador for every election since 1990 to help ensure there is no voter fraud.
"Faith is an essential part of this, that you should be serving. It's part of your daily life, and you have a responsibility to other human beings," Pat said.
For more information about the Catholic Volunteer Network, see https://catholicvolunteernetwork.org or call (301) 270-0900.