Housing
More couples move to assisted living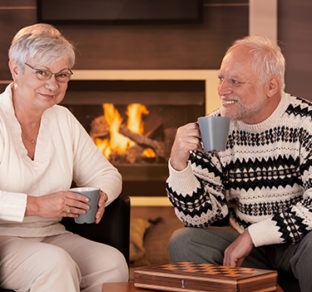 Dreamstime
When Arlene Fingerhut was diagnosed with Parkinson's Disease in 2020, her family members weren't surprised.
"When I got the official diagnosis and had to tell my children, I said, 'Guess what else I inherited from Grandma?'" Arlene, now 79, said in an interview with the Beacon. "My daughter answered right away: 'Parkinson's.'"
In many ways, Arlene's life stayed the same after her diagnosis. "Nothing was earth-shattering because I had suspected it all along," she said.
Over time, though, living at home began to get more difficult for Arlene, particularly walking up and down their three-story house's 37 steps.
First: Family pitches in
When Arlene was diagnosed, the pandemic kept her husband Earle, also 79, close to home. But even if it hadn't, he said he would have wanted to stay close to home to ensure Arlene was safe and comfortable.
"I watched her like a hawk," Earle said. "I wanted to see that Arlene was doing okay, and I wanted to make sure she could do the things she wanted to do."
With help from their children, the couple worked together to manage daily living tasks. Their daughter-in-law, for instance, helped them pick up their groceries.
Earle would cook dinner while Arlene read the directions and oversaw the process to ensure he did everything correctly.
Before long, however, the couple's daughter suggested they investigate assisted living facilities.
Deciding to leave a family home can be challenging for couples, particularly when they have different needs. Some choose to move the person with more care needs to an assisted living facility while the healthier spouse remains at home and visits routinely.
But Earle and Arlene, who have been married for 52 years, were adamant that they make their next move together.
Then, find the right home
The Fingerhuts eventually decided to move in together to The Seneca, an assisted living and memory care facility that opened last July in Rockville, Maryland.
One of the key selling points was that they could each have their individual needs met: Arlene could receive care for her Parkinson's, and Earle could have more flexibility to visit with friends and pursue his interests.
Another selling point: "I liked that the dining room is open from 7:30 a.m. to 7:30 p.m., so we can eat whenever we want," Arlene said.
Moving into assisted living together enhanced both of their lives right away. "Before we had friends where we lived, but we couldn't get out a whole lot," Earle said. "Now we can go to dinner in the dining room and talk to friends."
Earle also feels better about leaving Arlene when he visits friends in their old neighborhood, especially his running buddies, because he knows she is being well cared for while he is away.
As it turns out, Arlene and Earle aren't the only couple to make the choice to move to assisted living together. Since it opened, The Seneca has had eight couples move in so far —more than anyone originally expected.
The demand is so strong that the senior living community has begun joining single apartments into two-bedroom units.
Better relationships result
"One of the things that can really change a relationship between a couple is when one becomes ill and the other steps into the caregiving role," said Jon Garber, The Seneca's executive director. "It changes the dynamic, presenting challenges in the relationship."
But when a couple moves together into an assisted living community, the care responsibility is turned over to the professional caregiving team, and the couple can go back to being spouses again, Garber added.
That's exactly what the Fingerhuts discovered.
"There are more things we can do together," Arlene said. "We are together in more meaningful situations than we were before we moved in," Arlene said.
For example, "Earle has come with me to my Parkinson's exercise classes," she said. Earle interjected to say Arlene's classes are harder than the classes he takes. That's saying something, considering that Earle has run a few miles a day for much of his life.
Garber said he takes pride in the fact that The Seneca provides the option for one person to have their care needs met while the spouse or partner can step back from being the caregiver and live their own vibrant life.
"We tell the caregiving spouse, 'It's okay to be involved with us, but allow us to do the care,'" Garber said. "It can be hard for them sometimes to turn over care, so we help the families work through that and understand that."
It certainly turned out to be the best option for Arlene and Earle.
"I wasn't going to go anywhere else," said Earle. "I wanted to be there with her."
Arlene is happy Earle feels that way. "I would have been devastated if he hadn't come with me," she said.