Cover Stories
More than half his life at the Post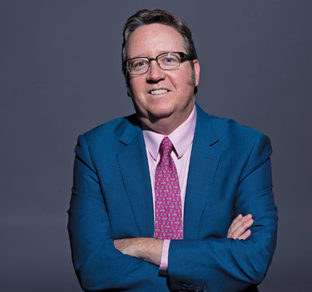 For the past 18 years, John Kelly has written a beloved Washington Post column Monday to Friday, following in the footsteps of Bob Levey and others before him. "I can't imagine doing anything else," Kelly said. He will be the keynote speaker at the Beacon's two 50+Expos taking place this month.
Photo by Marvin Joseph/The Washington Post
John Kelly, the intrepid writer of a daily column for the Washington Post for almost two decades, can't quite believe he's turning 60 this year. After all, he plays in a rock 'n' roll band and works as hard as ever.
"I remember when I first started at the Post when I was 26, seeing the grizzled old newsroom people and thinking, 'Oh man they're just so out of it.'
"And now, I am one of those people! I see both sides now," Kelly said with a chuckle.
[Later this month, Kelly will be the keynote speaker at the 23rd annual Beacon 50+Expos, returning to in-person events after two years of virtual programs.]
His daily column, called "John Kelly's Washington," has been one of the Post's most enduring features, having been around in some form since 1947, when Bill Gold started writing "The District Line." Gold passed the baton to Bob Levey in 1981, and in 2004 Kelly took it over from Levey (who now writes a monthly column for the Beacon).
D.C. native; Air Force brat
Kelly was born in Washington, D.C., to parents who were both Washingtonians. (He's a descendant of Col. Jehiel Brooks of the Brookland neighborhood in Northeast).
But because Kelly's father was in the U.S. Air Force, the family moved often, living all over the world —  from Japan to England and eventually to Maryland.
"It was nice to see a lot of the country and a lot of the world," Kelly said, admitting that frequent moves aren't always ideal for children. "It does make you resilient in a way. When it works out best, you are curious about the world because you've seen a little bit of it."
Kelly attended the University of Maryland in College Park, receiving a B.A. in English. His first job (other than restaurant gigs as a busboy and dishwasher) was a three-year stint as an editorial assistant at an association for association executives.
In his free time, the scrappy young writer published freelance articles in local publications, including the Post. When a temporary position as deputy editor of the Weekend section opened at the Post, his editor offered the job to Kelly.
"They knew me from my writing, and they said, 'We need to fill a slot for nine months, and at the end of that you'll be gone, but would you like it?'"
Kelly said yes, and the rest is "right place, right time" history.
After the nine-month stint was over, Kelly was invited to stay at the Post, where he has worked for 33 years. He was top editor in the Weekend section for nearly 10 years before launching KidsPost in 1999 and then reporting for the Metro section.
During his career, he was awarded a fellowship at Harvard from the Neiman Foundation for Journalism in 1998 and another in 2007 from the Reuters Institute for the Study of Journalism at the University of Oxford.
Despite all his experience, Kelly takes a modest view of his contributions to the Post. "I really came from the outside; I didn't study journalism in college," Kelly said. "I felt, and still sometimes feel, like an outsider."
Keeping it weird, but nice
Although the newspaper has changed owners (Katherine Graham to Jeff Bezos) and locations (15th Street to K Street) over the years, Kelly said that his position hasn't changed much.
"My job is probably the least changed sort of job in the newsroom. Writing a local, daily human-interest column — it's the same as it was in 1920, 1950 or 1990."
Yet Kelly, who writes five columns a week, says he's still learning new things every day.
"It doesn't feel like 18 years [writing this column] because I think I really ought to be better at this. It ought to be easier," he joked.
To keep things fresh, Kelly casts a wide net, writing reflections, local history pieces and "weird observations," as he calls them — about the deer population, for instance, or neckties. As a result, "John Kelly's Washington" has a devoted following.
"It's been reassuring that there are people who have been interested in all the weird things I've been interested in," Kelly said.
"Being an editor has been helpful [in] thinking about a menu of offerings," he added. "That's how I approach it, as an editor who wants to have something a little different every day. That makes it doable."
In his self-effacing manner, Kelly claims he has "a small role" at the Post, but acknowledges that his column is as important to some Washingtonians as a hard-news story about, say, the Middle East.
"A newspaper is not one thing. It shouldn't be; it should be lots of things," Kelly said. "If you like sports, there's a sports section. If you like squirrels, wait around for squirrel week."
Readers who like variety head to the Metro section for Kelly's straightforward, approachable and sometimes charmingly quirky column.
In 2004, when Kelly took over "Bob Levey's Washington," his predecessor gave him some advice that proved true. "I remember Bob Levey telling me, 'Readers will help you out,'" because they know the column well, Kelly said. "And they do."
For instance, readers routinely send in story ideas or ask questions via email and handwritten notes. He has "a ton of ideas" for future stories, he said, but not enough hours to pursue all of them.
He's still curious about the world and enjoys chasing down leads. "I like learning things. If there's an interesting thing or person or event, I get lost researching it, and that takes time."
No matter what he writes, though, Kelly tries to avoid a mean-spirited tone, thanks in part to the editor who hired him. "She said, 'I want readers to like you.'
"It's a great help as an organizing principle because if I feel the urge to be mean in my column, I hear her words."
His rocker side
When he's not writing, Kelly plays drums in a local band called the Airport 77s. He pounds on his drum set the way he writes: rapidly, expertly, in a flurry of enthusiasm.
With a sound akin to Elvis Costello or the Police, the Airport 77s play as if they want people to dance.
After playing local gigs for several years, the band — a trio that includes Kelly; guitarist Andy Sullivan, a reporter for Reuters News; and bassist Chuck Dolan, a NASA software developer — released their first album in January 2021, produced during the pandemic lockdown.
They released a second album titled "We Realize You Have a Choice" in September.
Kelly and his wife, Ruth, a telecommunications attorney, have two grown daughters who live in London and Los Angeles, as well as a rescue dog adopted during the pandemic.
The dog's separation anxiety keeps the Kellys close to their home in Silver Spring, Maryland. "I'm kind of a hostage to this house," Kelly said with a chuckle. "I have come to love keeping the hummingbird feeder full, looking at the different types of birds.
"As much as I love this area and have connections to it, I like to travel, too," he added, noting that he's planning trips to visit his parents in North Carolina and his daughter in California.
In the meantime, if you write a letter to Kelly, you might just get a note or even a phone call back. He's always on the lookout for ideas, and he loves to track down a story.
"I'm an introverted person in a job that requires me to be extroverted," he said. "I'll keep writing my column…I can't imagine anything else I'd rather do."
Hear John Kelly speak about his life at the Beacon 50+Expos taking place on Sunday, October 23 at Springfield Town Center in Springfield, Va., and on Sunday, October 30 at the Margaret Schweinhaut Senior Center in Silver Spring, Md. Both events run from noon to 4 p.m. For more information, visit the 2022 50+Expos page.