Housing
Moving between levels of care at CCRCs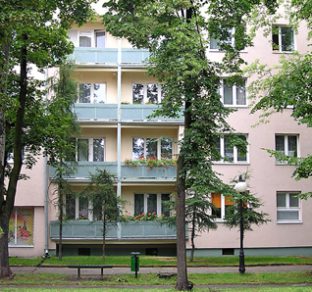 Senior housing options that include a range of care services — from independent apartments to assisted living to nursing care, commonly referred to as continuing care retirement communities (CCRCs) — provide seniors and their family members with a sense of security and peace of mind.
Because everything is offered under the same institutional umbrella, there's no need for another often stressful search for housing and services should additional care be needed.
Interviews of residents in several Maryland CCRCs from our research at the Center for Aging Studies at UMBC illustrate both the promise and the challenges of such communities from two married couple's perspectives.
One couple's story
The Griers, married for over 60 years, are like many people who prefer to stay in their homes for as long as possible. But after a serious car accident and a severe winter, their only daughter —whose own quadriplegic daughter needed constant care — said she couldn't continue to help them out as long as they lived in a rural area far away from her.
So the Griers reluctantly moved to an independent living apartment at a large religiously-affiliated CCRC ten minutes away from their daughter.
"We lived there on our own," Mrs. Grier said. "We used to go out daily. And I took care of my husband and me for three years over there; done the cooking and everything."
Over time, Mrs. Grier recognized she and her husband needed more assistance, so they moved to the community's assisted living section.
The move was a relief both to the Griers and to their daughter, who told us, "My father did not want to move. In fact, we had a hard time getting him here. And now he loves it, you know. And I look at him and I say, there is no way they could have stayed up in the woods and been cared for."
Mr. Grier said, "Whenever you need anything, the staff is always there." "They're wonderful," agreed Mrs. Grier.
Another couple's story
Still, there are challenges to living in a place where progressive levels of care are provided. When a resident's health changes, this can require a move. And although it may be a move within the same building or complex, it can be quite significant to those who find themselves at that point.
After living with his wife in a spacious independent apartment for 10 years, Jack Martin (not his real name) was approached by the administrators with an ultimatum: He could either hire a full-time aide to assist his wife, or she would have to move to a higher level of care within the community. Edith Martin had been cognitively declining for a while.
The Martins regularly played cards with friends in the independent living area of their CCRC. When the friends initially noticed Mrs. Martin's forgetfulness, they were patient and understanding. But over time, her memory changes interfered with their enjoyment of the game. Eventually, they complained to administrators.
Mr. Martin said he felt he was managing okay caring for his wife. "[The neighboring residents] said they had to help her get around, and they found her confused if she walked out of the apartment and was downstairs," he recalled. "And that she smelled like she had urine on her. I don't know how they could smell that because I made sure she was changed."
When he finally agreed to have his wife moved, Martin said, "She doesn't like [having to move]. Upsets her to talk about it." Mr. Martin became teary eyed as he explained, "I can't take care of her any longer. She'll get more attention there."
From the administration's perspective, Mr. Martin's grief could be weighed against the relief and freedom they anticipated he would experience. They tried to minimize the impact of Mrs. Martin's relocation by reassuring him that they were in fact still under the same roof.
The administrator said, "I know you want to take care of your wife, but look at you. You can't do anything; you have to be able to do what you need to do. Let us take care of her. Still visit with her."
Although Mr. Martin understood the need for more help, he said that this move took his wife far enough away that he felt as if she had died. "We were sharing life together, which we can't do now," he said."Edith was my stand-by, and now she is gone."
Mrs. Martin apparently had difficulty understanding what had happened. One of the administrators told our researchers: "You know what the saddest thing is? She thinks her husband left her. That's all she keeps saying, 'Why did he leave me?' It just breaks your heart."
Safety and care above all
Resident safety is a priority in communities that have agreed to provide care. The requirement to move from one part of the setting to another is part of a senior housing design that is more convenient, cost-effective and efficient than bringing extra care to individuals.
Many CCRCs will allow for the resident to pay for a certain level of extra help to be brought in. But this can become costly and has its limits. It was not an option Mr. Martin felt he could afford. And although the community would have welcomed him to join her in the assisted living wing, he said he did not seriously consider this option. He described himself as too proud.
For those who seek social interaction, a CCRC offers opportunities unmatched by living alone.
Still, our research with residents of multilevel senior housing indicates that the move from one level of care to another can be challenging for couples and individuals even though it's within the same setting.
Plan ahead; ask some questions
Recognizing the possible challenges, proactively seeking information, and planning ahead are important steps when moving to a CCRC.
Here are some questions potential residents and their family members should be asking before choosing a community with multiple levels of care:
• What are the triggers for a move to the next level? How is that handled?
• What sorts of exceptions have been made to allow someone to stay in their room or apartment?
• How are couples accommodated in terms of moving between levels? What are some specific examples of how couples there have navigated these transitions?
• How much socializing is there between the different levels of care?
• If someone is required to move because of cognitive decline, how much specialized training do the people working in that area receive?
For more information about current work in the culture change movement, see www.pioneernetwork.net.
Erin G. Roth is a senior ethnographer at the Center for Aging Studies within the Department of Sociology and Anthropology at UMBC. The research this article is based upon is funded by the National Institute on Aging, J. Kevin Eckert and Leslie Morgan, Principal Investigators. For additional information, contact Roth at eroth@umbc.edu