From the Publisher
Must-see TV?

The fall season of TV kicked off in earnest this week, with dozens of new and returning shows vying for couch potatoes everywhere. I must admit with the shorter days and cooler weather, TV can be alluring on fall nights — especially after last parting with your favorite characters on a warm spring evening months before.
But the other night I started thinking: Just how many of those characters on my favorite shows are over 50? Very few, it turns out.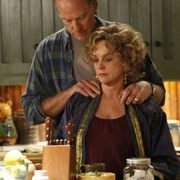 I most look forward to "Parenthood," the NBC drama that follows the extended Braverman family, anchored by Zeke (Craig T. Nelson) and Camille (Bonnie Bedelia). They are the parents of four grown children and an ever-expanding cadre of grandkids (eight this season).
Pitch-perfect, poignant and often hilarious, the very human Bravermans navigate careers, wayward teens, interracial marriage, adoption, cancer and numerous other issues that can't always be tied up neatly at the end of the hour.
Most recently, Zeke made an illegal U-turn with the grandchildren in the car, got pulled over by a police officer, refused a command to stay in the car and ended up under arrest once it was discovered his driver's license expired more than a year before. When his four children assembled to talk to him about the incident, his driving abilities and his health, Zeke bristled and stalked out of the room.
But beyond "Parenthood," I realized there aren't many older characters populating my DVR. And those that do seem to be caricatures. Shelley Long occasionally plays a loopy grandma on "Modern Family," while her ex-husband, played by Ed O'Neill, is now married to someone half his age (Sofia Vergara). Over on "The Middle," there's crazy Aunt Edie, who smokes up a storm and nearly burned her house down several times. And Cloris Leachman plays a sex-crazed, loopy great-grandmother on "Raising Hope."
So it's clear that not only is there a paucity of realistic older characters, but that I may watch just a tad too much TV as well. Thus, when the producers of a new show, only available to watch online on YouTube, approached me about covering its launch of a show featuring older actors, my initial reaction was that if the Internet TV vortex sucked me in as well, I might never see the light of day again.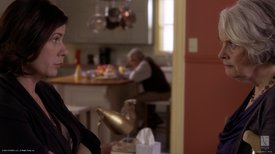 But the show, "Ruth & Erica," is at least worth sampling; after all, each episode clocks in at a petite seven minutes. And it packs in many familiar TV stars.
The series focuses on the struggles of Erica, played byMaura Tierney ("ER," "The Good Wife"), who is facing her mother's growing frailty and her father's Alzheimer's disease.
Lois Smith ("Twister", "True Blood") stars as Ruth, Erica's mother. Philip Baker Hall ("Magnolia)" plays Henry, Erica's father. The series also guest stars Michael C. Hall ("Dexter"), Rosalind Chao "(Don't Trust the B—- in Apartment 23"), Jane Kaczmarek ("Malcolm in the Middle"), and Steven Weber ("Wings").
The first few episodes, at least, feature more of Erica's adult child perspectives than her parents'. That might prove a problem for some older viewers, who may feel stereotyped. But the tsunami of issues and emotions Erica is sorting through as she confronts how to care for her aging parents is spot on.
Take a look at the show at http://www.youtube.com/playlist?list=PLCTP481uj2b8w0s-5_iN42I8C0NXv3Xxa&feature=plcp.