Arts
My Fair Lady hits all the right notes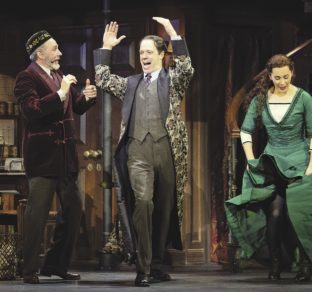 Kevin Pariseau as Colonel Pickering, Laird Mackintosh as Professor Henry Higgins and Shereen Ahmed as Eliza Doolittle dance to "The Rain in Spain" in the Lincoln Center Theater Production of Lerner & Loewe's My Fair Lady, now at the Kennedy Center through Jan. 19.
Photo by © Joan Marcus
The Kennedy Center Opera House has become a time machine through January 19, with the Lincoln Center Theater production of Lerner and Loewe's My Fair Lady that will "take you back" to the Broadway musicals of yesteryear.
There is nothing edgy or contemporary about this production. It's not meant to draw out new meaning or to highlight characters or actions that might be looked at differently in the #MeToo era.
There is no softening of the misogynistic language used by Professor Higgins, or hardening of Eliza's attitude towards him.
It's "just" a traditional, grand, opulent, beautifully acted, sung and costumed show with a set that will take your breath away.
Nods to tradition all around
In the opening tableau, Eliza, played by Baltimore native Shereen Ahmed, walks onto an empty stage as faux painted London buildings drop down from above and street lamps and fences are wheeled in by the chorus.
Ahmed, wearing what appears to be the same iconic hat and shawl worn by Julie Andrews in the 1956 original Broadway production and Audrey Hepburn in the 1964 movie, entered on opening night to wild applause and hoots from some in the audience.
I glanced at my program again, wondering if I somehow missed that tonight's lead was a famous actress, and not a recent sociology graduate from Towson University.
I determined later that the cheering section must have been Ahmed's friends. But it's also true that the standing ovation given the entire cast at the end of the show was in large part due to her beautiful singing and fine acting. She will continue to go far, fast.
But it's the next scene, in Henry Higgins' study, that brings home how truly Broadway-based this production is. Set designer Michael Yeargan has created a magnificent, dark-paneled, two-story study, complete with spiral staircase, multiple doors and a floor-to-ceiling arched window through which the light is constantly changing with the time of day.
It gets even better. The study is actually part of a revolving set that depicts much of Higgins' house, rotating through a bathroom where Eliza is bathed by the maids, to an entry foyer with another grand staircase. Actors move through the rooms as the set revolves.
I recall such impressive sets from Broadway musicals I saw in childhood, but you don't get to see this kind of thing very often in musicals today.
A Higgins to love and hate
Laird Mackintosh plays Professor Henry Higgins, the phoneticist and speech teacher who, on a bet, takes up the challenge of training poor Eliza, a Cockney-accented flower vendor, to pass for a proper English duchess.
Tall and lanky, he cuts a very different figure from Rex Harrison, who played the role on Broadway and in the film. Less crusty than Harrison, he nonetheless does a masterful job at being the man you love to hate.
Totally full of himself, he treats Eliza miserably, calls her names ("ungrateful guttersnipe" and worse), yet has a tender side he lets show on occasion.
He also moves very gracefully throughout the show, perhaps not surprising for an actor who began his career as a dancer in the National Ballet of Canada.
Oh, and by the way, he actually sings very well, instead of talking his way through the clever musical numbers as Harrison did.
Speaking of music, the 17-piece orchestra does fine work, from the masterful overture, which weaves together so many of the memorable melodies from the show, to the final bows.
Other memorable scenes
Other noteworthy cast members include Kevin Pariseau as Higgins' sidekick, Colonel Pickering, and Adam Grupper as Eliza's scheming drunkard of a father, Alfred P. Doolittle.
The bar scenes featuring Doolittle are highlights of the show, particularly in "Get Me to the Church on Time." The exterior of the pub opens to reveal an active bar scene and nightclub show featuring not only a line of female can-can dancers, but a drag version that subtly replaces them as the number rises to a fever pitch.
It's the costumes that steal the scene at the "Ascot Gavotte." A plain gray background, and a simple awning that hangs from above, are all that accompany the entire troupe dressed mostly in various shades of gray. Still, within that limited palette, costume designer Catherine Zuber manages to produce breathtaking hats and gowns for the ladies.
All in all, it's wonderful to not only recall, but once again experience the grand Broadway musical with such an iconic, well-produced show.
And yet…I found myself slightly disappointed that the folks at Lincoln Center Theater hadn't "modernized" the production enough to at least be true to George Bernard Shaw's original play, Pygmalion, on which the musical is based.
In the last scene of the play, it is clear that Eliza is triumphantly leaving the Professor, refusing to continue to play his creation or his servant. The flower girl has become a woman who no longer needs or wants him.
But the public desire for a happy ending — which to Shaw's chagrin also forced a new conclusion on most productions of Pygmalion — wins out here again.
Of course, with either ending, you'd still go home happily humming.
My Fair Lady continues at the Kennedy Center Opera House through Sunday, January 19. Tickets range from $49 to $149 and can be purchased from the Kennedy Center box office, online at kennedy-center.org, or by calling (202) 467-4600.
Discounted tickets for seniors are no longer available for the show. Groups may call (202) 416-8400.