Travel
Nearby, off-the-beaten-path B&Bs to try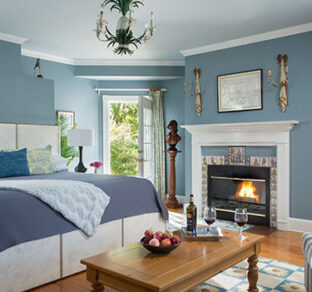 The Renoir Room is one of 11 chic rooms at L'Auberge Provençale Bed & Breakfast, a 1793 inn and restaurant 90 minutes from D.C.
Photo by L'Auberge Provençale Bed & Breakfast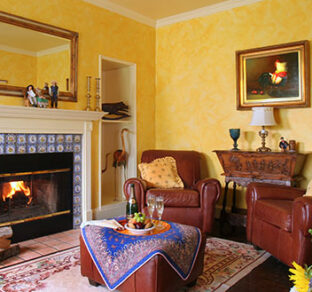 For a relaxing mini-break, stay at the L'Auberge Provençale Bed & Breakfast, above, or another nearby inn.
Photo by L'Auberge Provençale Bed & Breakfast
There are times I need to get away but don't want to spend weeks planning a trip or having to fly. I just want a change of scenery, good food and some interesting activities. A quick getaway, maybe a day or two, is all I need.
So, I decided to look into B&Bs within a couple hours' drive of our area.
The fun thing about B&Bs is that no two are alike. And even within one B&B, no two rooms are the same.
Of course, all serve a gourmet breakfast, often have coffee and home-baked goodies available all day, and a few even host a cocktail hour. Most have a communal dining table or smaller tables if you prefer not to socialize. Many innkeepers mingle with the guests and happily help you plan your day.
Some B&Bs are housed in historic homes or estates with beautiful antiques, four-poster beds, fine linens, comfy common rooms and fireplaces, while others look more like grandma's house.
So, anytime I book a getaway, I check the website and the reviews first. A few negative reviews never bother me, but if there are many, that's a definite red flag and a deal-breaker.
Inn at White Oak, Gettysburg, PA
For my first foray into B&Bs, I chose the Inn at White Oak in Gettysburg, Pennsylvania. And it didn't disappoint. Actually, it was beyond our expectations.
It's nestled on 30 private acres with ponds, woodlands, waterfalls and, in season, beautiful gardens. Yet it's just minutes from historic Gettysburg.
Upon arrival, my husband and I were greeted by innkeepers Shiree and her husband, Craig, who gave us a tour of the billiard room, tea room, library, formal parlor and small spa. A big bonus is the romantic indoor pool, complete with a fireplace.
In addition to the main house, there are two free-standing outbuildings: the two-bedroom, two-bathroom Carriage House (with a full kitchen), and the one-bedroom, two-story Cottage House, where we stayed.
All guest rooms have high-end linens, plush robes and a luxury bathroom. Shiree's love for interior design and attention to detail was on full display with our Sleep Number bed, custom frame and headboard, matching dresser and antiques everywhere.
The two-course breakfast served in the bright dining area included a poached pear with a delicious sauce and an artfully plated egg dish. Coffee, tea, Shiree's signature gingerbread chocolate chip cookies and other goodies were available all day.
As the seasons and holidays change, so does Shiree's decor.
L'Auberge Provençale, White Post, Virginia
L'Auberge Provençale Bed & Breakfast in White Post, Virginia, beckons wine lovers, foodies and those wanting to explore nearby Shenandoah National Park or stroll through Middleburg.
The restored main house (dating from 1753) has 11 guest rooms and suites. Your room may have an aromatherapy steam shower, whirlpool tub, mountain views, sitting room, fireplace, private balcony or private entrance. The rooms are decorated with faux-finished walls, French fabrics and artwork.
Three miles from the main house is a second campus, Villa La Campagnette, on 18 landscaped acres, with three rooms and a swimming pool open to all guests.
The inn is known for its French-American gourmet cuisine. Its owners proudly say they've been doing "farm to table" long before it became trendy. For more than 30 years they've been using fresh herbs, vegetables and fruits from their orchard and supporting local vendors.
The bar area is less formal and offers a bistro menu as well as fine dining. The charming, cozy restaurant has a tasting menu and a la carte choices.
We chose the tasting menu and started with the best French onion soup I've ever had, along with homemade bread. Everything is exquisitely plated. The wine list reads like an unabridged novel, and the sommelier can help you choose the perfect pairing.
Breakfast included homemade croissants, breakfast bread, creative entrees, fresh juice and café au lait.
Hambleton Inn Bed & Breakfast, St. Michaels, MD
We kicked off 2023 at Hambleton Inn Bed & Breakfast in St. Michaels, Maryland. Owner-innkeeper Debra Alms, architectural designer, and her partner Richard P. Beavers, who works in construction, took a neglected waterfront B&B and totally restored and renovated it.
They modernized the historic 1840 shipbuilder's home with a Victorian ambiance and filled it with antiques, rugs and chandeliers. As we toured the house, Debra showed us pictures of the original structure and artifacts they found during the renovations.
Each of the seven rooms in this luxurious B&B has a unique decor. Of course, they all have plush robes, bedspreads and pillows, and a magnificent faux fur throw draped over each bed. Its ensuite bathrooms have jetted tubs and showers; one even has a large copper tub.
Outdoors, guests can sip wine or make s'mores at the firepit while enjoying water views and local wildlife like green herons, mallards, ospreys and bald eagles. And for a little extra romance, there's Honeymoon Bridge — a late 19th-century pedestrian bridge in St. Michaels.
For the Eastern Shore gourmet breakfast, we had orange juice, toast with caviar, bacon, homemade biscuits and two fried green tomatoes, topped with large crabcakes and a poached egg finished with Hollandaise sauce. During the day, our hosts offered snickerdoodle cookies and coffee.
Everything in St. Michaels is within walking distance, so we parked in the private lot and explored the town's boutiques, galleries, shops, museums and varied dining options. Debra recommended places for dinner and what to see.
Now that we've experienced the wonderful world of nearby B&Bs, we're ready to discover more hidden gems.
For more information, visit innatwhiteoak.com, laubergeprovencale.com and hambletoninnbb.com.
In addition to reading reviews on Tripadvisor and Yelp, look them up on selectregistry.com, which lists B&Bs that meet a set of standards.
Note: Some B&Bs have steep stairs, so if you have mobility issues or don't want to climb stairs, ask for a first-floor room.