Cover Stories
New sports memoir hits home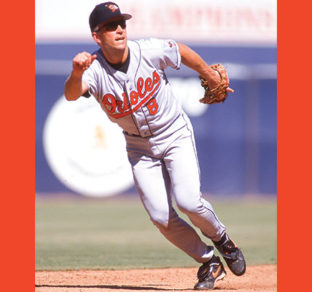 Cal Ripken Jr. is just one of many famous athletes about whom reporter Tom Callahan shares personal stories in his sports memoir "Gods at Play: An Eyewitness Account of Great Moments in American Sports." Callahan grew up in Baltimore and started his sports writing career here.
© Jerry Coli | Dreamstime.com
"I saw Brooks Robinson dive to his right, I saw Cal Ripken Jr. dive to his left" in magical fielding plays for the Baltimore Orioles, writes Baltimore-raised Tom Callahan in his latest book, Gods at Play: An Eyewitness Account of Great Moments in American Sports.
"I saw [Johnny] Unitas hand the ball off and still go through his many fakes" to fool would-be tacklers, Callahan writes of the Baltimore Colts' all-star quarterback.
Callahan recalls in the book basketball behemoths Wes Unseld and Elvin Hayes leading the Washington (formerly Baltimore) Bullets (now Wizards) to three NBA finals, with one championship, in 1978.
And that's just the local sports scene. Gods at Play also captures these quintessential quotes from sports deities of the last half-century:
"Ain't worried about the spotlight. Ain't worried about the money. Ain't worried about all the heavyweights. Ain't worried about nothin' but being immortal," the late, great Muhammed Ali once said.
Seven-foot, two-inch basketball icon Kareem Abdul Jabbar recalled the shame he felt in high school because of his height. His only role models, he said, were "the Empire State Building and the redwood trees."
Callahan writes about what baseball superstar, Hank Aaron, experienced in 1974 in Cincinnati. The first home game of the season happened to fall on the anniversary of the day Martin Luther King Jr. was slain. (The day before, in Atlanta, Aaron had tied Babe Ruth's 714 homerun record.)
Aaron was asked by team managers, "Is there anything we can do for you?" Aaron asked for "a moment of silence for Dr. King."
The Reds' executive replied, "We don't get involved in politics." Then, just before the game got underway, the first symbolic pitch of the season was thrown by politician Gerald Ford.
Aaron, notes Callahan, "didn't know whether to laugh or cry."
It's all there, and much more, in Callahan's Gods at Play, published by W.W. Norton in 2020 and released in paperback this year.
A Baltimore start
Callahan, 76, is now retired from the dailies and weeklies that printed his bylined stories and columns for more than 50 years.
Born in Chicago, Callahan grew up in Baltimore and graduated from Loyola High School. "I'm really a Baltimore guy," he said.
Still, his journalism career has taken him from coast to coast. He did work close to home with stints at the Washington Post, Washington Star and Baltimore Evening Sun. But he also saw sports writing action at the San Diego Union and the Cincinnati Enquirer, as well as Golf Digest, Newsweek and Time, where he worked as a senior writer for 11 years.
He now lives in Reston, Virginia, with Angie, his "high school sweetheart and wife of 55 years," he said. They live close to their children and grandchildren.
It all began, Callahan writes in his book, when "halfway through my senior year [at Mount St. Mary's College], I wondered what an English major does to make a living."
Soon after, he wandered into the Baltimore Evening Sun, "was passed from editor to editor," and, because he had some knowledge about a college basketball player (Earl Monroe, who later became a star for the New York Knicks), was hired by the sports department.
Callahan moved on to the Cincinnati Enquirer in the 70s, where he wrote a daily column. There, he said, he wrote "what I pleased: court cases, the death of Elvis Presley in Memphis, the prison escape of James Earl Ray in Brushy Mountain, a hostage siege in Indianapolis…dramatic events and ordinary ones," Callahan told the Beacon in a recent interview.
He soon realized there was more than enough comedy, drama and tragedy in the sports world to keep any writer busy.
"The writing was the same, though nothing in the real world moved me as much as standing at the finish line for Secretariat's [victory at] Belmont," Callahan said.
Mentor was writer Red Smith
At the Enquirer, he found a mentor in the great columnist Red Smith, the first of only three sportswriters to ever win a Pulitzer Prize (in 1976).
"I formed a friendship with Red when I was a 25-year-old columnist in Cincinnati and Red was a 70-year-old columnist at the New York Times," Callahan remembered.
"I was Red Smith's last best friend," he said in a 2017 interview. "Red was the best sportswriter ever. Even Hemingway knew he was great."
During his career, Callahan found time to write nine books covering the lives and hard and swell times of such sports luminaries as Arthur Ashe, Arnold Palmer, Tiger Woods and Johnny Unitas. His book Johnny U, which was published in 2006, became a New York Times bestseller.
Callahan's first book, Around the World in Eighteen Holes, published in 1994 with co-author Dave Kindred, chronicles their 37,319-mile journey to play 18 holes of golf on 18 of the world's most famous golf courses.
They began at the St. Andrews Links course in Scotland, of course, and ended up at Augusta National in Georgia. In between they visited courses in Iceland, Scotland, Russia, Nepal and Singapore.
Who's the greatest?
Let's cut to the chase: In his decades on the sports beat, who was the greatest baseball player Callahan ever saw play?
That would be Roberto Clemente of the Pittsburgh Pirates. "Clemente would be more celebrated if he hadn't played in Pittsburgh," but rather in a big city like New York or Chicago, Callahan said of the Puerto Rico-born right fielder.
Who was the most interesting athlete of Callahan's time?
"No doubt, Muhammad Ali. He was the most memorable. In his way, the most profound.
"He was synonymous with so much of his era: the 60s, the fight against racism, [opposition to] the Vietnam War. Ali was the embodiment of a time. It was hard not to be moved by him."
Speaking of which, Callahan and others have noted how boxing appears to be waning as a spectator sport.
"Muhammed Ali today would never be a fighter," Callahan said. "He would be a tight end" on a Super Bowl championship team, said the veteran sportswriter-author with what might have been a wink on his end during the telephone interview.
What does Callahan see as the future of sports?
"Playing the games will continue," Callahan said. "But who plays what and the recognition given one sport over another is definitely undergoing changes."
For instance, he pointed out, "Baseball is no longer the national pastime. The national pastime is played out every Sunday afternoon, when the National Football League games are televised into homes around the country."
He continued, "In the Black communities, basketball is now much bigger than baseball, which is becoming a strong sport for Latinos."
'A sportswriter all the way'
One of the book's most moving stories involves Orioles player and manager Frank Robinson, who once played for the Cincinnati Reds. The year was 1963, and a new guy named Pete Rose was just starting his career.
"In those earliest days, Rose was unpopular among most of his teammates," Callahan writes. One of the rookie Rose's principal sins was that he was closest to the team's Black players, Vada Pinson and Frank Robinson.
Rose, who became the undisputed star of what was called the Big Red Machine while winning four pennants and two World Series in the 1970s, confided in Callahan about his early days with the Reds. "The Black players were the only ones who treated me like a human being," Rose told him.
Callahan published the words of sports greats like Rose, Hank Aaron and Muhammad Ali to all his readers, present and future.
Looking back on his career, Callahan is pleased to be remembered "as a sportswriter all the way," he said. "I have no regrets. Keeping the public informed on any subject is worthwhile work."