Housing
New technology enables aging in place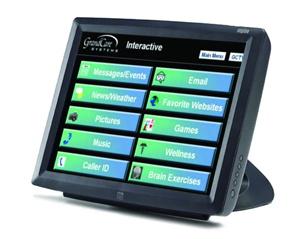 From wireless monitoring systems to devices that call for emergency response, technology that helps older adults live at home is growing by leaps and bounds. Below are five devices that have recently gone on the market. They not only allow people to live at home longer, but let them communicate with family members quickly and easily.
The GrandCare System connects via Internet and communicates with wireless sensors throughout a home to help caregivers communicate with and monitor a loved one from afar. The device monitors door openings, blood pressure, weight, medications, eating, wake up times and other activities. The system also coordinates schedules online with family and caregivers.
Family can send pictures, messages, emails, reminders and more to a dedicated and customized TV channel for the loved one to see. For an additional charge, the interactive GrandCare System includes a touch-screen monitor for these communication elements.
Users can play games, listen to favorite music, watch old film clips, view news and weather reports and more from the system. The company says no computer experience is needed to use the device.
For more information, contact GrandCare Systems LLC, (262) 338-6147, www.grandcare.com.
The GreatCall Responder is a wireless, mobile device that enables you to call for assistance from wherever you are. Weighing 1.8 ounces, the GPS-enabled device can be attached to a keychain or carried in a purse or backpack.
By pressing the button on the GreatCall Responder, users (who must also subscribe to the 5Star Urgent Response Service) are immediately connected to trained, certified agents who will identify them and their location, conference in family or friends, dispatch 911 emergency services, access a nurse, or provide any additional assistance 24 hours a day, seven days a week. Consumers can also use the device to contact 911 directly.
For more information, contact GreatCall, 1-800-733-6632, www.greatcall.com.
The TabSafe medication management system not only reminds people to take their prescriptions, it dispenses the drugs as well. It also alerts caregivers (that the medication has been retrieved, or not, as the case may be) and posts information on compliance, inventory and other health information that is accessible from any Internet capable device.
The medication to be dispensed must be inserted by the pharmacy, homeowner or caregiver into a cartridge in a base unit. The design allows for one type of medication per cartridge or multiple medications using an optional multidose cartridge. The design allows one tablet, or a dose of more than one, to be released at a time.
A memory chip embedded in each TabSafe cartridge allows the pharmacist to enter each customer's medication information at the same time that a label is generated. Users also have access to a personal website that includes a database of information about the medication supplied to the unit, detailed prescription data and compliance records. The device also coordinates ordering refills from the pharmacy.
For more information, contact TabSafe Medical Services, Inc.: 1-877-700-8600, www.tabsafe.com.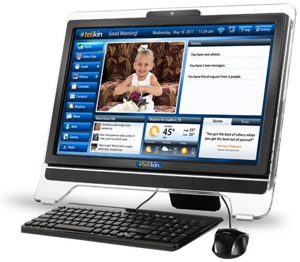 Telikin bills itself as a simple and easy-to-use computer that combines video chat, photo sharing, Web browsing, e-mail and other popular features into a touchscreen device. It also features a built-in CD/DVD player, games and Microsoft-compatible word processing. Telikin is available with an 18- or 20-inch monitor.
Telikin comes with its software fully installed and ready to go out of the box. It offers 60 days of free U.S.-based telephone support, as well as built-in video tutorials
For more information, contact Telikin, 1-800-230-3881, www.telikin.com.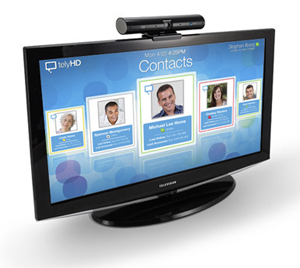 The telyHD by telylabs delivers high-definition (HD) Skype video calls directly to a TV. By plugging telyHD into the HMDI port on a TV, the user can make HD video calls to any Skype user, on any device, anywhere in the world.
The all-in-one unit does not require a computer, nor is there any software to install. Designed for the living room, telyHD features a high-definition camera with wide-angle lens and a microphone. The unit also allows users to share photos from a flash drive or SD card and to send and receive video mail.
TelyHD is powered by Google's Android operating system for continued delivery of new applications. No monthly fees are required.
For more information, contact telylabs: (650) 318-3549, www.tely.com.
Laurie Orlov is an industry analyst for the website Aging in Place Technology Watch, www.ageinplacetech.com.