Features
Northam prioritizes childhood education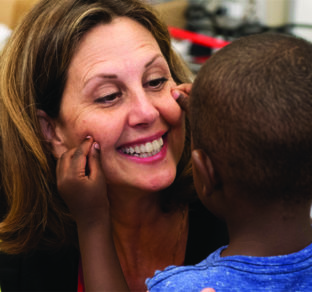 Virginia's First Lady Pamela Northam has developed an early childhood education initiative that she will lead during her husband Ralph Northam's term as governor. Her interest in children is long-standing. She was a pediatric occupational therapist when she and her husband met, and taught high school biology for many years. As a nationally award-winning science educator, she also developed a hands-on curriculum for students in grades K through 5.
Photo courtesy of The Office of the First Lady of Virginia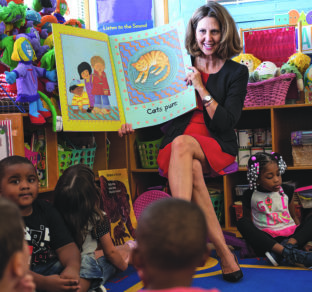 Pamela Northam, who chairs the Governor's Children's Cabinet, visited Westview Early Childhood Education Center in Petersburg last fall as part of her work in promoting access to early learning programs to foster school readiness.
Photo courtesy of The Office of the First Lady of Virginia
The beehive installed on Capitol Square in 2016 to support Virginia's honeybee production is an apt metaphor for First Lady Pamela Northam's office, especially between Thanksgiving and the new year when activities crank up a notch.
Take the November day I interviewed her, when she joined her husband, Governor Ralph Northam, as Virginia Native Americans from the Mattaponi and Pamunkey tribes paid their 341st annual tax tribute in the form of two slain deer. The animals were presented to the governor in a ceremony in front of the executive mansion.
But for Pamela Northam, who became First Lady of Virginia when her husband was sworn in as governor last January, her role is much more than ceremonial.
Like many governors' wives before her, who have taken on special projects to promote important initiatives throughout the state, Northam chose a cause that she was passionate about.
A national award-winning science specialist and 12 years an educator, she first looked to her professional experiences for guidance. When she was teaching, she recognized the need for STEM (science, technology, engineering and math subjects) in elementary education. That led her to develop an inquiry-based, hands-on curriculum for students in grades K through 5.
After moving into the executive mansion, "I spent a year researching early childhood educational systems and sought out experts on the subject," she said.
What developed from that was Northam's new initiative to improve access to, and
the quality of, early childhood education throughout the state.
A major focus is make sure Virginia's kindergarteners are ready for school, and that the state's children have access to fresh and healthy food — something nearly half a million Virginia children currently do not have.
"We believe that all children should have access to opportunities regardless of the circumstances into which they are born," said Northam.
And the reasons are not only moral, but practical. "Early childhood education is the best investment we can make in our future workforce," she added.
Northam gives inspirational credit for her early childhood initiative to immediate past First Lady Dorothy McAuliffe, who mounted a campaign to feed thousands of hungry Virginia children daily.
The First Couple
When talk turns to what she and Ralph Northam have in common — besides a son and daughter (Wes, a neurosurgery resident, and Aubrey, a web developer), she says, "One thing we share is sparking a curiosity — igniting a passion — for learning in young minds. We see potential in every child, especially in those one to five years."
She was working as a pediatric occupational therapist in 1986 in San Antonio, Texas, when she met her future husband during his pediatric neurology residency.
He phoned her for a date, but she explained she was busy with a sick rescued kitten named Lamont. Not to be easily put off, the quick-thinking neurologist said he'd be right over to see what he could do for Lamont.
She said he showed up with some small tubing from the neonatal ward at the hospital, which he used to feed the kitten. He was accustomed to jumping into action, as he'd served eight years in the U.S. Army, some of that time in Germany treating soldiers wounded in Operation Desert Storm.
Lamont recovered nicely and lived on into their children's childhood. Now the family pet is the much-photographed black Labrador retriever, "Murphy of Chincoteague," whom visitors see posing frequently in front of the executive mansion.
When Pamela and Ralph Northam aren't figuratively and literally on the run (she sponsored a First Lady's Kids' Run) with their schedules, she says they enjoy quiet times "hanging out," especially on the Eastern Shore, where the governor's 93-year-old father — who gave them Murphy — lives.
"Once you cross the Chesapeake Bay Bridge-Tunnel, your worries just drop away into that salt air," she said. The first couple enjoys being active — boating, walking, running and biking — with Murphy along whenever possible.
Focus on school readiness
In developing her early childhood school readiness initiative, Northam gained early support from leaders of the Virginia Chamber of Commerce, the Virginia Business Council and the Virginia Early Childhood Foundation.
As part of a political power couple, she also made a point to meet with Republicans as well as Democrats during the 2018 General Assembly to discuss her focus and solicit ideas from the legislators. "It's better to have a lot of voices at the table. But in the end we need to speak with one voice," she said.
One of those voices on the other side of the legislative table is that of the 76th District's Republican Delegate Chris Jones, of Suffolk.
"I've met with the first lady and am very pleased this is a passion for her," he said. "Republicans have had this on our radar for some time. We're positioned to move ahead in getting the best bang for our buck on the delivery of early education in the Commonwealth."
Northam also heads the governor's new Children's Cabinet. The cabinet is focusing on three major areas of school readiness: unifying the state's early childhood education programs, creating a uniform rating system for early childhood education programs, and setting a long-term vision for the programs, with clear deadlines to ensure progress.
"We're also focused on the training and compensation of early educators," Northam added. "Teachers are key to improving school readiness."
In addition to heading the Children's Cabinet, Northam also helped bring about the state's first Chief School Readiness Officer, who also holds the title of Chief Deputy at the state Department of Education.
To fill that position, "we visited legislators before recruiting Jenna Conway from the state of Louisiana — where she did a tremendous job" in a similar role, Northam recounted.
A concern for rural areas
Of special concern to her are the circumstances of children living in rural parts of Virginia, often in families with limited incomes. That's one of the reasons school readiness programs include a focus on nutrition and food security, as well as care and safety for school-aged youth, Northam said.
She's been known to say, in different ways, "What happens in early childhood doesn't stay in early childhood" in reference to scientific findings that 90 percent of the brain's development takes place by age five. She also likes to cite Frederick Douglass, who said, "It is easier to build strong children than to repair broken men."
Northam herself grew up on a Texas ranch. "Ralph and I come from rural areas, and have seen the struggles of people who live there."
To better understand the situation of such citizens, Northam has paid visits to public and private family daycare facilities around the state. That included one in a pre-fabricated building situated in an empty industrial park in Scott County, an area where the 2010 census lists the population at 23,177, with an average household income under $44,000.
"The staff there is so proud — as they should be — of scoring high on their quality engagement with children," she said. "We started referring to these [pre-fab facilities] as 'pre-fabulous.'"
In another mobile home unit in the New River Valley, 19 of 36 children receiving care were homeless. Sheryl Helm, director of early childhood and family services with New River Community Action Head Start, said, "Early childhood programs in rural communities face many challenges different from urban communities. We are so pleased Mrs. Northam took the time to visit our program to learn firsthand what our challenges are, and to give us the opportunity to share our successes."
Though the first lady is quick to give a nod to such "local communities for leading the way" to innovative approaches for improving early childhood education, communities stretching from Danville to Governor Northam's native Eastern Shore have been equally quick to express gratitude for her leadership on school readiness.
Looking back, moving forward
The biggest surprise and challenge for Northam over the past year has been going from the private life of a doctor's family into a public life that's always in the spotlight.
A more pleasant surprise has been living in the executive mansion, built in 1813. "It's been such a joy to learn the history of this house," the oldest governor's mansion in the country still used for its original purpose.
She told a group of elementary-school students who asked what it's like to be governor that it's "sort of like being a school principal."
When asked what being first lady is like, she thought for a moment and said, "I look at it as a teacher sometimes — but a teacher who loves to kayak, too."
Her love of teaching and passion for young children come through in so much of what she does. It reflects Northam's strong belief that, "today's kindergarten students will be putting the final bolts in the ships being planned now at Newport News Shipbuilding. We're growing the workforce of the future."
The executive mansion is open to visitors Tuesday to Thursday, 10 a.m. to noon, and 2 to 4 p.m. Its entrance is at 9th and Grace Streets in Capitol Square. There is no public parking within the grounds, but parking can be found nearby. Learn more at executivemansion.virginia.gov.
---
Thoughts for grandparents
The Northams have no grandchildren. But when asked, as someone involved in early childhood education, about tips for grandparenting, Pamela Northam offered the following suggestions:
Take time to support parents in any way you can, because parents are the first and best teachers.
Remember that you have a special relationship, transcending what parents can do. Early enrichment opportunities abound, for example, taking grandchildren to a science museum, then stepping back and letting them explore themselves. Read, talk, sing, make sure you're present in the moment.
Tell children your own unique stories, because not all children know who they are. Sometimes it takes the next generation to encourage them to discover their stories.