Arts
Novels help heal war's trauma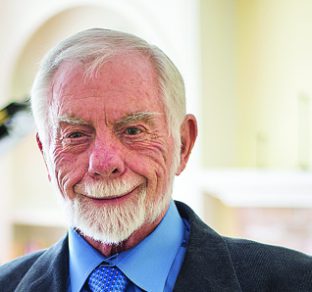 Tom Glenn's new novel Last of the Annamese, published in March, is set during the fall of Saigon to the North Vietnamese. The Ellicott City resident says his writing serves as a sort of therapy to help heal the trauma he witnessed while serving in Vietnam for 13 years, most of them as a spy.
Photo by Christopher Myers
For Ellicott City resident Tom Glenn, 80, "Not to write would be to accept damnation. If I gave up writing, my spiritual life would come to an end. I would be a husk, and cease to be a human being."
For Glenn, you see, writing is not only a compulsion — "I've been writing since I was 6 years old" — but also a therapy. It eases the post-traumatic stress that remains from the worst parts of the 13 years (1962-1975) he spent in Vietnam — whether in combat situations, or during a last-minute harrowing escape from Saigon as the city fell to the North Vietnamese, marking the humiliating end of the U.S. intervention there.
Since then, while suffering from what he calls his post traumatic stress injury — he doesn't believe the word "disorder" should be used for what is, after all, a war wound — Glenn has eased the troubling symptoms by writing four novels. Three are about Vietnam, and the fourth is about his five years caring for AIDS patients.
"The wound to your mind means that you have been through something so ghastly you never get over it," he said. After 42 years, since returning to the states, "I still have nightmares, flashbacks, but they are less frequent now."
Divorced, he lives alone, doesn't own a TV, and spends his time reading, reading and writing, writing.
Healing by helping
When he volunteered to help doomed AIDS patients, he said, his often torturous memories receded. He has also spent two years working in homeless shelters, and seven years caring for dying patients in hospices.
"I found that compassion heals," he said.
Nearly one out of every three Vietnam vets has suffered from PTSD (post-traumatic stress disorder), according to the U.S. Department of Veterans Affairs. The U.S. action in Iraq reportedly brought that condition to one out of every five vets.
Glenn's latest novel, Last of the Annamese has just been released by the Naval Institute Press. ("An Nam" was an old name for Vietnam.) The novel is set mostly in Saigon as the events of the fall unfold, and the protagonists make heart-breaking choices.
The novel has been called a companion piece to Graham Greene's The Quiet American in its accent on the devastating effects of the war on individuals — both Vietnamese and American — rather than being a strictly G.I. view, as are most of the classic books of the Vietnam War, such as The Things They Carried by Tim O'Brien or Dispatches by Michael Herr.
A spy, not a soldier
One of the three main characters is Chuck Griffin, a retired Marine doing intelligence work in Vietnam for the United States. Not coincidentally of course, after his three years in the U.S. Army, Glenn spent his time in Vietnam gathering intelligence for the National Security Agency.
The other two principal protagonists are Vietnamese, and their lives, passions and points of view are thoroughly and sympathetically explored.
What did Glenn's real-life "spying" activities consist of?
"What I can say is that I was frequently able to target the enemy, since I discovered where they were and what they were doing [by intercepting communications], and I was forewarned of attacks against U.S. forces," said Glenn, who is fluent in Vietnamese, Chinese and French, among other languages.
His work brought him into Army and Marine units, and he "got caught in combat" a number of times.
"My experience during combat and escaping under fire from the fall of Saigon are the sources of my PTSI," said Glenn, who spent 30 years with the NSA before his retirement in 1992.
He was a linguist (he knows seven languages) and cryptologist for the top-secret agency at Fort Meade, where he worked at "higher level communications." His work, from 1975 to 1992 is still classified, he said.
Under attack
In a piece in the Baltimore Post-Examiner entitled "Bitter Memories," Glenn recalled the time when he realized an attack on Saigon was imminent, and he wanted to evacuate the 43 men working for him and their families.
He was told by then-U.S. Ambassador to South Vietnam Graham Martin that no assault was imminent, and that he and his men should remain.
Glenn proposed that if the ambassador let his staff go, he (Glenn) would stay in Saigon with a skeleton crew. The ambassador turned him down.
(Wikipedia notes that Martin, who died in 1990, "seriously underestimated the severity of the South Vietnamese situation, to the point that in the spring of 1975, when most American officials were convinced that South Vietnam was doomed to collapse, he continued to believe that Saigon and the Mekong Delta area could be held…" )
Glenn acknowledged that he "cheated, lied and stole" so that none of his men and their wives and children were killed or wounded, and that he got them out of the country by many ruses. He remained behind, with two communications technicians who volunteered to stay.
Some days later, the North Vietnamese onslaught began, and Glenn and his men were shelled in their location. They escaped the next day in helicopters. The aircraft carrying Glenn was hit by fire, but managed to get through.
Glenn gives thanks for his rescue to then Marine Col. Al Gray, who went on to become commandant of the Marines.
When he arrived back in the states, Glenn was diagnosed with, among several other ailments, amoebic dysentery, pneumonia and ear damage from the shelling.
For his work in Vietnam, he received the civilian Meritorious Medal, awarded for, among other things, having "exhibited unusual courage or competence in an emergency, while performing assigned duties, resulting in direct benefit to the Government or its personnel."
Glenn said that, for many years after the war, "Americans were so disgusted about Vietnam, they didn't want to hear about it."
But the times once more are changing. On several recent speaking tours, he has discovered a new-found interest in Vietnam and America's role there.
Books about the era have recently reached the best-seller and top awards lists. The Sympathizer, by Viet Thanh Nguyen, about a Vietnamese communist who goes to California to carry out his spying work after the fall of Saigon, won the 2016 Pulitzer Prize for fiction.
"The young are fascinated about how we got there," Glenn said of his speaking engagements. "And the older people who remember the war now realize that we shouldn't have blamed the soldiers who fought there; we should have blamed the government."
Glenn remembered, sadly, that on his trips back to his then-home of San Francisco between his NSA tours to Vietnam, returning soldiers were called "butchers" and "baby killers" and even spat upon. "That reaction really tore me up," he said.
Lessons learned?
So what are the lessons the United States should have learned from its Vietnam involvement?
"Number one, that we should support people who want independence, not the colonialists. Before he got help from the communists, Ho Chi Minh (the Vietnamese revolutionary leader) was more a nationalist than a communist. He asked the U.S. five times for support in his war against French colonialism and was turned down each time," Glenn claimed.
Then Russia took up Ho's cause and we went into Vietnam supposedly to stop the spread of Communism around the world.
"Number two," Glenn said, "you don't pull out and leave behind the people who have worked for you so that they are at the mercy of the enemy."
Has the U.S. government learned those lessons?
"My judgment is that we are still doing it, especially now by trying to ban from entry into the U.S. immigrants from seven countries, including Iraqis who risked their lives working for the U.S. government as translators and in other capacities." [Since this interview, Iraq has been removed from the proposed ban on immigration.]
And what has his four score of deeply experienced longevity taught him about life and about other people?
"I feel a deep compassion for the characters I meet in my books, and it's much the same for those in life. I feel a certain level of sympathy for almost everybody."
He added: "At this point in my life, my understanding is so much broader: about people, their weaknesses and strengths, their vulnerabilities."
And, perhaps most important for Tom Glenn, "the older I get, the better my writing gets."