Arts
One Book program brings readers together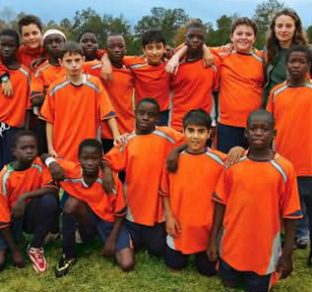 There is something to be said for reading a book in fellowship with other readers. That's one reason book clubs are so popular. Taking that premise one step further, three years ago the Maryland Humanities Council's Maryland Center for the Book instituted One Maryland One Book, the state's first — and thus far only — statewide community reading project.
The objective of One Maryland One Book is to bring together diverse people in communities across the state through the shared experience of reading the same book. Readers then participate in book-centered discussions and other programs at public libraries, high schools, colleges and universities, museums, bookstores and other organizations.
The "One Book" movement began in 1998 when Nancy Pearl, executive director of the Washington Center for the Book in the Seattle Public Library, established the program, "If All Seattle Read the Same Book." The first book read was the novelThe Sweet Hereafter by Russell Banks, and Pearl brought the author to Seattle for three days to discuss his book in a series of free public programs. Since that time, "One Book" programs have been established across the country.
In 2008, the year the program was launched in Maryland, the inaugural book selection wasA Hope in the Unseen: An American Odyssey from the Inner City to the Ivy League, by Ron Suskind. The 2009 selection wasSong Yet Sung, a novel by James McBride.
A refugee soccer team
This year's pick isOutcasts United: An American Town, A Refugee Team, and One Woman's Quest to Make a Difference, by Warren St. John. This national bestseller is the story of a soccer team of refugee boys called the Fugees from war zones in Liberia, Congo, Sudan, Iraq and Afghanistan; their coach, Luma Mufleh; and the town where they live— Clarkston, Georgia — a small Southern town turned upside down by refugee resettlement.
Author Warren St. John said he was "thrilled" thatOutcasts United had been selected for this year's One Maryland One Book.
"Outcasts United is a story about the challenges and rewards of living in diverse communities, and shows the difference one person can make in the lives of many," he said. "It's a book that I hope will inspire debate and conversation about how to grapple with cultural changes that are occurring in communities across the country, including in Maryland. I look forward to being part of that conversation. Go Fugees!"
St. Johnhas written for theNew York Observer,
theNew Yorker, Wired andSlate, in addition to his work as a reporter forthe New York Times. His first book,Rammer Jammer Yellow Hammer: A Journey into the Heart of Fan Mania (2004), was named one of Sports Illustrated's best books of the year and ranked number one on The Chronicle of Higher Education's list of the best books ever written about collegiate athletics.
Outcasts United was selected by a volunteer committee of librarians, educators, authors, journalists and bibliophiles from a list of more than 160 titles submitted from readers across the state.
In announcing its selection, the committee said that the book "is a story of determination, kindness, caring and overcoming obstacles. It is the story of hope and the quest for freedom and economic survival — that is why people come to America."
According to MHC Executive Director Phoebe Stein Davis, "Outcasts United touches on issues critical to Marylanders, such as immigration, community and diversity."
Get in on the discussion
In order to promote the meaningful dialogue that One Maryland One Book aims for, community programs across the state are being held this fall to bring readers together. Upcoming events in the greater Baltimore area include:
Oct. 21, 7 p.m., Catonsville Branch Library, 1100 Frederick Rd., (410) 887-0951 • Oct. 21, 6:30 p.m., Joppa Branch Library, 655 Towne Center Drive, (410) 612-1660.
Oct. 25, 6:30 p.m., Southeast Anchor Library, 3601 Eastern Ave., (410) 396-1580.
Oct. 26, 6:30 p.m., Brooklyn Branch Library, 300 E. Patapsco Ave., (410) 396-1120.
Oct. 26, 4 p.m., Northwood Branch Library, 4420 Loch Raven Blvd., (410) 396-6076.
Oct. 28, 7 p.m., Towson Branch Library, 320 York Rd., (410) 887-6166.
Nov. 1, 1 p.m., McFaul Activity Center in Bel Air, for readers 50 years old and over. The center is located at 525 W. MacPhail Rd. For more information, call (410) 638-4040.
Nov. 18, 10:30 a.m., Howard County Library, Miller Branch, 9421 Frederick Rd. in Ellicott City, (410) 313-1950.
Nov. 29, 7 p.m., Cockeysville Branch Library, 9833 Greenside Drive, (410) 887-7750.