Features
Opposing views on immigration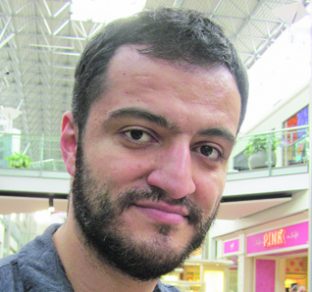 Elman Hajiyev legally emigrated from Azerbaijan six years ago, and now runs an electronics repair kiosk at Columbia Mall. He favors a proposal to make Howard County a "sanctuary" where county employees would not disclose immigration status of residents to federal officials unless ordered to do so. Others, including County Executive Allan H. Kittleman, do not want to see the measure passed.
Photo by Robert Friedman
Should Howard County become a "sanctuary" for immigrants, where county employees, including police and other law enforcers, would be barred from volunteering to work with federal officials on immigration matters or inquiring about the immigration status of those they encounter in their official duties?
That's the hot topic question that county officials and residents alike are grappling with in an era where immigration has become a particularly charged issue. Some 60,000 residents of Howard County are foreign-born.
"The proposal to make Howard County a sanctuary could bring crime to the area," said Suzie M., 51, an assistant in a dental office in Ellicott City who was born and raised in Howard County. She asked that her last name not be published.
"It opens the way for more illegal immigrants. You don't know where they are from," Suzie said.  Then she added: "The election of Donald Trump has nothing to do with what I'm saying."
On the other hand, Elman Hajiyev, a legal immigrant, favors the proposal.
"Politicians will say anything to get elected, so I won't know for sure if I am nervous about the election of Donald Trump until he is sworn in and does things," said Hajiyev, who legally emigrated from Azerbaijan six years ago.
"I favor the proposal, which I think will make things better — just in case." Hajiyev, a computer technician, runs a kiosk business at Columbia Mall, repairing cell phones and other electronic equipment.
Among other things, the proposal states that county employees must keep information about a person's immigration status confidential (except for voter registration or passport application).
Nevertheless, it also states that federal or state laws would take precedence. In other words, federal and state authorities could order county officials to cooperate with them on immigration affairs.
Baltimore is a sanctuary city, as is Takoma Park in Montgomery County.
Lawmakers at odds
The proposal, introduced by two Democratic council members, comes up for a public hearing on Jan. 17 in the George Howard Building in Ellicott City, and is scheduled to be voted on by the County Council on Feb. 6.
Howard County Executive Allan Kittleman, who is a Republican, has vowed to veto the proposal if it is approved. The proposal could still go through if four of the council's five members vote to override the veto. Four of those members are Democrats.
Kittleman has called the proposal "a hollow political statement" that would provide a false sense of security.
"I am not willing to jeopardize existing programs and services which benefit all Howard County residents to adopt a label that would not change any of the policies and practices that we already have in place," he said.
The county executive said the bill does nothing to protect undocumented immigrants from being deported, and could endanger federal funds and community safety. President-elect Donald Trump has said he would strip sanctuary jurisdictions of federal funding.
Councilman Gregg Fox, the one Republican on the council, called the proposal "a solution in search of a problem." He especially criticizes the bill's wording that mentions Trump's immigration stance.
The bill, introduced by Councilman Calvin Ball and Councilwoman Jen Terrasa, proposes "prohibiting certain discrimination based on citizenship status."
It asserts: "The recent national political climate has galvanized support for xenophobic, Islamophobic and racist sentiments," adding: "Unfortunate statements made by our nation's president-elect have bolstered such dangerous sentiments, and caused many residents throughout our country and within Howard County to fear for their personal safety and the loss of civil liberties."
During the recent presidential campaign, Trump had called Mexican immigrants criminals and rapists, and called for a national registry of Muslims, while pledging to strip federal funds from the more than 300 sanctuary locations already established across the country. Trump claimed that such sanctuaries have resulted in "many needless deaths."
Often pointed out by sanctuary opponents is the case of an undocumented immigrant  — who had been deported five times to Mexico — who shot to death a woman in San Francisco, which is a sanctuary city. The immigrant had earlier been released from jail despite a request by the Department of Homeland Security to have him deported.
Residents' concerns
Besides the possibility of rising crime in the area, the proposal could mean too many new residents, according to long-time county resident Anita Benson, 80, who lives in Ellicott City.
"Howard County is too congested as it is. If the county is made a sanctuary, then even more immigrants will come here, making the area even more crowded," she said.
But Harry Brown, 73, a retired factory operator, is all for the proposal because, among other things, most of the undocumented immigrants he has known "have turned out to be better Americans than the citizens born in the country."
Brown, a resident of Catonsville, said he worked in the 1970s as foreman of a men's clothing factory in New York. "The best, most loyal and dedicated employees were the undocumented immigrants," he said.
He added: "I saw them being lined against the wall in immigration raids, scared, trying to contact their spouses and children, then led out in handcuffs and deported. All they wanted was to earn a living and raise families and be good citizens. It was so very sad," he said.
Wayne Garrett, a veterinarian in Columbia, sees little need for the sanctuary proposal. "We're too lenient a country to begin with," he said. "There are rules in place — why can't we follow them, especially when it comes to immigration?"
"If you need a place to stay, l have absolutely no problem with you [immigrants] staying here," he said. "But why have laws if they are not followed?"
Garrett said he believes the sanctuary proposal "would basically make Howard County a place for illegal immigrants."
A more welcoming Howard?
While sanctuary locations have no legal definition, some see their creation as filling a void created by Congress in its failure to approve an overhaul of U.S. immigration laws.
A sanctuary location is seen as one that has adopted a policy of protecting undocumented immigrants by not prosecuting them solely for violating federal immigration laws. Such a policy can be set out expressly in a law (de jure) or observed only in practice (de facto).
Supporters of the designation argue that local officials should not be required to enforce federal laws against illegal immigrants because, among other things, it would damage the relationship between law enforcers and the immigrant community, and would discourage immigrants from reporting crimes.
Councilman Ball has said he introduced the proposal after hearing from many constituents "who feel unsafe and uncomfortable in our own county. And that's unacceptable to me."
He said the bill tells police: "Unless there is a particular crime being committed, they shouldn't be doing the federal government's job. They shouldn't be going and finding someone and saying, 'let me see your papers'," the councilman said.
Terrasa and Ball say the sanctuary reaffirms the county's commitment to immigrants and minorities as prejudice against them grows. Much of this recent climate has been fueled by the president-elect's statements, according to Ball and Terrasa.
Councilman Fox, meanwhile, dismissed the bill as political posturing. While insisting that the proposal "undermines the hard work of immigrants who have obtained citizenship legally," it would also make the county "a beacon for illegal immigrants. That beacon is a problem," he said.
Nonprofits weigh in
Also commenting on the Howard County proposal are two national organizations with an interest in the issue.
Jessica Vaughn, director of policy studies at the Center for Immigration Studies, which opposes sanctuary jurisdictions, told the Beacon that the proposal gives the "false impression" that local law enforcers don't have to cooperate with federal officials in any move against immigrants who violate the law.
"The proposal is very incompetently drafted, and not only sets up false impressions, but also false expectations for the public on what can be done" on immigration issues, she said.
Nick Steiner, legal and public policy counsel for the American Civil Liberties Union of Maryland, said the ACLU supported the Howard County proposal.
In a statement to the Beacon, Steiner said, "Cities like Baltimore, Takoma Park and other [sanctuary] jurisdictions across the country have limited irrelevant inquiries into [residents'] immigration status because they rightly believe that [such limitation] improves public safety and helps law enforcement officers enforce criminal law.
"Legislation that disentangles local jurisdictions from unlawfully enforcing federal immigration law, a responsibility of the federal government, furthers public safety by helping build trust between local law enforcement and immigrant communities, preventing the racial profiling of noncitizens by local law enforcement officers, and limiting the incidence of discrimination against people of color," Steiner added.
"Protecting the civil rights and liberties of all Howard County residents, including vulnerable noncitizen residents, should be a top priority of Howard County."