Housing
Options for affordable local housing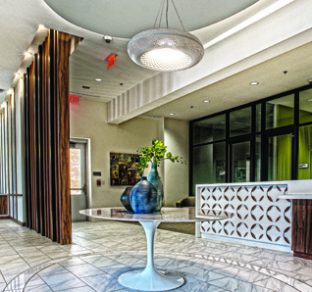 The Bonifant, an affordable apartment building for older adults, recently opened in downtown Silver Spring, Md., next door to a new library and blocks from the Silver Spring Metro station. Its lobby, shown here, hints at the contemporary safety and efficiency features of the building and its apartments.
Photo courtesy of Humphrey Management
After her husband passed away, Brenda Smith (not her real name) was "financially caught off guard" by her suddenly reduced income, and could no longer afford to live on her own. She moved in with her daughter, and immediately began looking for affordable rental housing.
Many people like Smith find themselves in similar situations, and have trouble finding affordable housing in the Washington, D.C. area. In fact, D.C. has the fifth-highest cost of living in the U.S., according to Expatistan, a website that calculates the cost of living around the country.
Of course, there are many benefits to living near the nation's seat of power — D.C. and the surrounding areas are home to ample public transportation, and offer a myriad of activities and opportunities for older residents. Service-sector jobs are also abundant and, overall, working seniors here experience low levels of unemployment.
But a significant proportion of the Greater Washington area's older residents nonetheless earn well below the median income. And given that the desirability factor of this region drives the cost of living up, it can be particularly difficult for many older adults to find housing they can comfortably afford.
Fortunately for Smith, she was familiar with the services and housing offered in her community by Seabury Resources, a private nonprofit that provides free or affordable support services for older adults and their families. She had heard good things about Seabury's senior living communities, and moved into one of them: Friendship Terrace in Northwest Washington.
Affordable friendship
As a nonprofit, Seabury Resources created Friendship Terrace to "always be an affordable senior community," said Chuck Thornton, director of marketing and admissions.
The building has 180 units, including studio and one-bedroom apartments. Private rooms feature floor-to-ceiling windows, kitchenettes, bathrooms and walk-in closets, and residents have access to the community's greenhouse, lounges, restaurant-style dining, exercise and educational activities, bus transportation and religious services.
Monthly rent begins at $1,183 per month, which includes utilities and a mandatory meal plan that includes weekly supper from Monday through Saturday and brunch on Sundays. All other meals are the responsibility of the resident.
Because rents are below market, residents are subject to certain income restrictions. Individuals cannot have an annual income over $49,150, and couples cannot earn more than $56,150 annually.
Friendship Terrace is located at 4201 Butterworth Pl. NW, Washington, D.C. For more information, visit http://bit.ly/FriendshipTerrace or call (202) 244-7400.
Seabury Resources also has another community in Silver Spring, Md., Springvale Terrace, and a group home called Home First Residences in Washington, D.C. For more information, visit http://bit.ly/SeaburySenior
Living.
Like Seabury Resources, several private development companies have made it their mission to develop and/or manage low- or fixed-income housing, which are often co-sponsored by several partners.
Here are some of the local organizations committed to affordable housing.
Victory Housing
Victory Housing is the housing development arm of the Archdiocese of Washington. Victory Housing develops housing for low- and moderate-income families, seniors and people with disabilities.
Its projects include both independent and assisted living, as well as workforce housing, which is located close to jobs and transportation.
One of Victory's communities is Marian Assisted Living, which is intended for those 62 or older who need daily assistance. Prospective residents must be able to walk independently, with mechanical assistance (such as a walker), or be able to self-transfer from a wheelchair, and be able to manage without routine nightly assistance.
This 41-unit community offers private bathrooms and individually controlled heating and air conditioning, assistance with bathing, dressing and grooming, three meals a day, 24-hour emergency assistance, medication administration, weekly housekeeping and laundry service.
The building has common spaces for socializing, including a living room, sitting area, activity room, library, television room, an outdoor patio, an outdoor walking path and a hair salon.
Marian Assisted Living currently charges an all-inclusive monthly rent (including meals) of $5,450 for private suites, $6,850 for a deluxe private suite, and $7,675 for a deluxe companion (two-person) suite.
Should residents run low on funds after living there a few years, the community provides internal subsidies to assist them. Such subsidies are based on need and the specific circumstances of the resident, according to David Johnson, director of marketing and management at Victory Housing.
"There's no magic number. We work with what the family can afford," he said.
Marian Assisted Living is located at 19109 Georgia Ave., Brookeville, Md. For more information, visit www.victoryhousing.org/almarian.html or call director Marcy Hunter at (301) 570-3638.
Other communities developed by Victory Housing include Hampshire Village in Silver Spring, Md.; Victory Crest in Hyattsville, Md.; Victory Heights in Washington, D.C. and Victory Terrace in Potomac, Md. For more information, visit www.victoryhousing.org.
Habitat America
Some organizations, such as Habitat America, serve as property managers to affordable communities. The independent senior living apartments at Victory Court, for example, was developed by Victory Housing but is now managed by Habitat America.
Victory Court Senior Apartments is located in Rockville, Md., and is intended for residents 62 and older of low to moderate income. It features 86 apartments: 45 one-bedroom and 41 two-bedroom units.
The building features a great room, library, porch, billiards and community room, cafe, arts and crafts room, exercise and wellness center, as well as community activities for education and socializing. All units have washer/dryers, wall-to-wall carpeting, walk-in closets, efficient windows, appliances and individually-controlled heat pumps.
Rent at Victory Court varies with the income of its residents. For example, those making 50 percent of the region median income pay $956 a month for a one-bedroom, one-bath apartment. Those making 80 percent of the median income pay $1,738 for that size apartment; $1,841 for two-bedroom units. Market rate two-bedrooms start at $2,036 per month.
Victory Court is located at 209 Monroe St., Rockville, Md. For more information, visit www.victorycourt.com or call (301) 294-1111.
Other local affordable communities managed by Habitat America include Andrew Kim House in Olney, Md.; Willow Manor at Colesville and Avondale Park Apartments in Hyattsville, Md., and Victory Forest in Silver Spring, Md. For more information, visit http://habitatamerica.com/communities.
Quantum Real Estate Management
Another company that acquires and manages affordable housing is Quantum Real Estate Management.
One of its Maryland properties, Covenant Village, was developed by Victory Housing and features 74 affordable rental units and 15 units available at market price. The affordable units are for residents who are 62 or older who make no more than 60 percent of the area median income.
Each apartment features wall-to-wall carpeting, controlled heating and air conditioning, an electric kitchen and appliances, in-unit washer/dryer, cable television access, 24-hour emergency maintenance, and safety features like emergency pull cords and grab bars.
The building also features gardening areas, lounges, an arts and crafts room, an on-site beauty salon, exercise and fitness room, game room, movie theater, library, computer room, and shuttle bus service that can be used for errands and appointments.
Monthly rent for one bedrooms is $732. For two-bedroom apartments, the monthly rent ranges from $1,055 to $1,368, depending on its features and the number of bathrooms. Market price units, without income restrictions, are available starting at $1,586.
Covenant Village is located at 18889 Waring Station Rd., Germantown, Md. For more information, visit www.qpmgmt. com/news/properties/covenant-village or call (301) 540-1162.
Other Quantum affordable senior properties include Gum Springs Glen in Alexandria, Va.; Lockwood House in Arlington, Va.; Robert L. Walker House in Washington, D.C.; Shriner Court Apartments in Union Bridge, Md. and Wingler House in Ashburn, Va. For more information, visit www.qpmgmt.com/news/properties.
Humphrey Management
For many housing management companies, a commitment to affordable housing is common sense. "Many seniors are living on Social Security alone, or may have some savings or a pension, but their resources are limited so they cannot afford the market rate rents in the Baltimore-Washington area," said Bethany Hooper, president of Humphrey Management.
Humphrey Management oversees and manages many local communities, many of which are intended to be affordable for seniors, including Randolph Village, Hampshire Village, Woodside Village, Pin Oak Village, Cascades Village, Victory Crest, Rainier Manor I & II, and Windsor Crossing Senior.
Their newest local addition is The Bonifant at Silver Spring, an independent living apartment community for those age 62 and older. The 11-story building stands in the heart of downtown Silver Spring, and houses 149 apartments.
The Bonifant features first-floor retail shopping, and is within walking distance of grocery stores, restaurants, the public library, and the Silver Spring Red Line Metro station. It has been given a 98-point score on the 100-point walkability index developed by the company Walk Score.
Residents have a choice of floor plans, ranging from the smaller 576-sq. ft. one bedroom/one bath to the 1,023-sq. ft. two bedroom/one bath. Rooms feature open floor plans, walk-in closets, individually-controlled heat and air conditioning, smoke detectors, sprinklers, fire suppressors, and an in-unit washer and dryer.
Special features include vinyl plank flooring, energy-efficient windows, and GE Energy Star appliances and water-saving fixtures. Bathrooms have both a full bathtub and walk-in shower, marble countertops and safety features, including grab bars and slip-resistant tubs and showers.
Community features include 24-hour emergency maintenance, secured entry, smoke detectors and sprinklers, and security cameras. Residents have access to the fitness center, outdoor terrace, community kitchen and lounge, computer room and secured bike storage.
The community also offers residents educational programs, such as computer training and lectures, social and entertainment clubs, and health and wellness events.
The monthly rent for studios begins at $834 per month, for one bedrooms at $859 per month, and for two-bedrooms at $1,028 per month.
For more information on The Bonifant at Silver Spring, visit http://thebonifant.com or call (301) 588-9290. For information on Humphrey Management's other communities, visit https://humphreymanagement. com/find-a-community.