From the Publisher
Our Expos return!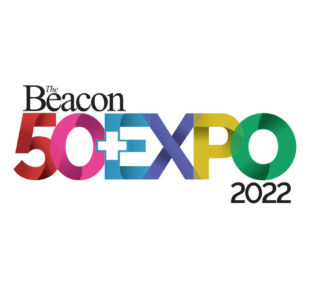 As longtime readers know, for more than two decades we have held annual 50+Expos in both Maryland and Virginia to provide a fun and informative event for our readers.
These events each attract more than 1,000 people to obtain important health screenings, flu shots and other vaccines, hear a top-notch keynote speaker, and obtain valuable information from dozens of exhibitors and sponsors — including government agencies, nonprofits and area businesses providing products and services geared to older adults and their families.
For the past two years, due to Covid, we have not held any in-person events in order to protect our staff and our readers.
We did the best we could to make up for this with our "virtual Expo" website in 2020 and 2021. To our pleasant surprise, that custom-designed site was visited by more than 15,000 people in those years.
But as popular and informative as it was, a virtual Expo is a far cry from one where people meet face-to-face, ask questions and share information in a personal way. I know I have really missed the opportunity to chat with all the readers who typically come up to me at our events.
So, I am thrilled to announce that we will be resuming our in-person 50+Expos this year! I hope you have been venturing out to public gatherings again, or at least will consider doing so in order to join us at one (or both) of these events:
On Sunday, October 23, from noon to 4 p.m., at Springfield Town Center in Springfield, Virginia, or
On Sunday, October 30, from noon to 4 p.m., at Margaret Schweinhaut Senior Center in Silver Spring, Maryland.
Thanks to the assistance of Giant Pharmacy, both Expos will offer a variety of important vaccines, including regular flu, high-dose flu, Shingrix (shingles vaccine), pneumonia, tetanus and — depending on availability — the new bivalent Covid booster. Flu vaccines will be free with a Medicare card or insurance; others may require a co-pay.
Both events will also offer free blood pressure, glaucoma and genetic screenings. The Virginia location will also offer blood glucose and cholesterol screenings, and in Maryland you can learn your body mass index.
Our keynote speaker at both events will be John Kelly, well-known and beloved Metro section columnist for the Washington Post.
As always, our exhibitors will include hospitals and a variety of other healthcare providers, retirement communities, home improvement contractors, home care agencies, financial and legal advisors, insurance providers, travel, fitness and senior services and many more.
This year's 50+Expos are made possible by Gold Sponsors: AARP Maryland, AARP Virginia and Adventist HealthCare White Oak Medical Center; Silver Sponsors: Pepco, Giant Pharmacy, Re:Cognition Health, Harmony Senior Living, and the Montgomery County Recreation Department; and Bronze Sponsors: Habitat America, Seniors Helping Seniors, Maryland Relay, Verso Founders Row, Brookfield Residential, Xfinity, Housing Initiative Partnership and the Fairfax Area Agency on Aging.
While the Beacon staff will be out in force at both events to help everyone find what they are looking for, we really would love to have some volunteers as well. If you are planning to come to either event and can spare an hour or so helping out at our information booth, please contact us.
There is also still time for additional sponsors and exhibitors to sign up! Please call us at (301) 949-9766 and we will be happy to speak with you.
I look forward to seeing YOU in October! Please be sure to look for me and say hello.