Housing
Paring down your possessions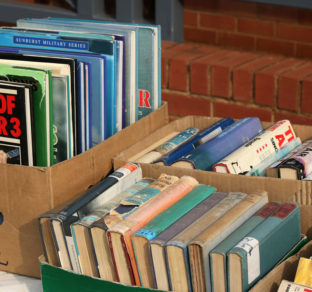 So your daughter isn't interested in your collection of cat figurines, and your son has no room for the dining room table you inherited from your mother. Now what?
If you're working on streamlining all the stuff you've collected over the years, you have a number of options. Go to Google and enter your location and the various types of venues that might be of help — from consignment stores to auction houses — and you will find a number of leads to pursue.
Selling your things
If you have gently worn clothing with higher-end labels, or furniture that's in good condition, you may be able to sell it at a consignment store. These stores continually mark down the price of unsold items over time until they go.
Keep in mind: They pay you only if and when your stuff sells, keeping a portion of the sale price as their commission. Sometimes, if an item doesn't sell in a fixed period of time, they'll donate it or you can retrieve it.
Auction houses will sell valuable furniture, jewelry, books and other items if they feel there will be a market for them. Check www.liveauctioneers.com/auctioneer/directory for a listing of more than 4,000 auction houses across the country.
Another option is selling online. You can post your items on eBay, and either sell to the highest bidder or set a fixed price with its "Buy It Now" feature. See www.ebay.com.
A number of bookstores will buy in-demand books and even pay for shipping, but be prepared not to make a lot of money. Enter the ISBN number of a book into Book Scouter (https://bookscouter.com), and the site searches 35 book buyback vendors for the best offer.
Donating your items
If you itemize your taxes (although fewer people will find that financially advantageous this year), you can deduct the fair market value of all goods you donate.
To determine fair market value, use thrift store prices, a used-car guide, or other appropriate reference for used items. Some online tax preparation programs will suggest values for the most common donated items.
To claim a tax deduction, you must complete a form if your total donations are worth $500 or more, and must have a recent appraisal of any donated items you claim are worth $5,000 or more.
You can search a listing of a number of organizations accepting donations at www.thethriftshopper.com.
While Goodwill and Salvation Army take some furniture, donations may be more welcome at nonprofits specifically geared to take them. Habitat for Humanity has several ReStore locations that accept donations of furniture, household goods and building materials. See www.habitat.org/restores/donate-goods to find one near you.
In the Washington area, a Wider Circle is seeking furniture donations. In addition to providing furniture to those who can't afford it, the nonprofit organization provides a variety of other services to those in need of stable housing. See http://awidercircle.org/get-involved.