Features
Passion for people, public policy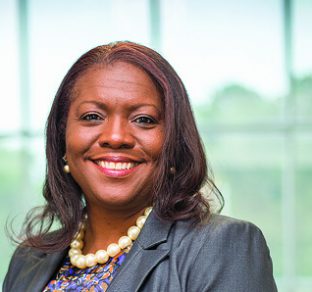 Jackie Scott recently became director of Howard County's Department of Community Resources and Services, which oversees county programs for older citizens, children and families, consumers, veterans, military families and the disabled. "People are my passion," she says.
Photo by Christopher Myers
"My main goal is to help the citizens of Howard County — the older adult community, the very young — live the best life possible," said Jackie Scott, the new director of the county's Department of Community Resources and Services (DCRS).
It's a tall order, but the position puts Scott, who has lived in Columbia for over two decades, in a strong position to work towards it. The DCRS provides a wide variety of services that run the generational, cultural and economic gamut.
Through its seven offices, 148 employees and $19.7 million budget, the department serves the needs of older citizens, children and families, consumers, veterans, military families and the disabled.
Scott, 51, replaces Steven Bullock, who left the post after less than a year for personal reasons, according to Mark Miller, the county's public information officer.
Scott is not new to the agency. She has been its deputy director since 2013. She is an attorney and a former teaching fellow at the Georgetown Law Center, from which she is a graduate. She has also been an adjunct professor at the University of Maryland's School of Public Health.
In a recent interview, Scott was asked why she took the road probably less traveled by lawyers — into public service rather than lucrative private practice.
She replied that public policies that have the potential to improve the lives of the most vulnerable are what really turn her legal mind on. She is most interested, she said, in how public policy and advocacy can address serious community issues such as public health dangers, domestic violence, child abuse, and the pressing needs of the elderly.
"I find my way daily by trying to change systems to facilitate opportunities for people in their lives. That's what raises my passion at work," said Scott. "People are my passion."
A new center for services
Scott is currently excited about the department's scheduled end-of-year move to the newly created (and still developing) Howard County Community Resources Campus, located on Patuxent Woods Drive, off Snowden Road and Broken Land Parkway in Columbia.
The campus, 20 years in the planning, will bring together 14 nonprofit organizations — such as Grassroots Crisis Intervention, HopeWorks, and United Way of Central Maryland — as well as several Howard County government departments, including DCRS, Housing and Human Development, the Office of Human Rights, the Department of Social Services, and the Community Action Council, all of which are scheduled to move in before the end of the year.
Scott oversees a department consisting of the Office on Aging and Independence, as well as the offices of Consumer Protection, Children and Families, Local Children's Board, Veterans and Military Families, Community Partnerships and ADA (Americans with Disabilities ACT).
Once all these are brought together on a single campus, which is on a public bus route, residents in need of such services will be more readily able to conveniently access them.
County Executive Allan Kittleman said the departments are being moved to the campus "to make it easier for individuals and families. We don't want people taking an entire day — or longer — trying to get around the county to find what they need."
Scott gave an example of how the move will help "people with real needs." A visitor to one of her agency's offices seeking healthcare, food assistance or child care would be told "what they qualify for and how we could help them. Then we would send them over to Social Services, just a few buildings away, which would also provide benefits."
Kittleman, meanwhile, said that Scott's "leadership, management and communication skills will ensure the transition is a smooth and successful one."
Bridging the political divide
Despite Howard County's proximity to the D.C. political arena, where Republicans and Democrats have nary a kind word for each other, Scott noted that "great relationships" exist in the Howard County government regardless of political party preferences.
Her appointment is an example. In announcing his selection of Scott, Kittleman, a Republican, noted that "Jackie's years of policy and program experience are impressive, and I'm sure she'll do an outstanding job leading the department."'
To which Scott, a founding member of the Thurgood Marshall Democratic Club of Howard County, said, via press release, that it was "an honor to be selected at this transformational time."
Local historian Shawn Gladden agreed with Scott's assessment. He noted that "a lot of bipartisanism exists and has existed since the 1960s," in the county. This has been especially true since the creation of Columbia in 1967, "when Howard County, even the Republicans, became more progressive," he added.
Gladden, who is executive director of the Howard County Historical Society, pointed out that Robert Kittleman, the county executive's father and also a Republican Party politician, was a civil rights activist in the 1960s and 1970s, and the president of the NAACP's Howard County branch — a position that usually does not go to a white Republican politico. The current GOP county leader could also be considered a progressive, Gladden said.
The historian noted that just before this interview he attended an event marking the restoration of Ellicott City's iconic Main Street clock, destroyed during last year's flood.
"It was a bipartisan get-together," Gladden said. "In fact, one of the attendees said, 'I wish they [politicians] could get together in Washington like we do here,'" he reported.
Scott also said that her department is making a strong effort to form partnerships with entities such as hospitals, libraries, school systems and private companies to help meet its goal of resolving "real-life problems" of residents.
She acknowledged that, compared to most other districts around the country, Howard County — with its median household income of over $110,000 — is in good shape as far as basic needs for most residents are concerned. She noted that for her and her family, which includes her husband and three children, Howard County has been "a wonderful place to live and to work in" since she moved here 23 years ago from New Jersey.
Concern about opioid addiction
Still, she noted, there are "pockets of problems" in the county similar to those around the country. Among these are increasing homelessness among young people — many of whom are victims of human trafficking — and the nationwide opioid epidemic, which significantly affects older people who inadvertently get hooked on addictive painkillers prescribed for them.
Gov. Larry Hogan (R) has declared Maryland's opioid crisis a "state of emergency" — a legal step that will allow state agencies to better coordinate their response to the growing opioid addiction crisis. He committed an additional $50 million over the next five years to beef up enforcement, prevention and treatment services.
"The reality is that this threat is rapidly escalating," Hogan said.
Overdoses of heroin and fentanyl, a powerful synthetic opioid, killed 1,468 Maryland residents in the first nine months of 2016, up 62 percent from the same period in 2015, according to state data. A number of those who overdosed had initially become addicted to prescription painkillers.
While specific figures were not immediately available on opioid abuse in Howard County, Scott said her department is "treating this as a crisis, even if just one case is reported." And any effort of the department as a whole will involve the Office on Aging and Independence, which focuses on the problems facing older adults, she added.
Meanwhile, Howard County Police have made a series of arrests in recent months involving the illicit sale of opioids. Police Chief Gary L. Gardner said county police were "aggressively going after people who are selling opioids, like heroin and prescription pills, on our streets."
Gardner noted, however, that "we can't enforce our way out of the problem. That's why we are collaborating with other agencies to approach this from all sides — including prevention, education, treatment and recovery."
Combatting human trafficking
Scott also expressed concern over the rise of human trafficking, which the Department of Homeland Security describes as "modern-day slavery that involves the use of force, fraud or coercion to obtain some type of labor or commercial sex act."
The department describes trafficking as "a hidden crime, as victims rarely come forward to seek help because of language barriers, fear of the traffickers, and/or fear of law enforcement."
Maryland has become a major human trafficking point due to Interstate 95, which reportedly is a key route for traffickers, as well as the ready access to international airports and waterway ports. In 2014, the county government found it necessary to form the Howard County Task Force on Human Trafficking.
Scott stressed that she would be keeping a close lookout for evidence of human trafficking. The DCRS, she said, has been designated as the coordinating council to help fight the threat.
On a more prosaic note, Scott also said that her agency is concentrating on finding further ways to aid older county residents through technology. Specifically, she noted that additional computers are being installed in the 50-Plus Centers that the Office on Aging and Independence operates in Columbia, Ellicott City, Glenwwood, North Laurel and Elkridge.
Visitors — who often come to the centers for exercise and informational classes, lunches and general socializing — will have greater access to computer labs as well as classes on how to navigate the Internet and, among other things, utilize programs and apps that improve diets and all-around physical and mental well-being, Scott said.