Cover Stories
Pianist not held back by stroke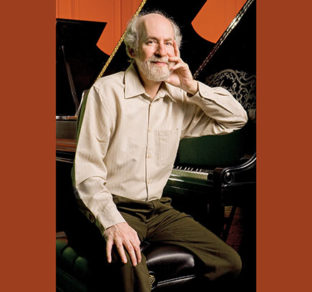 After a stroke that paralyzed his left side, pianist Haskell Small began transcribing classical piano works for just the right hand so he could continue to perform. After months of physical therapy, he's now able to play once again with both hands in concerts he calls his "celebration of healing."
Photo courtesy of Haskell Small
Classical pianist, teacher and composer Haskell Small has an impish sense of humor. Visitors to his home in northwest D.C. may find what appears to be a small ice cream cone melting atop his piano's keys, dripping off onto the floor. It's a plastic party trick, but it frequently fools people.
That sense of humor helped keep Small going through arduous physical therapy after a stroke 18 months ago nearly paralyzed his entire left side.
Small, 74, credits his wife, Betsy, with saving his life that fateful day by calling 911 almost immediately after he told her, "Something is wrong." Later in intensive care, when he realized he had suffered a stroke, he told her, "My life is over."
But through the course of painful daily physical therapy in two rehabilitation hospitals, his irrepressible sense of humor bubbled back up. He and his PT began to refer to his left hand and left leg by pet names ("Herb" and "Pete," respectively), lightening the mood as he worked to regain use of them.
Later, his creative energies led him to channel the emotional experience into a new composition he named, "Diary of a Stroke: The Adventures of Herb and Pete."
Rock and roll days
Music has been part of Small's life since he was very young. Somewhat surprisingly for a classical musician, however, his school years were spent playing and composing jazz and rock 'n' roll.
He attended Carnegie Tech (now Carnegie Mellon) to major in electrical engineering. But it was the 1960s, and he soon dropped out and went to San Francisco in hopes of becoming a rock star.
When that didn't pan out, and he tired of the lifestyle, he enrolled in the San Francisco Conservatory of Music to study classical piano. His mother, a pianist herself, had taught him to play in his youth, but he wanted to improve.
He now says one of his teachers in San Francisco, the late Robert Sheldon, changed his life by opening his eyes to the wonders of classical music. After a year or so, Small returned to Carnegie and completed a degree in music, studying both performance and composition.
Over the years, Small developed his style as a composer while building up a reputation as a fine performer and teacher. For many years, he chaired the piano department at the Washington Conservatory of Music, where he still teaches lessons and frequently performs.
Small has always been a workaholic. A typical day for him, prior to the stroke, involved practicing for two to three hours every morning (sometimes up to eight hours a day, preparing for a concert), then teaching and composing in the afternoon.
His drive to be "the best I can be" came in handy (no pun intended) when the daily task in front of him was to get his reluctant left hand to move after the stroke.
In fact, he now says he was "essentially saved by my determination to play again somehow….I was determined not to accept what [the doctors] wanted to tell me."
Created his own exercises
While working assiduously on his left hand, Small certainly didn't ignore his right one. In fact, during his recuperation, he wrote a number of new transcriptions of classical piano works for the right hand only.
Probably because pianists have always found their left hand to be less challenged (and hence, less dexterous) than their right one, there exists a large corpus of music written exclusively for the left hand.
Bach, Brahms, Ravel and Bartok are among the composers who produced such works, and there are also transcriptions of many two-handed pieces into left-hand-only works.
But Small had the opposite problem: His left hand wasn't usable, so he needed right-hand-only music. Since that didn't exist, he set out to create such music himself. He transcribed piano works by Schubert and Scarlatti and even Bach's "6th Suite for Cello" for the right hand.
Interestingly, years ago, Small had studied for some time with the famous pianist and pedagogue Leon Fleischer. Due to a neurological condition, Fleischer lost the ability to play with his right hand for more than 30 years.
During that time, Fleisher became known for his performances of left-hand repertoire. Small said his experience studying with Fleischer gave him hope during his own recovery and drove him to keep working to regain the use of his left hand.
But Small also said, "I had no interest in becoming known as a right-hand pianist!"
Many helped him through it
Small describes his wife Betsy as a godsend (as well as multi-talented musician and artist). He says he couldn't have gotten through this without her. The two met at Carnegie in an elective harmony class. As Small says with a smile, "I guess we struck a chord."
He also credits Rachel, one of his two grown daughters, with helping him — during the difficult days in the rehab hospital — locate and speak with other pianists who had suffered strokes.
Getting to know others "who had been through this" inspired him. Some fully recovered, and others did not. But even the latter didn't give up or drop their careers.
Learning about the "creative ways people can find to continue doing what they love" inspired Small, he said, and gave him strength to carry on.
While others in his situation might have benefited from psychological counseling, Small didn't feel the need for it. "I kept my focus and reminded myself how to get through this…slow, with patience, keep working."
Returning to the stage
While he has always loved playing music for its own sake, Small says "playing the piano is a performance art. It doesn't exist in its fullest sense without a live audience."
During the pandemic he has found performing over Zoom to be "very weird." Though he can read the audience's comments in the chat box afterward, it's strange not hearing any reaction as you play.
So, this summer, Small scheduled several live performances around the D.C. metro area, highlighting some of the right-hand works he transcribed or composed.
In July, he began adding in some two-hand music that he has been able to remaster.
Small feels the challenges he has gone through (and continues to face) have made him appreciate time in general and his dedicated work ethic even more than before.
In addition, his efforts to transcribe two-handed pieces to right-handed versions gave him a much better understanding and insight into the works.
Furthermore, he believes his dogged efforts to regain use of his left hand "is probably going to make my left hand better than it was before."
One of the ways he plans to prove this to himself is by setting the goal of learning and performing the massive, nearly hour-long "Diabelli Variations" sometime in the coming year. The work by Beethoven consists of 33 variations on a waltz by Anton Diabelli, and performing the monumental work has been a lifelong wish for Small.
He knows he still has some way to go to perform at his previous level. But at the same time, he is eager to get back to public appearances.
While part of him is saying to himself, "To hell with being a cripple," he prefers to label his comeback concerts a "Celebration of Healing." He wants his audiences to know where he's coming from and what he's endured.
Indeed, knowing how far he's come is as inspiring as the music he performs.