Cover Stories
Pickleball craze picks up speed in Howard County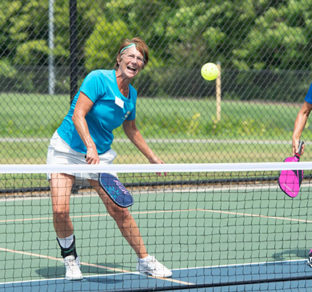 Columbia retiree Patricia Guzman, left, plays pickleball at Western Regional Park last August. The game, a mashup of ping pong, tennis and racquetball, has grown wildly in popularity in recent years. "After I retired in 2018," Guzman said, "I really got into it!"
Photo courtesy of Howard County Recreation & Parks
Pickleball — a game that early on attracted mostly older adults at senior centers — is now the fastest-growing sport in America and the country's newest major league sport.
It's attracting the rich and famous: George Clooney, Stephen Colbert and author Brené Brown are avid picklers, along with other celebrities like Phil Mickelson, Leonardo DiCaprio, Larry David, Melinda Gates, Jamie Foxx, the Kardashians, Owen Wilson and Jillian Michaels.
And basketball superstar LeBron James and billionaire Mark Cuban bought Major League Pickleball teams this fall.
Of course, you don't have to be a member of the glitterati to play pickleball. Many average folks over 50 have picked up a paddle and found the sport to be great fun.
"I walk off the courts after a couple of hours, and I can't tell you how many games I've won or lost. I just know I've had a good time," said Joanne Griesser, president of the Howard County Pickleball Association.
"It's a very social game, like the way golf used to be — very genteel. In pickleball, if someone else is winning you tell them, 'Great game, good shot.' You don't find that in many sports these days."
Easy to learn
Pickleball was apparently invented in 1965 by three fathers on Bainbridge Island, Washington, just outside of Seattle. Their children were bored one summer, so they blended elements of ping-pong, tennis and racquetball, dubbing the mishmash "pickleball" after the randomized "pickle boat" crews in rowing.
The game is easier than tennis because the court is much smaller (20 feet by 44 feet), and the net is shorter, just 36 inches high.
"It's really not that strenuous," said Bob Eney, 77, a USA Pickleball Association ambassador who lives in Finksburg, Maryland and plays three times a week. "I'm a little on the heavy side, but I still play."
All it takes is one lesson to learn the rules and start playing.
"Pickleball is a super easy game to learn. It's a little more difficult of a game to excel at," said Regina Jenkins, director of the Glenwood 50+ Center, located in the Gary J. Arthur Community Center in Cooksville, Maryland.
Jenkins, who teaches beginner classes on Fridays at the center's indoor and outdoor courts, said people can choose their own pace.
"The reason it's so popular is because you can play at so many different levels — you can play as competitively as you want."
Not only can men and women play together, people of all ages can join in the same games.
"We have men, women in their late 70s, early 80s and they're playing with 20-year-olds," Griesser said. "It's a big mix. It's just a nice social time."
Where to play in Howard County
Howard County has two dedicated pickleball courts, and more are under construction. In the meantime, pickleballers have many opportunities to play on the county's 31 outdoor tennis courts or 28 indoor lined courts.
Last summer, the county held a groundbreaking ceremony for eight dedicated pickleball courts at Western Regional Park, adjacent to the Glenwood 50+ Center. It also plans to create six pickleball courts at Blandair Regional Park in Columbia.
Playing pickleball is affordable, especially at county facilities. It's just $2.50 per day at the 50+ center, for instance. Private gyms such as the Dancel YMCA in Ellicott City offer several indoor courts for members. Dill Dinkers Pickleball, which opened in Columbia this month, offers six indoor courts.
For those who can afford it, there are even pickleball-themed cruises. In fact, most cruise lines have pickleball courts now, and Royal Caribbean will launch a special six-night pickleball cruise on November 27.
Professional pickleball on TV
The game isn't just entertaining for players; spectators enjoy it, too. Last August, for the first time, CBS Sports televised live professional pickleball games organized by the Professional Pickleball Association.
Meanwhile, the Major League Pickleball league, established by hedge-fund manager Steve Kuhn, has a dozen teams that played in three tournaments this year.
Six major-league tournaments are scheduled for next year, and winners will take home $2.4 million in prize money.
As more people play pickleball (and the current number is close to five million Americans), sports-related injuries have increased, too.
Pickleball injuries are just as common now as tennis-related injuries, according to a recent study published in the journal Injury Epidemiology. Emergency-room visits in 2018 for pickleball-related injuries occurred after a slip, trip, fall or dive.
Despite the cold weather, picklers press on, even shoveling snow off the courts in the winter.
"Pickleball people are unbelievably dedicated. When I play with my friends [in winter], we play with handwarmers and gloves and hats," Jenkins said. "I love it. It's addicting."
The biggest draw for most pickleball players isn't the exercise but the entertainment. And it's never too late to learn.
"Come out on the courts and have a good time with us," Griesser said. "You could be a terrible player, but you can enjoy the company."
For a list of places to play near you, visit USA Pickleball's Places 2 Play website at places2play.org or the Howard County Pickleball Association at howardcountypickleball.org.