Cover Stories
Pickleball craze picks up speed in Baltimore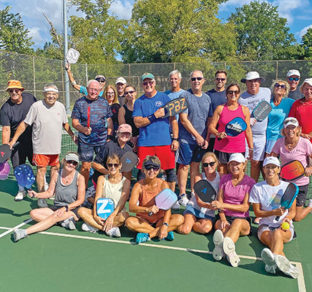 Members of the Northern Baltimore Pickleball Club play the game — an amalgam of ping pong, tennis and racquetball — as often as they can. "It's easy to learn," said Towson resident Kiki Alder, who co-founded the club during the pandemic.
Photo courtesy of Kiki Alder
Pickleball — a game that early on attracted mostly older adults at senior centers — is now the fastest-growing sport in America and the country's newest major league sport.
It's attracting the rich and famous: George Clooney, Stephen Colbert and author Brené Brown are avid picklers, along with other celebrities like Phil Mickelson, Leonardo DiCaprio, Larry David, Melinda Gates, Jamie Foxx, the Kardashians, Owen Wilson and Jillian Michaels.
Basketball superstar LeBron James announced last month that he's investing in Major League Pickleball, bringing the number of its teams to 16 next year, the league's third year in existence.
Of course, you don't have to be a member of the glitterati to play pickleball. Many average Baltimoreans over age 50 have picked up a paddle and found the sport to be easier than it looks.
"It's really not that strenuous," said Bob Eney, a USA Pickleball Association ambassador. "I'm a little on the heavy side, but I still play."
Eney, 77, plays three or four times a week at the outdoor courts at the South Carroll Senior Center in Sykesville.
"When I started playing in 2010, we only had a handful of people, and now we've completely run out of space for people to play," Eney said. "It just blew up. It's unbelievable."
Pickleball was apparently invented in 1965 by three fathers on Bainbridge Island, Washington, just outside of Seattle. Their children were bored one summer, so they blended elements of ping-pong, tennis and racquetball, dubbing the mishmash "pickleball" after the randomized "pickle boat" crews in rowing.
Easier than tennis
The game is easier than tennis because the court is much smaller (20 feet by 44 feet), and the net is shorter, just 36 inches high.
"It's a lot easier to pick up than tennis — it's easier on your body," said Howard "Howdy" Knipp, a retired teacher and coach at the St. Paul's Schools. Knipp, 66, picked up the game three years ago.
"Here I am teaching it, but I've never taken a lesson. I just have learned by playing," he said.
A longtime Roland Park resident, Knipp teaches free classes for new picklers at Seminary Park in Lutherville-Timonium.
"I have one rule when I coach: If they don't like to laugh, go home. I tell the newbies, 'Look, you're playing with a wiffle ball, and the game is called pickleball, so you can't take the game too seriously,'" Knipp said.
"It's very social. The games are over in 12, 15 minutes. At the end of two hours, you've had half a dozen different partners."
Kiki Alder, a Towson resident who formed the Northern Baltimore Pickleball Club during the pandemic, said that the high-speed matches allow men and women of all backgrounds and levels to play together.
"The great thing about pickleball is that the games are fast —as opposed to tennis, when you're stuck with the same people, so they're more inclusive," said Alder, who plays tennis and golf. "We love it so much. There's always something new to learn," she added.
Gene Fritzel, 72, a retired Baltimore Police officer and Lutherville resident, is one of the Northern Baltimore Pickleball Club's essential volunteers.
He's at the Seminary Park courts every morning, setting up the portable nets, introducing new players, and starting the games. What Fritzel loves most about the group is the people and the connections he's made.
"There are just a lot of really nice people that come out to play every day," he said.
An affordable sport
Another perk is that pickleball is "very affordable," Knipp said. Annual membership to the North Baltimore Club is $50 a year for outdoor play. A starter set of two graphite carbon-fiber paddles and four balls starts at $70.
"Our group — the hard cores — we keep playing in the winter. When it gets too cold," Knipp admitted, "the balls start to break."
In the winter, therefore, you may have to pay more to play. Coppermine Health and Fitness, which has 10 indoor courts at its facility in the renovated Pikesville DoubleTree Hilton, charges more than $100 for the season.
For those who can afford it, there are even pickleball-themed cruises. Most cruise lines have pickleball courts now, and Royal Caribbean is launching a special six-night pickleball cruise on November 27.
Professional pickleball on TV
The game isn't just entertaining for players; spectators enjoy it, too. For the first time, last August CBS Sports televised live professional pickleball games organized by the Professional Pickleball Association.
Meanwhile, the Major League Pickleball league, established by hedge-fund manager Steve Kuhn, has a dozen teams that played in three tournaments this year.
Six major-league tournaments are scheduled for next year, and winners will take home $2.4 million in prize money.
As more people play pickleball (and the current number is close to five million Americans), sports-related injuries have increased, too.
Pickleball injuries are just as common now as tennis-related injuries, according to a recent study published in the journal Injury Epidemiology. Emergency-room visits in 2018 for pickleball-related injuries occurred after a slip, trip, fall or dive.
Knipp said that one player in his group tore his Achilles tendon while diving for a ball, and another "had sore ribs" after a collision with her partner, who happened to be Knipp.
"All the people I play with are 50 and over, so we're older and it's not a surprise," Knipp said. "It happens."
More courts needed
The risk of injury doesn't stop Baltimoreans from playing the sport. Their biggest challenge is finding a court. So far, Baltimore County has no designated pickleball courts — only tennis courts that must be delineated with temporary tape before pickleball games can commence.
"Howard, Montgomery, Harford, Carroll [counties] are light years ahead of us," Alder said. "What the other counties seem to understand that Baltimore County has not yet embraced is the social impact of the game.
"We are hopeful that eventually Baltimore County will catch on, come out and play a game or two with us, and really get the feel for what pickleball is all about."
Despite the lack of designated courts to play on, picklers press on, even shoveling snow in the winter. The biggest draw for most pickleball players isn't the exercise but the entertainment, Knipp said.
"Until the hand eye coordination is figured out, you've got some hurdles, but it is fun — very fun," Knipp said. "And you have to want to laugh."
For a list of places to play near you, visit USA Pickleball's Places 2 Play website at places2play.org. Call Seminary Park at (410) 887-7684 or at the South Carroll Senior Center in Sykesville at (410) 386-3700. For rates at Coppermine Fitness, call (410) 823-2500 or email pickleball@gocoppermine.com.